OLHAO GUIDE
Enjoy this Olhao guide, made by locals for whoever is visiting this amazing city in 2021, visit the Ria Formosa Islands, Markets or enjoy the local traditions. Olhão is widely known as the "Capital of Ria Formosa".
What to do/see
Ria Formosa
Barreta Neighborhood
Olhão Markets
Hills with viewpoints
Barrier Islands
Annual Events
Eco-fest
Festival do Marisco
Festival Pirata
Noites de Levante
Algarve Nature fest
How to get here
By Car
By Public Transport
By Transfer
Moncarapacho
Faro, Fuseta
Vila Real de Santo Antonio
Tavira
CAPITAL OF THE RIA FORMOSA
It's easy to get, only 15 minutes from Faro airport on the car.
Please click on the blue text to know more
Its geographical location and fishing tradition makes Olhão the perfect place to enjoy amazing seafood and fresh fish. Olhaoleaves its life in style of eastern Algarve.
Olhao lays on the bank of Ria Formosa lagoon, which is also a national park. Town has easy and cheap access to the amazing 3 islands, which protect Town from the open ocean. Its also possible to visit more 4 islands around Olhao with tours or aqua taxi keeping very moderate price. You can also book them on our website, price remains the same.
These surrounding islands, known as "Barrier Islands", have some of the most beautiful beaches in Algarve, with amazing clear waters and golden sandbanks. There are usually not many people, and of course, islands with harder access have less or no people even in high season.
Click on the link in the text to know about islands or scroll down to read some compressed information.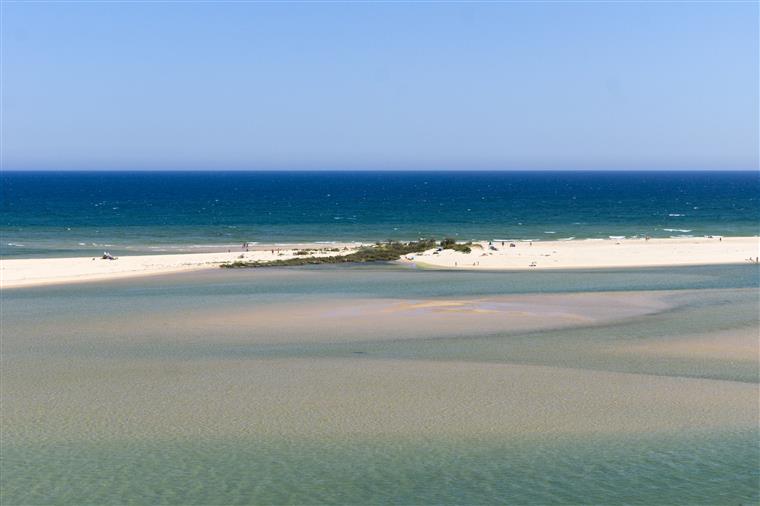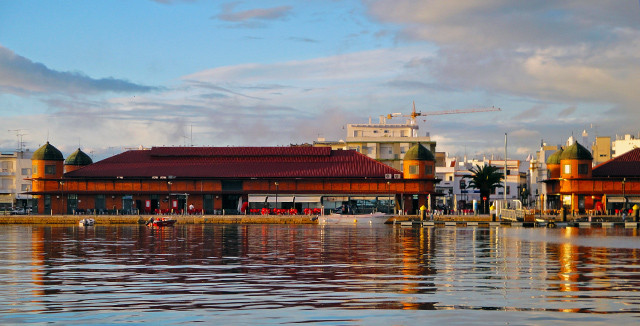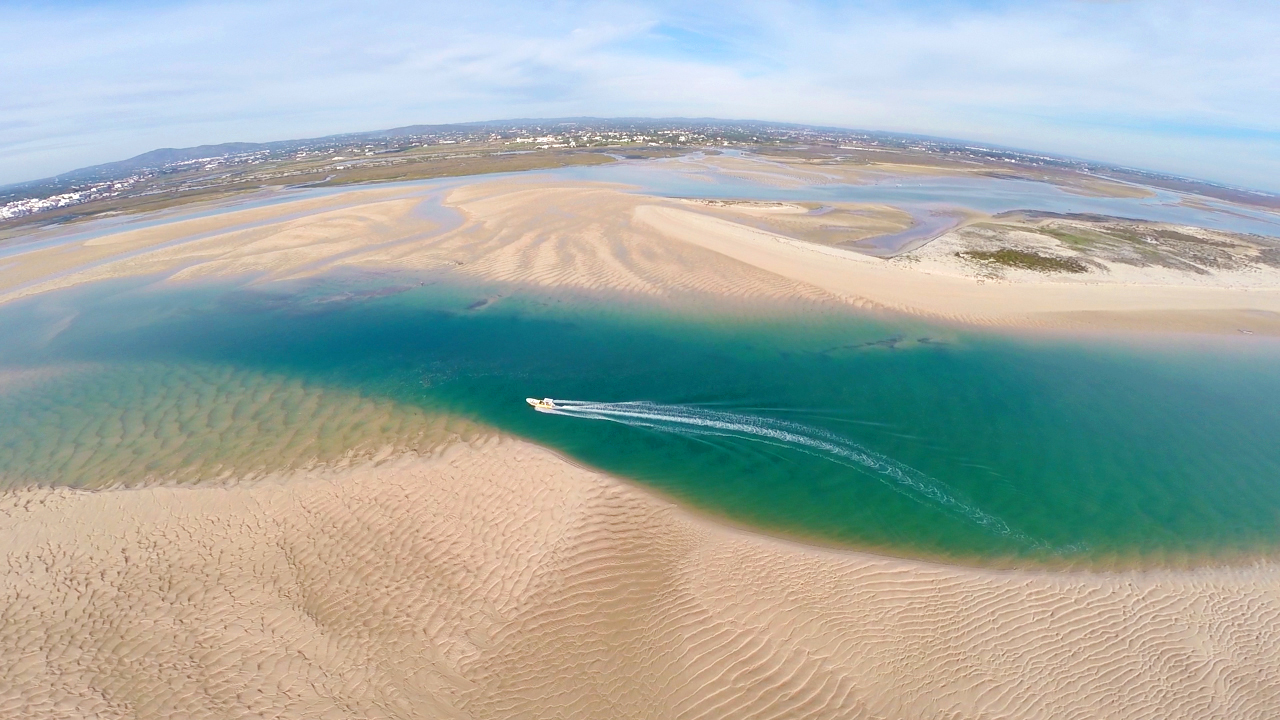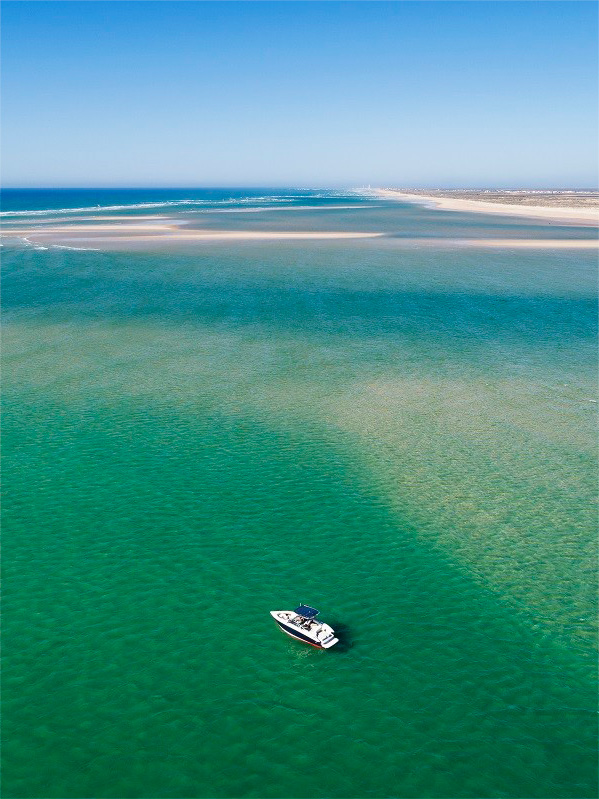 More about Ria Formosa in Olhao Guide
Ria Formosa lagoon, as a national park, are under the protection as important wildlife habitat. A lot of birds find their homes in calm lagoons of Ria Formosa, there are even Flamingos and tours to watch them. There are also boat trips to check various oyster farms or a few islands in one time. A short trip can cost even only 15 euros per person.
Main bank promenade of Olhao has an amazing view on waters of Ria Formosa and islands as well. This same promenade is a place from where people take the boats to reach islands to enjoy beach or go further to the open ocean to watch dolphins or similar. The view from the bank changes a lot depending on the tide, from sea view in hightide to the more wild and smelly when underwater landscapes are coming out of the water.
The advantage of having lagoon in front of the town is that even when there are big waves and its not possible to go to the open ocean and have a nice boat tour, Ria Formosa is still available as there are no waves. A lot of people feeling seasick in the boat in the ocean even when waves are comparatively small, so Ria Formosa tour can be a good alternative.
Obviously the disadvantage of having Ria Formosa in front of the town is that its not recommended to swim anymore in the town itself as water are full of boat movement. Locals, as well as tourists, go the islands lay on the beach. One way to Armona Island takes only 15 minutes, but then one needs to cross the island to be on the ocean side, which also can take more15 minutes.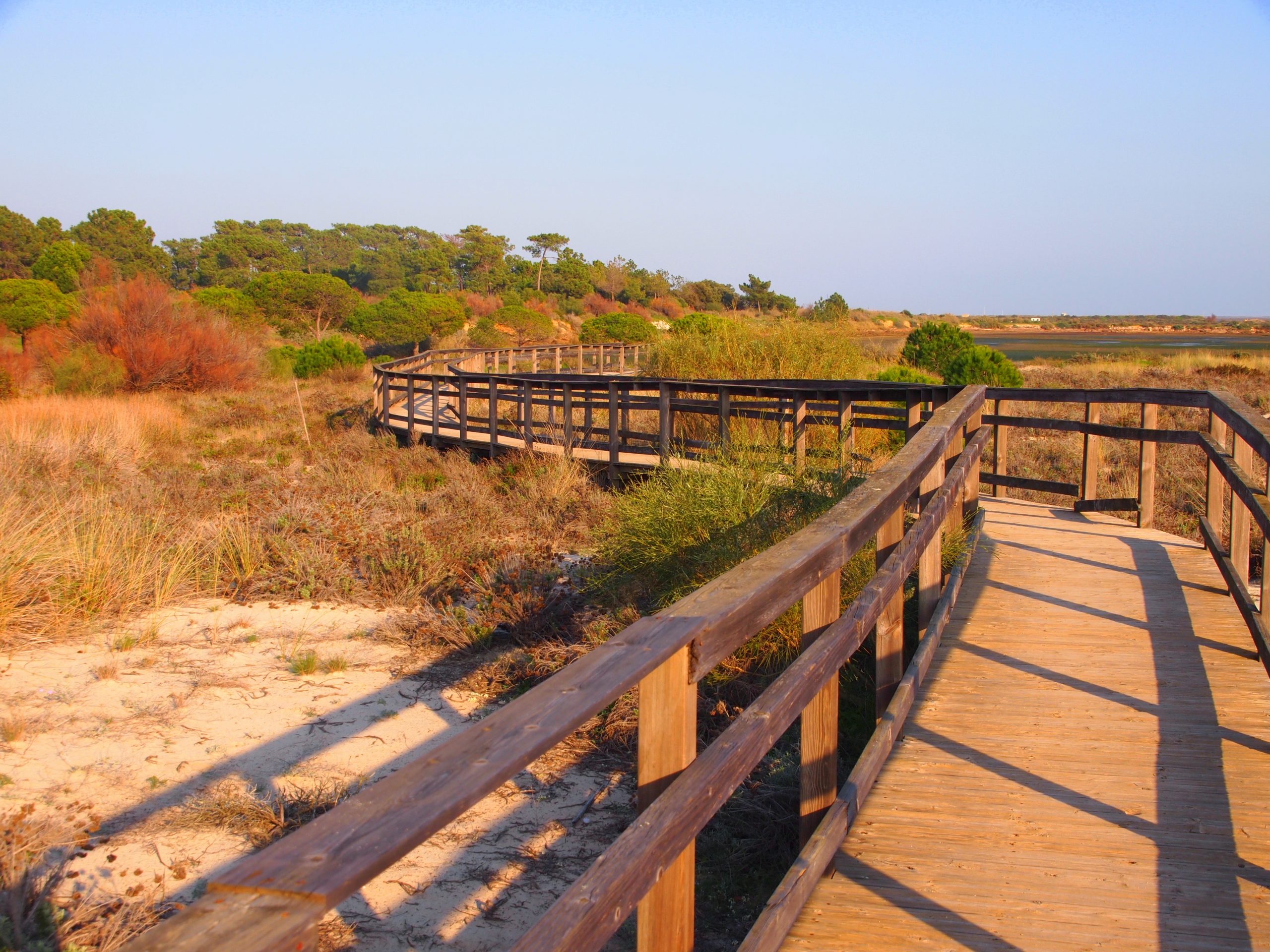 Walk Ria Formosa Park in Quinta do Marim
There is an amazing place to walk Ria Formosa that we are sharing specially on this Olhao Guide. Well, the name of the place on the gates is the same "Parque Natural da Ria Formosa", but maybe its easier to name it "Ria Formosa Natural Park Quinta do Marim". It has green wildness, salt pools and old water mill.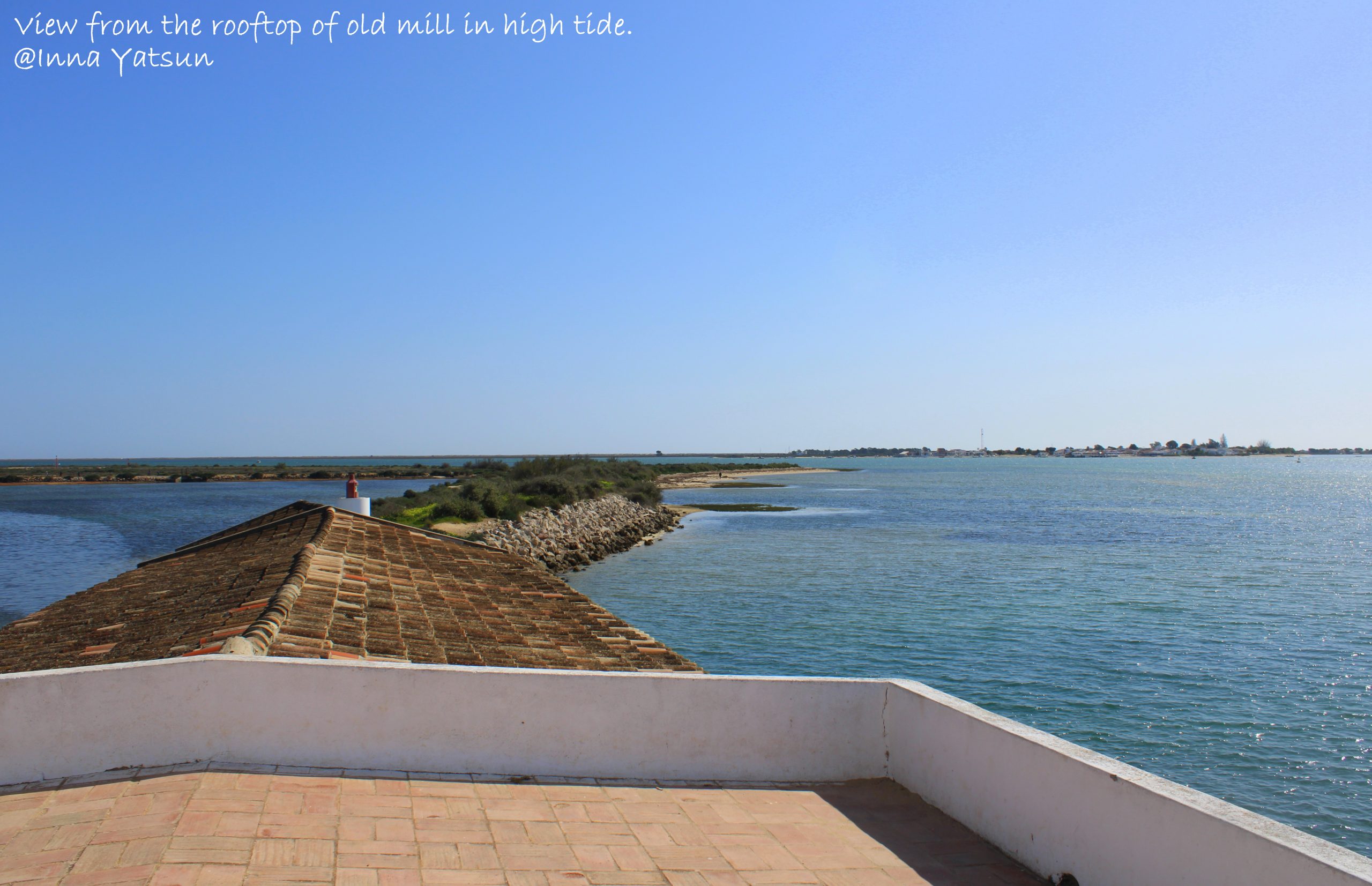 BAIRRO DA BARRETA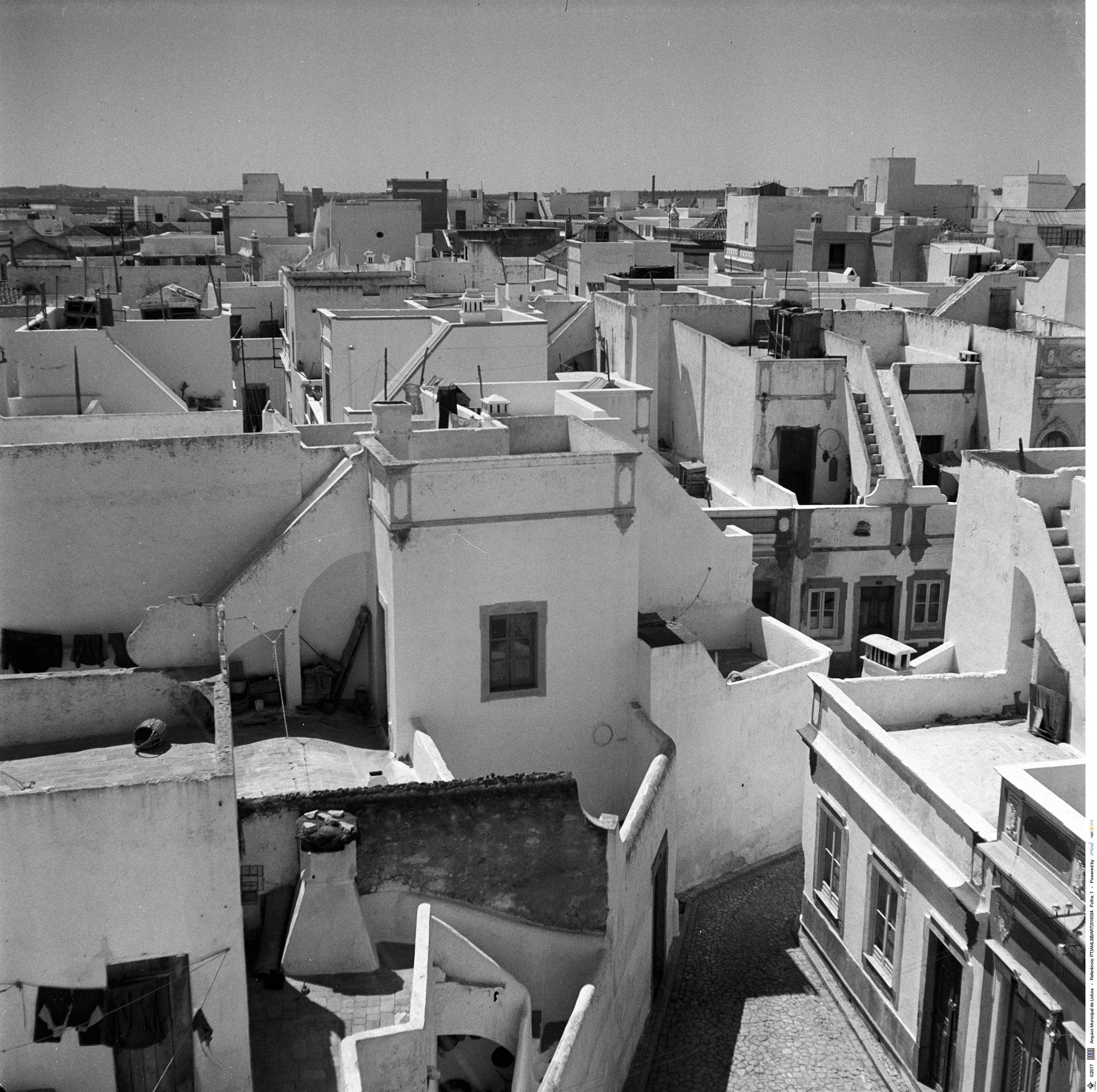 Cubist city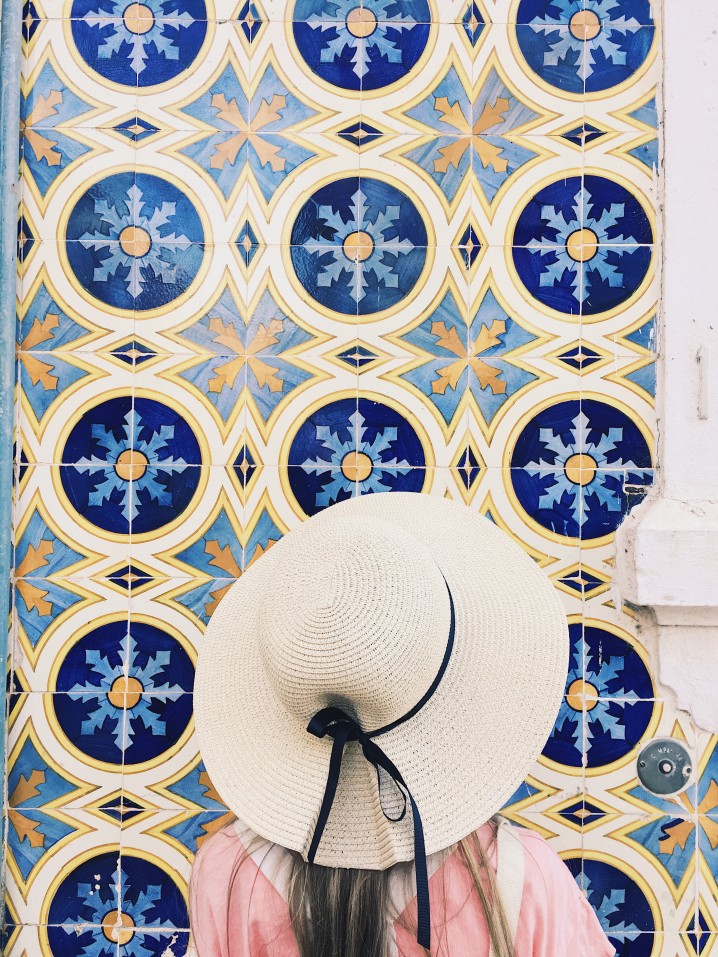 Highly influenced by the Moorish culture, Olhão is known for its cubic architecture which can be found all over the city, however, its roots can be found downtown in the "Barreta Neighborhood". Some part of it is now restored and very nice to walk around getting tangled in the narrow streets.
Olhao old town centre is very compact. From the train station you can go through the main street (which in Portugal has a traditional name – "Avenida"), which transformed into the alley in Olhao. Avenida alley leads to the Olhao old town with white cubic houses and narrow streets. If you'll not go explore narrow streets, but just go straight – you'll find marina of Ria Formosa with its port and red markets.
Cubic houses of Olhao have a lot of nice terraces and renovated ones usually use rooftop as a nice relaxing space. Before the rooftop were used just to dry clothes.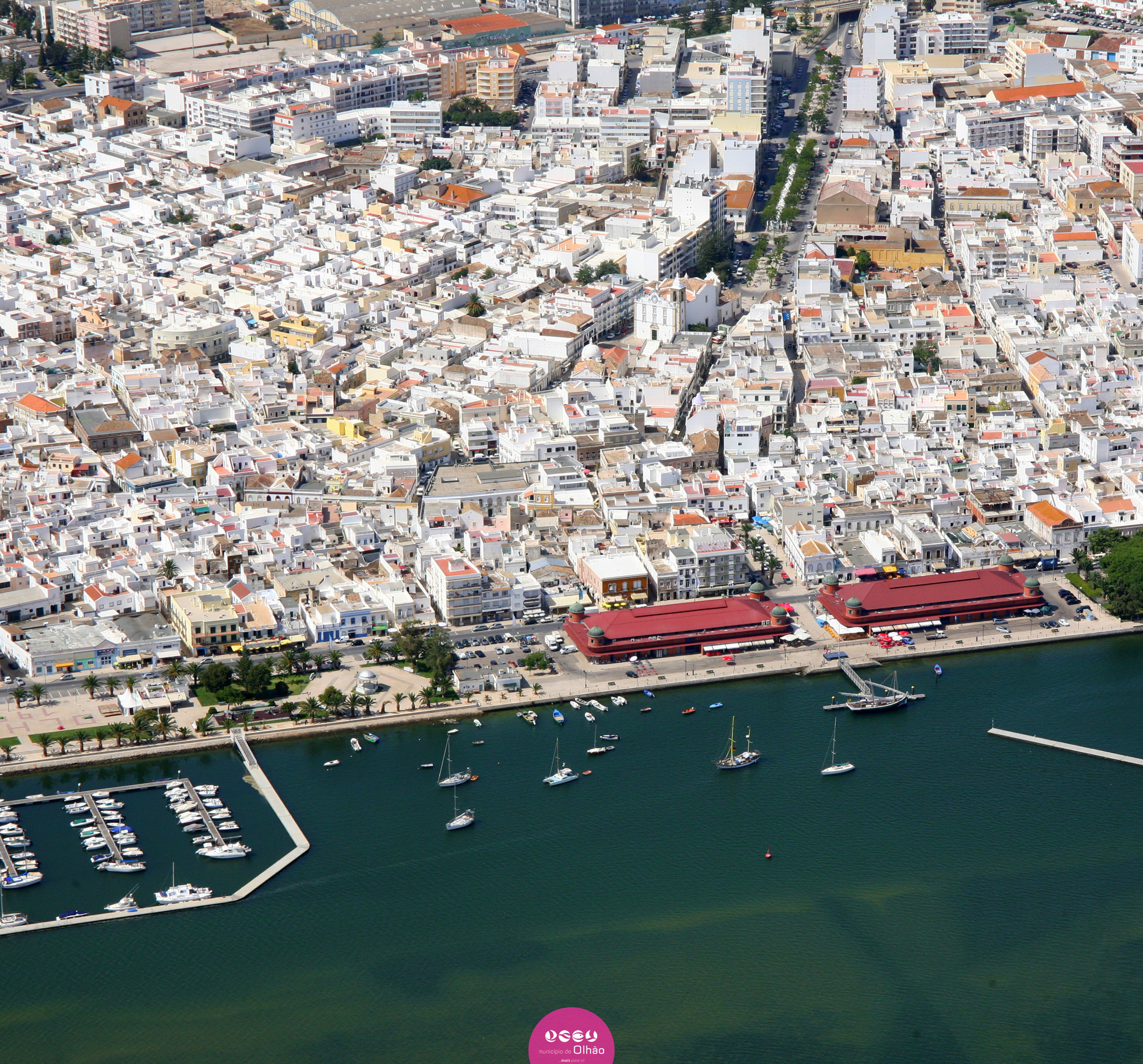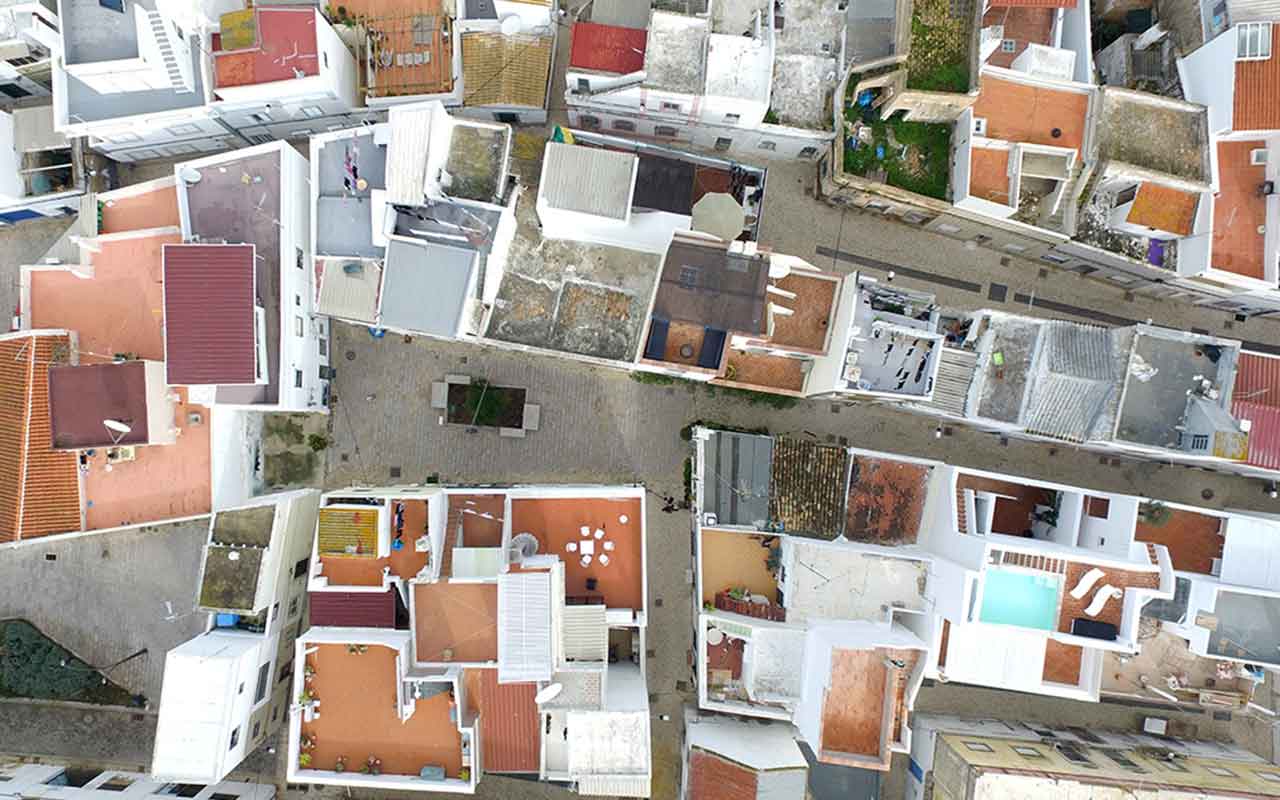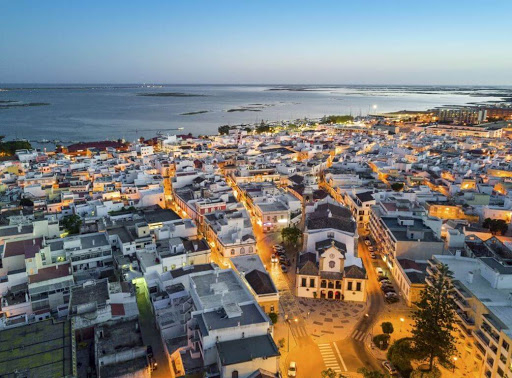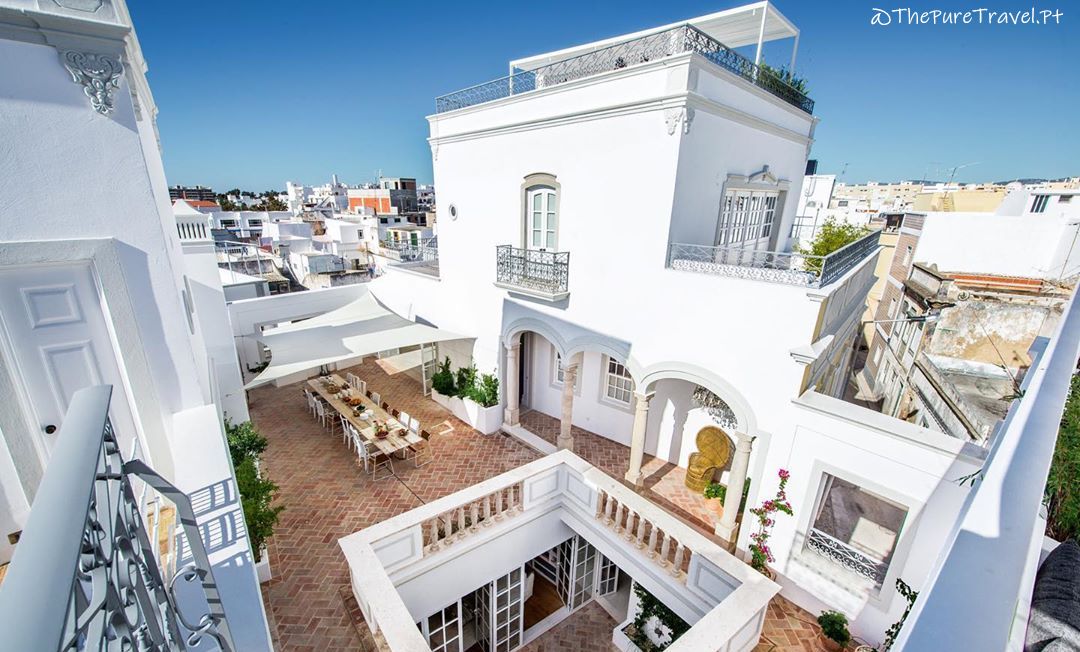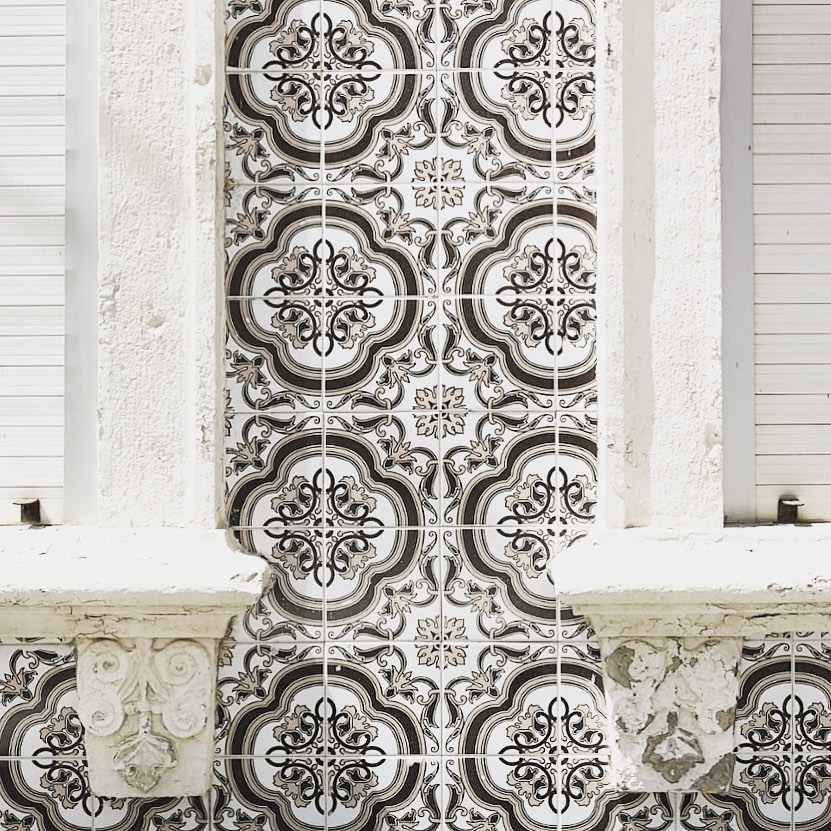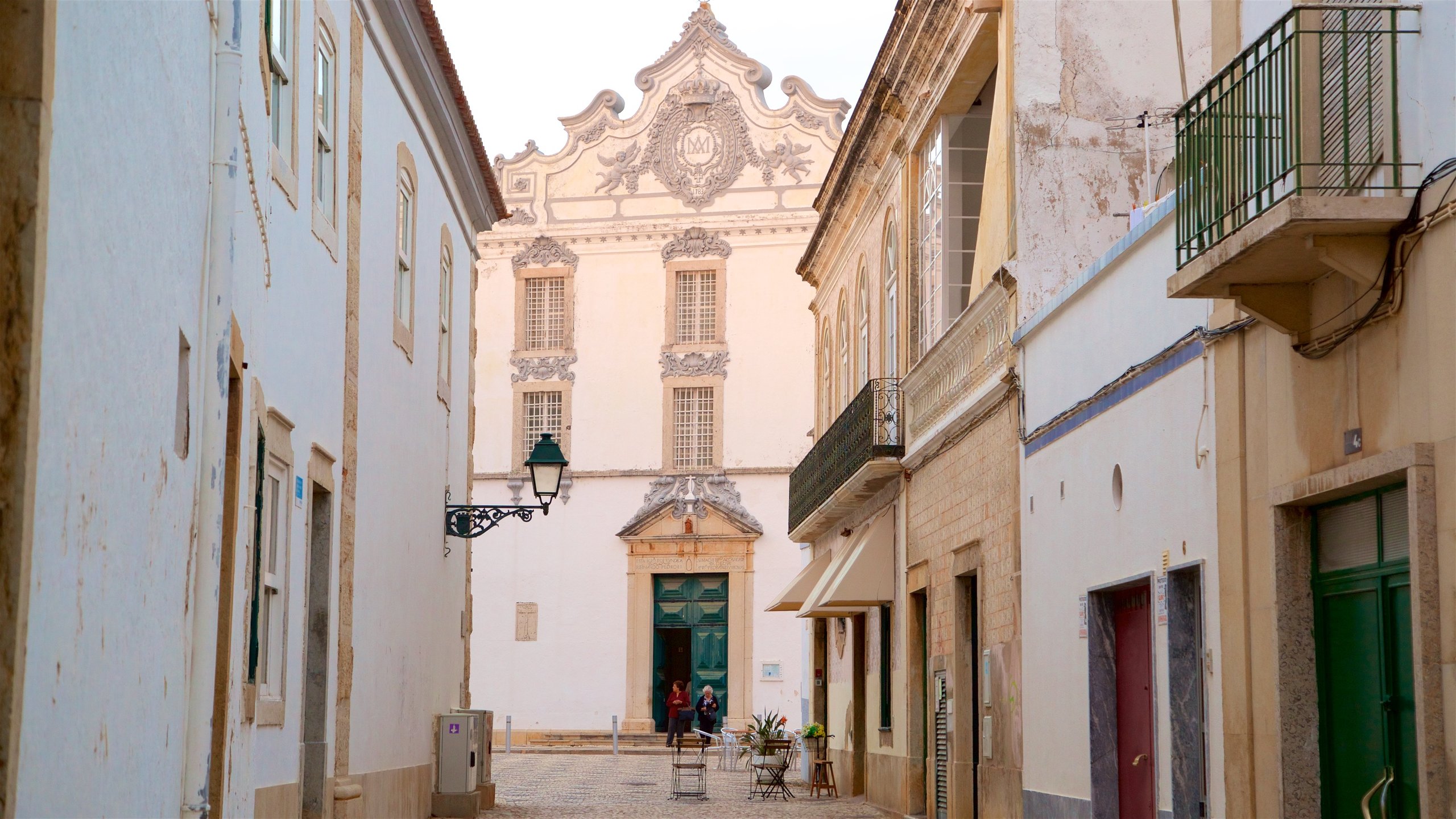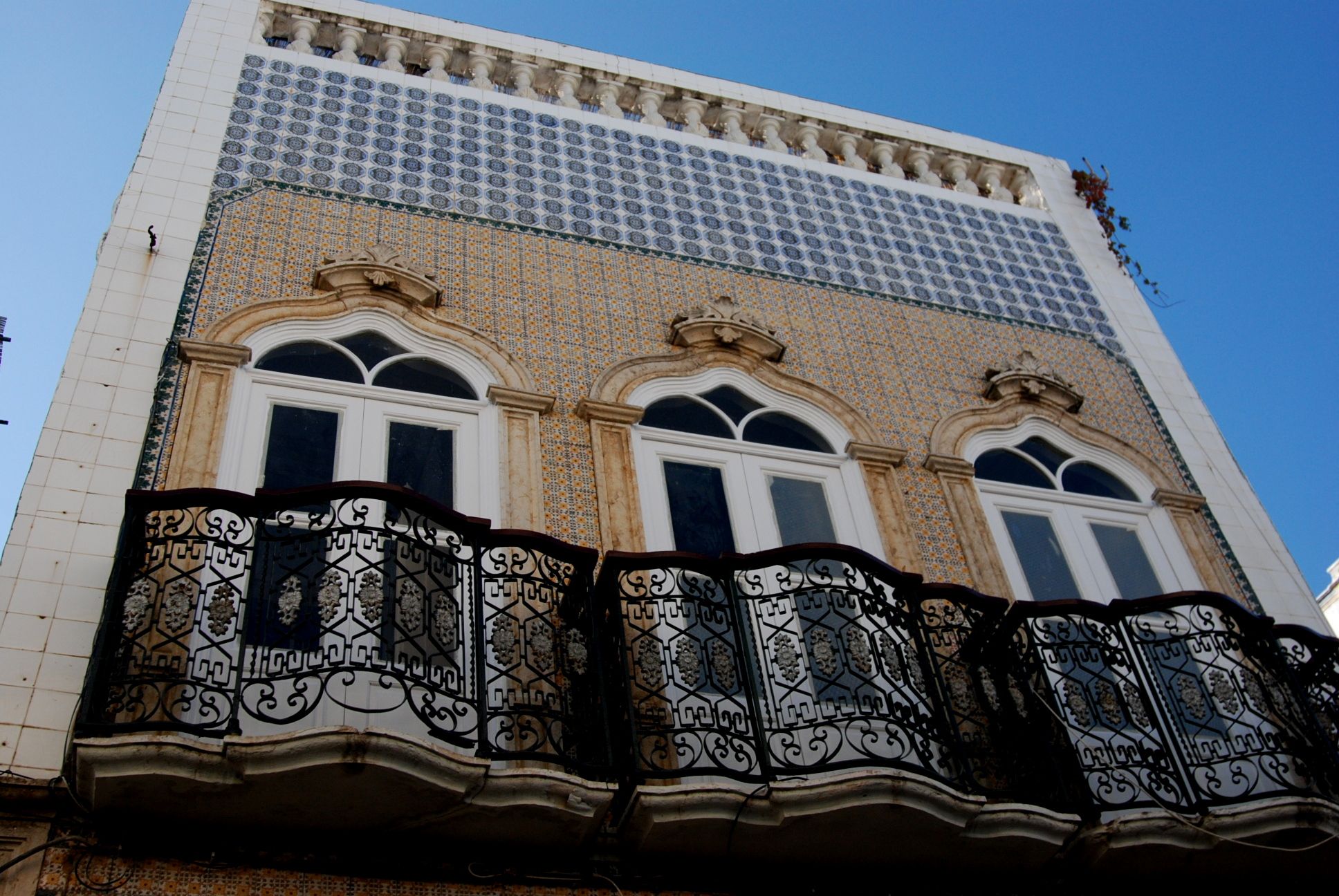 OLHÃO MARKETS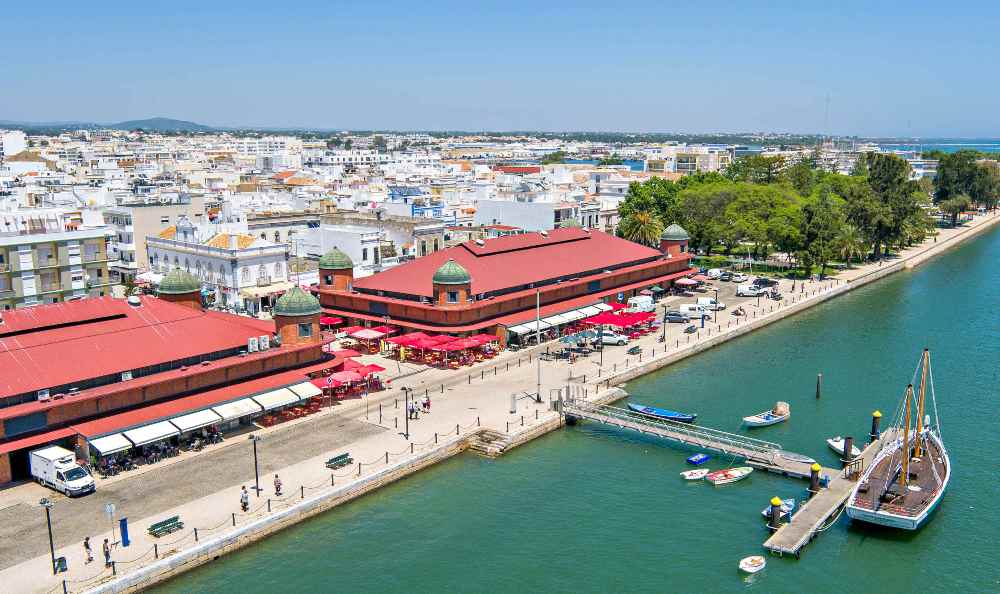 Fresh Fish, Fresh Juice, Fresh Vegetables, unique architecture and important landmark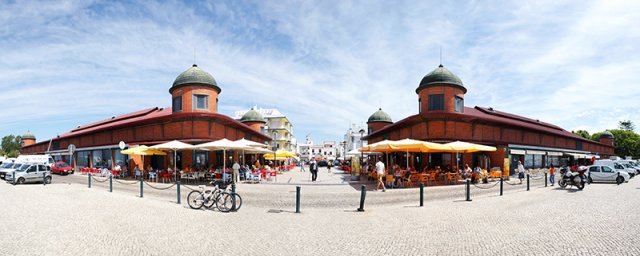 Two red buildings in the center of the marina, which clearly stand out from other white architecture around, are Olhao markets, one is for fish and other for fruits and vegetables. Markets importance are not only in the architecture and trade center which they are, but also constitutes an attractive place for the walks of locals and visitors, revealing an intense activity both day and night.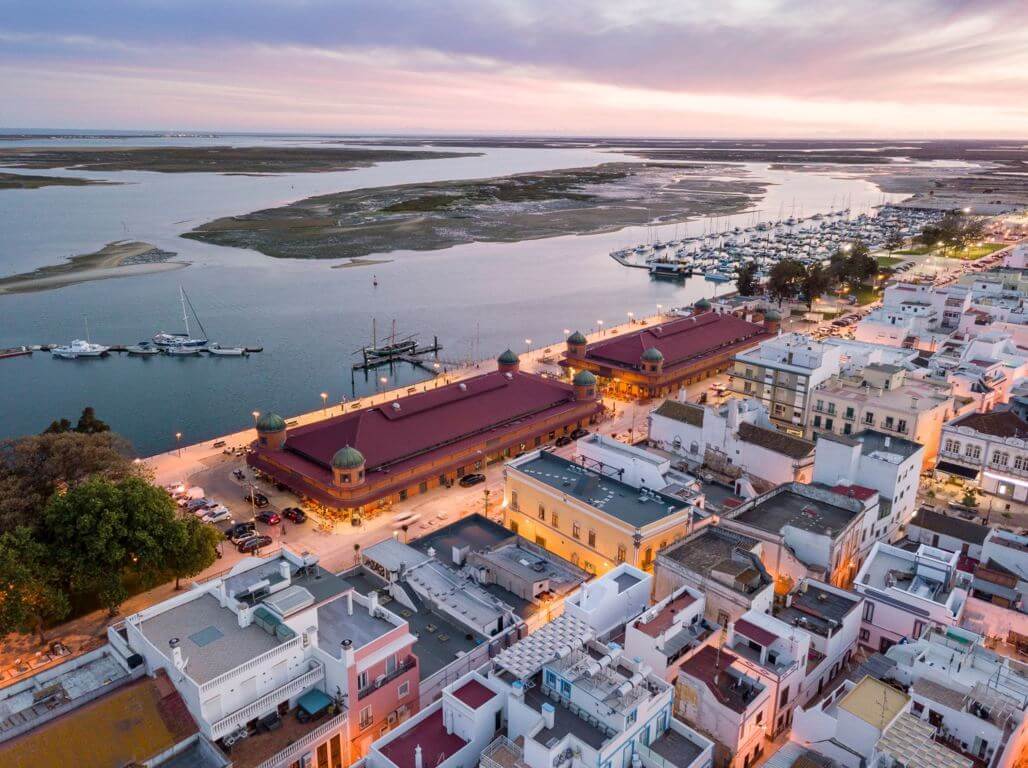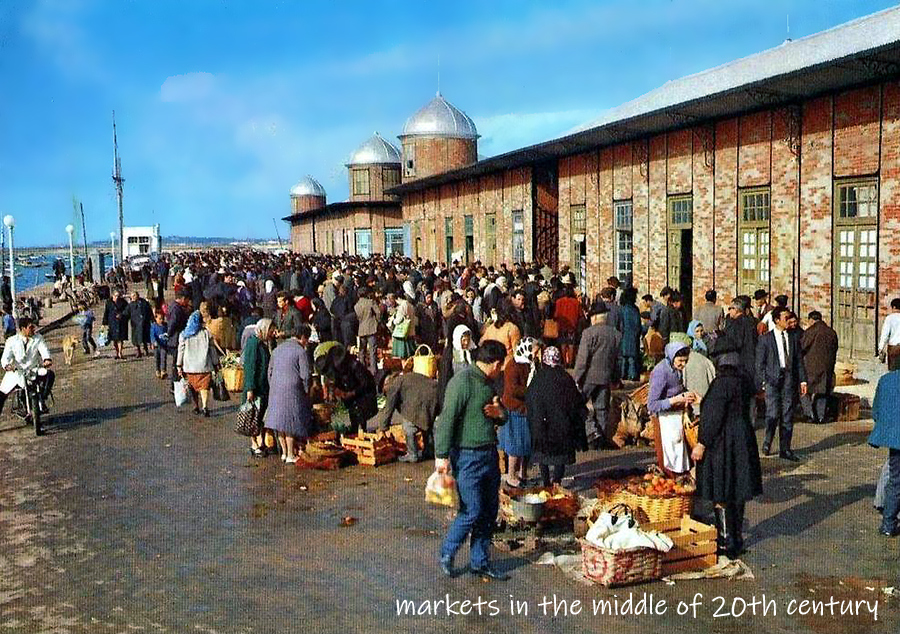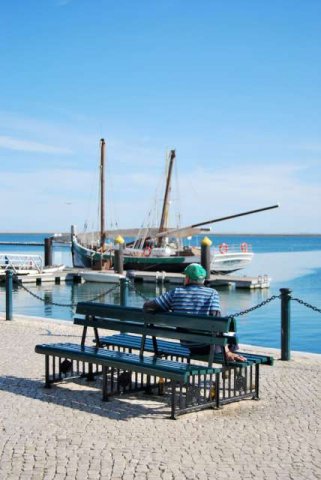 While the best to visit the market is definitely on Saturdays, you can get fresh fish every other day from 7 AM to 2 PM except on Sundays and Mondays.
On Saturday the market goes beyond walls and extends all over Olhão downtown, providing the opportunity to local farmers and artisans to sell their products. Everyone in the city gathers between these two amazing red buildings.
After from the vegetable market, there is a nice small park with high trees, which lays along the marina and finishes in the port, where you can take ferry boat to the islands.
On the other side of the markets goes a promenade with parked yachts in the marina. Now goes the reconstruction of this part of the bank and we expect quite an interesting place to walk in future.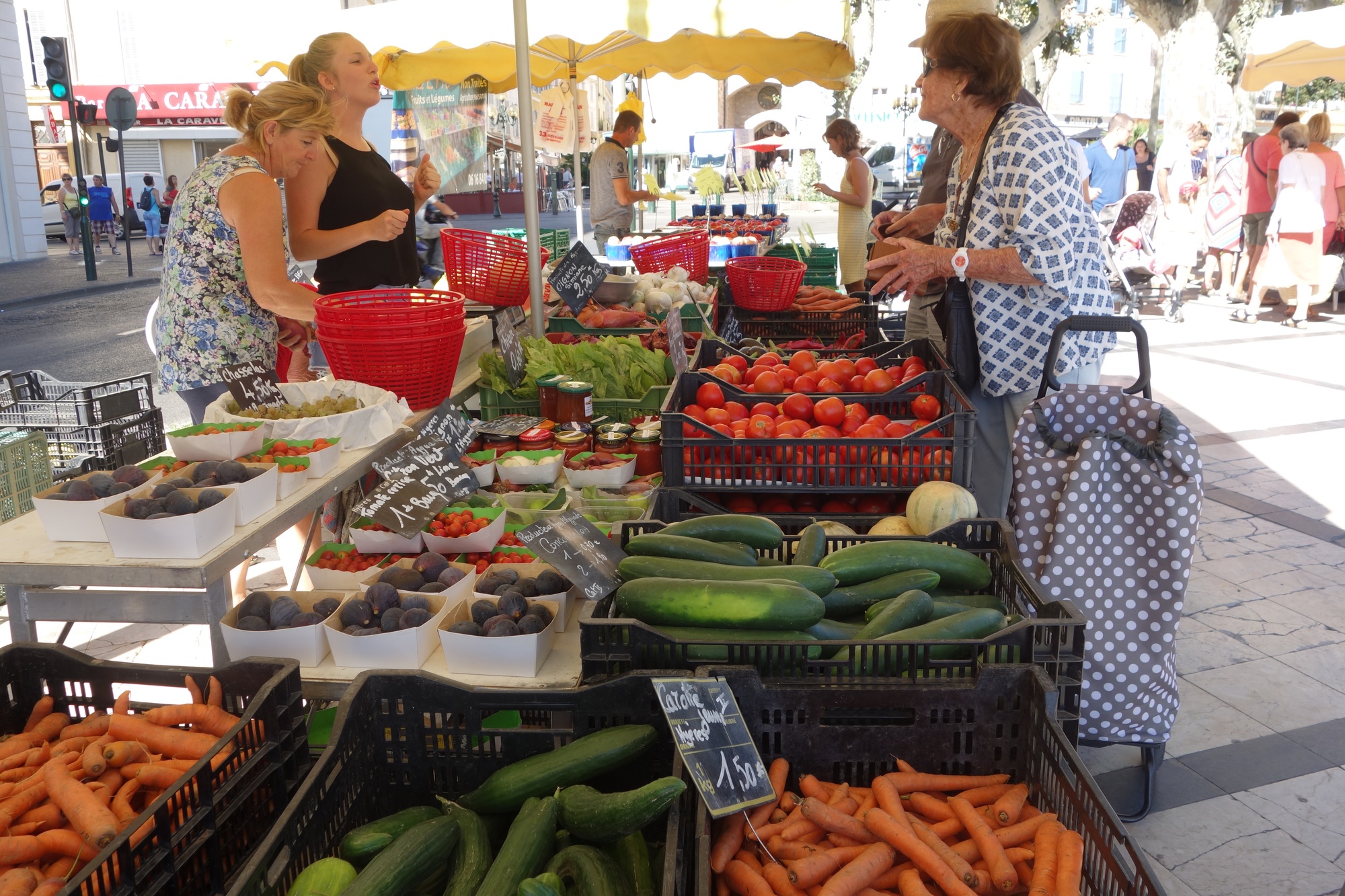 BARRIER ISLANDS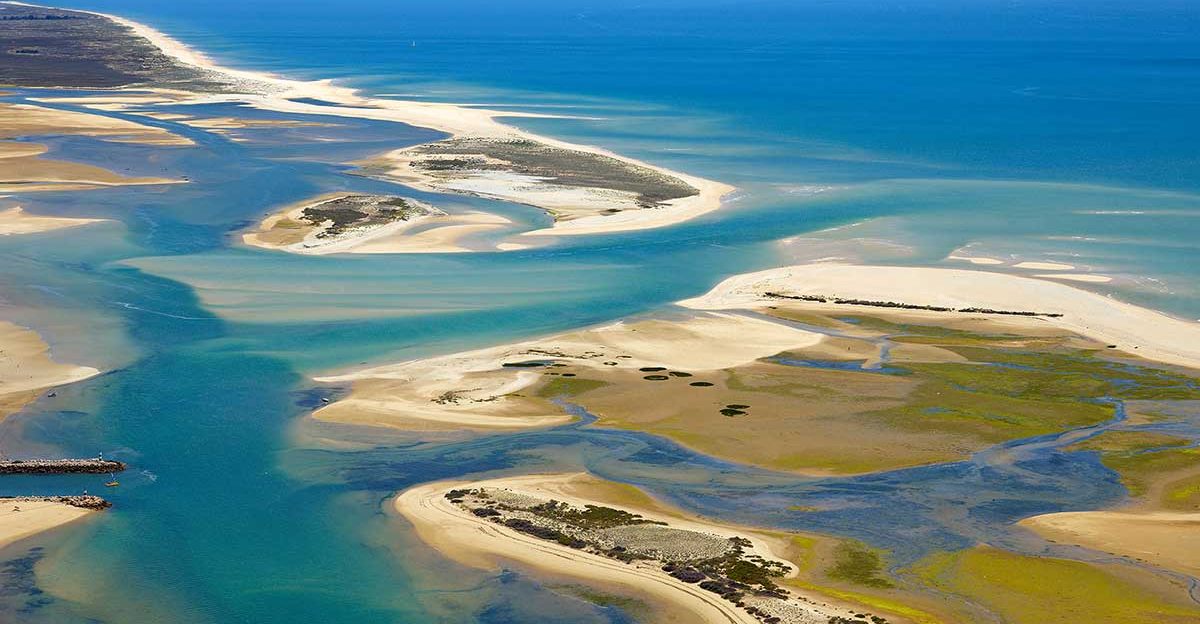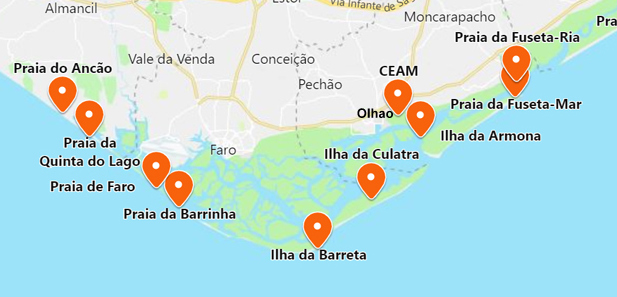 Cheap way to islands
Olhao has access to more islands of Ria Formosa lagoon, than any other resort location in Algarve. The cheapest access to the 3 islands is by ferry boat and cost from 3.75 to 4.20 euro (return ticket) depending on the island. Tickets are sold in the cashiers near the ferry boats itself, located in the port of Olhao (Which is in the center of the town) . Here is the location. Timetable is here.
Other ways
It's easy and not, actually, expensive to visit more 4 islands around Olhao with tours or aqua taxi keeping very moderate price. You can choose the tour with visiting 3 islands at once and other options.
On our website you can find these kinds of tours in every town. We don't charge you extra for the booking, but we get a commission like any other seller in any other selling point online or in the town. Money that we are getting from sales help us to discover Algarve more and write about it.
Further in this Olhao Guide we talk about the closest/biggest islands of Olhao.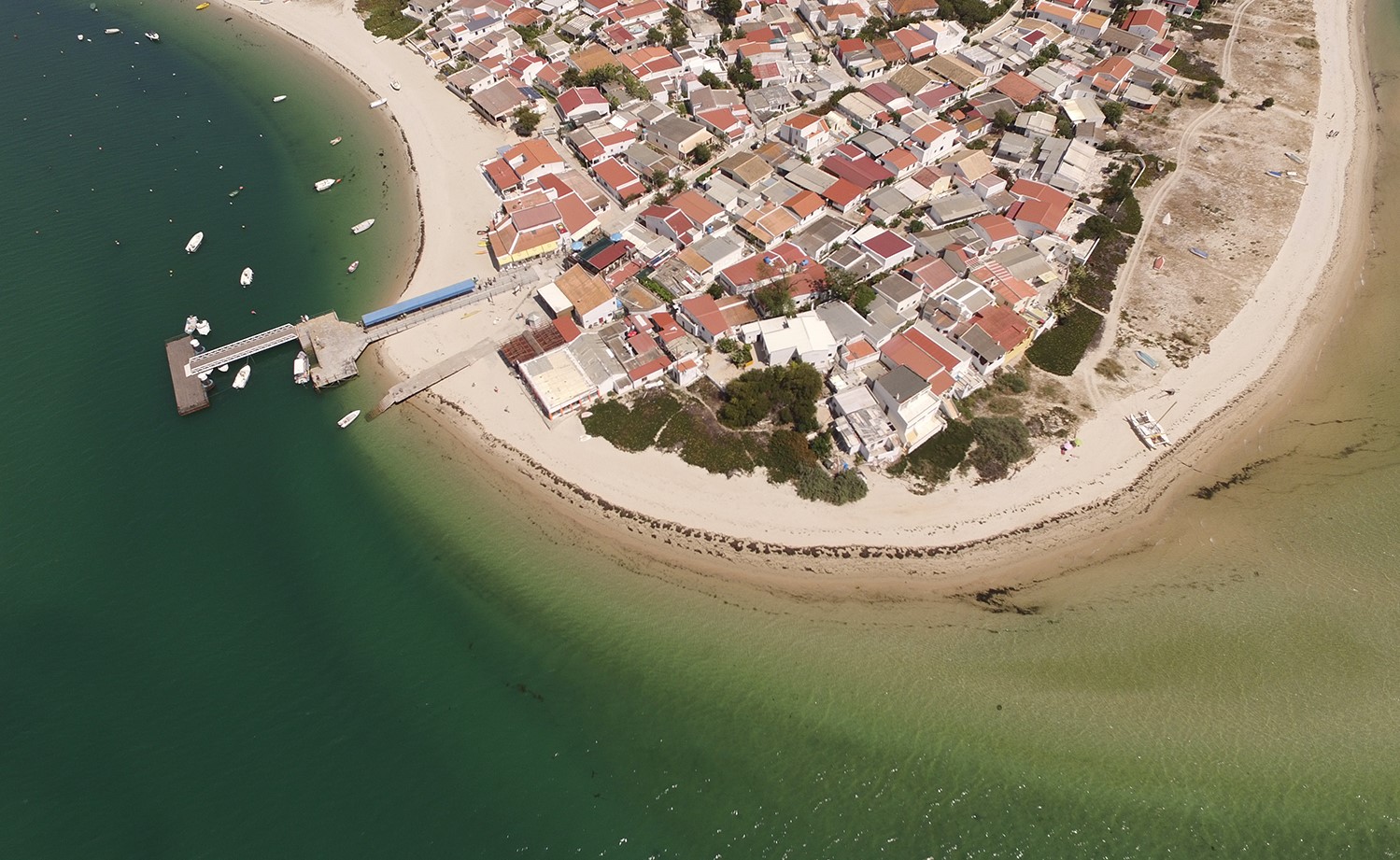 Armona Island
Armona is 15-20 minutes ferry boat ride away from mainland and it has an amazing long clean beach on the ocean side and a small beach on the Ria Formosa side as well. With hundreds of houses it's a touristically oriented island where a lot of people from Olhão have houses to spend the weekend.
Walk from the boat stop on the side of Ria Formosa to the ocean side goes through nice atmospheric village street with fisherman (in past) white houses and takes around 15 minutes.
Island has cafes and small shops.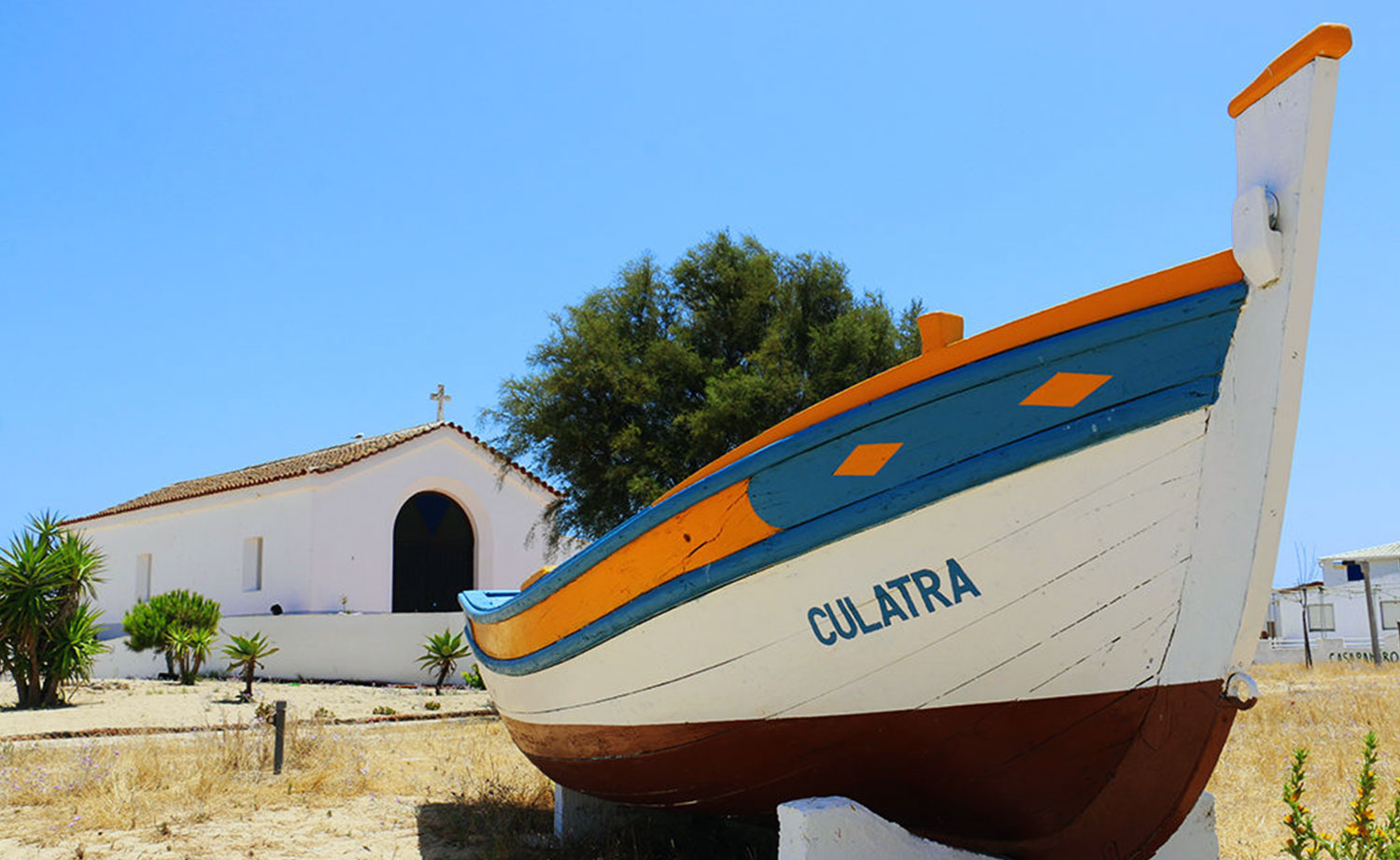 Culatra Island
A fisherman village in the middle of Ria Formosa with amazing sandbanks and restaurants which provide the best fresh fish. The island is 6 Kilometrest long and has a maximum width of 900 metres, also the beach is less busy than most of the beaches in the mainland.
The village still leaves its life having primary school and library.
Walk from boat stop to the other side takes you through the small part village and then by the wooden trail through the kind of dessert, which in the high tide partly becomes covered by water. Amazing views.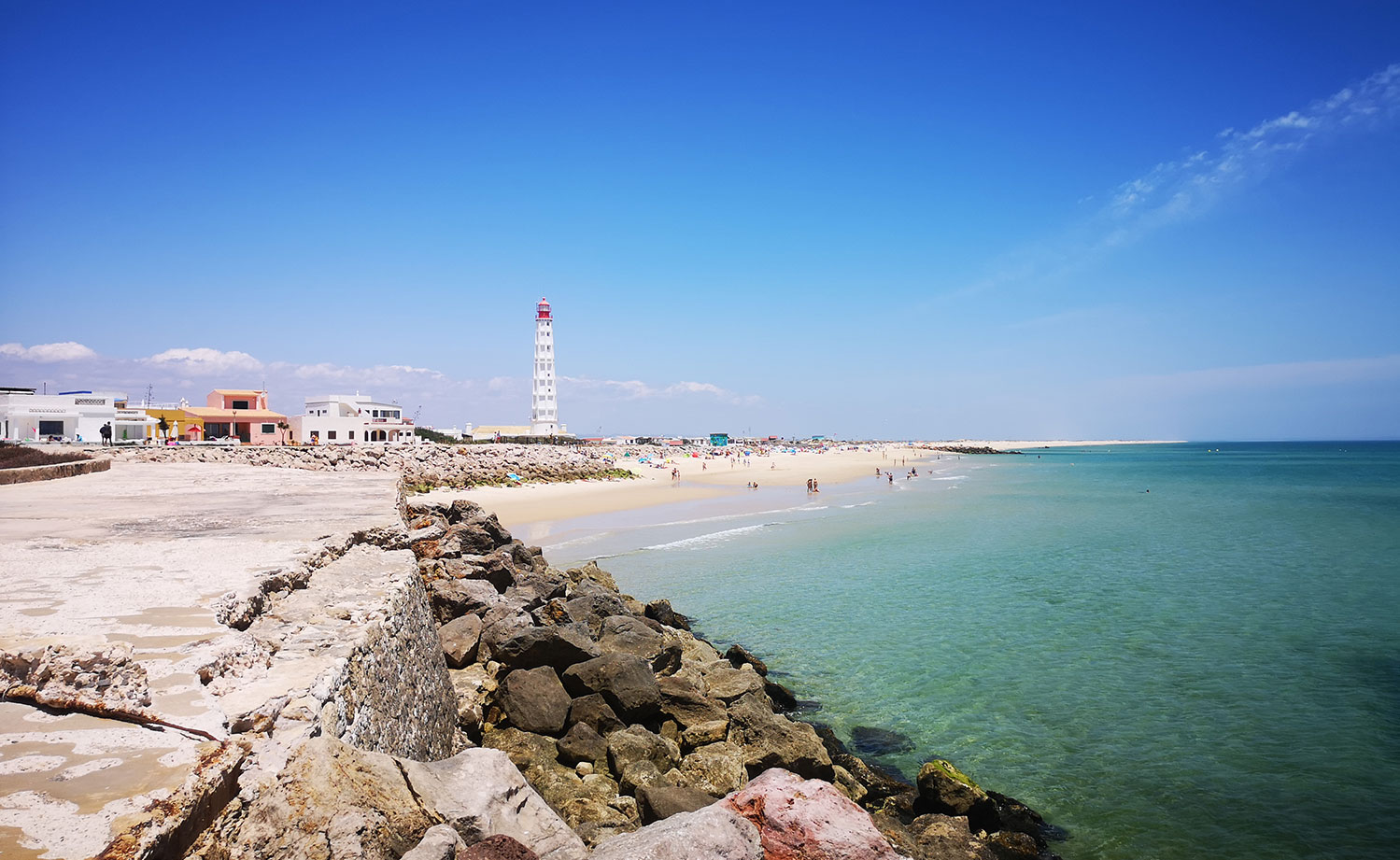 Farol Island
Also known as Santa Maria Cape, it's the southeast point of continental Portugal. Farol is part of the Culatra Island as a different village. Known for its lighthouse, which has an amazing view, but only available to visit on Wednesday afternoon. The clear waters make it locals favourite.
"Farol" means lighthouse in Portuguese. This island in fact is a part of Faro, but it's cheaper to come here from Olhao. Same ferry boat takes people first to Culatra village and then stops on Farol, after going back to Olhao. The ride can take 40 min or even 1 hour and depends on tides.
Farol has a long jetty into the ocean and is parallel to Deserta island. It's also the southern point of Portugal.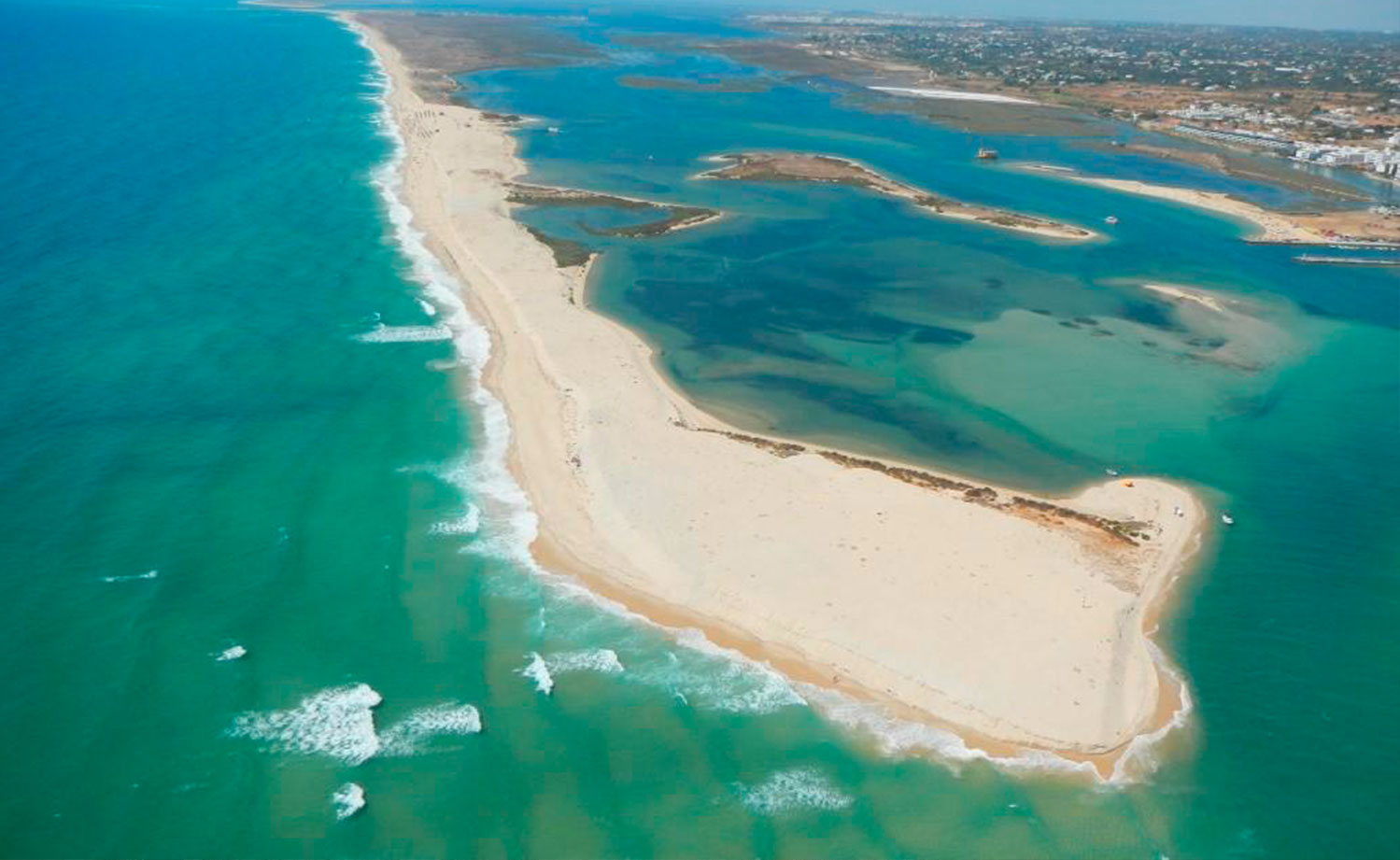 Fuzeta Island
It's part of Armona Island, and you can reach it by ferry from Fuseta village. Mainly operates in the summer, there is no housing except for a few bars and public toilets. Ferries are quite frequent and parking in Fuseta might be hard to find during July and August.
The ferry boat is even cheaper than in Olhao, as the distance is also much shorter. It takes only some minutes to go to Fuseta island.
On the side of Ria Formosa there are nets and other fixtures to catch sea animals (seafood). It was like that on every island of Ria Formosa, but now, in time of tourism and overfishing, these local fixtures are in the past on the most islands
YEARLY EVENTS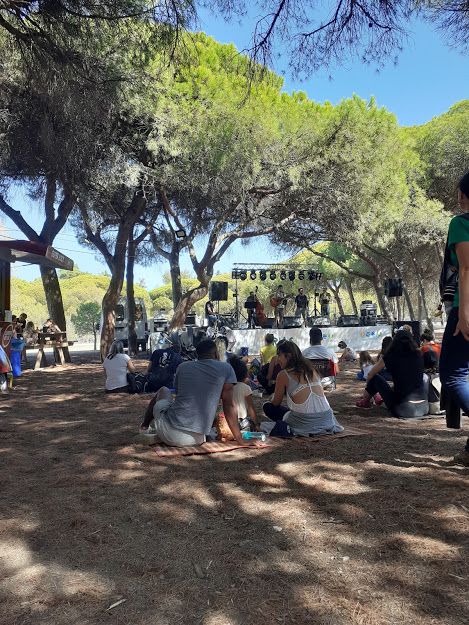 Eco-fest
Activities: Walking nature routes; Bird watching, Night observation of chameleons, the release of animals by the RIAS association and many other actions are part of environmental programming.
The artistic/cultural program consists of performances, music, dance, poetry, to be held in various places such as: Moinho de Maré, Nora and Parque de Merendas.
The ecofest is an opportunity to celebrate the musical, cultural, environmental, natural and landscape heritage, in a festival that runs for 2 days in June.
A Festival in which the program is mainly to harmonious contact with the natural and cultural heritage, where people can effectively learn, know, appreciate and even contribute to its preservation and valorization.
Location – Ria Formosa Natural Park in Marim (Olhão) – one of the environmental gems of the Algarve.
Ecofest pays special attention to children and families in the program to be held on June 1 (World Children's Day).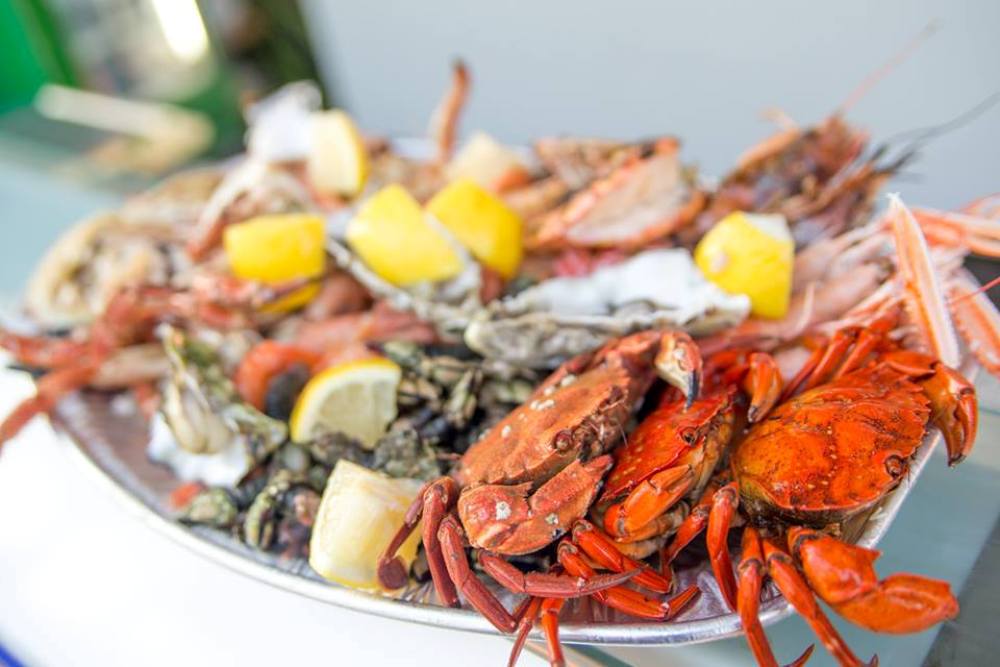 Seafood Festival
As fisherman village, in the middle of Ria Formosa, every August Olhao makes a famous festival of seafood, which already has some history behind. Now event gathers famous musicians and thousands of visitors.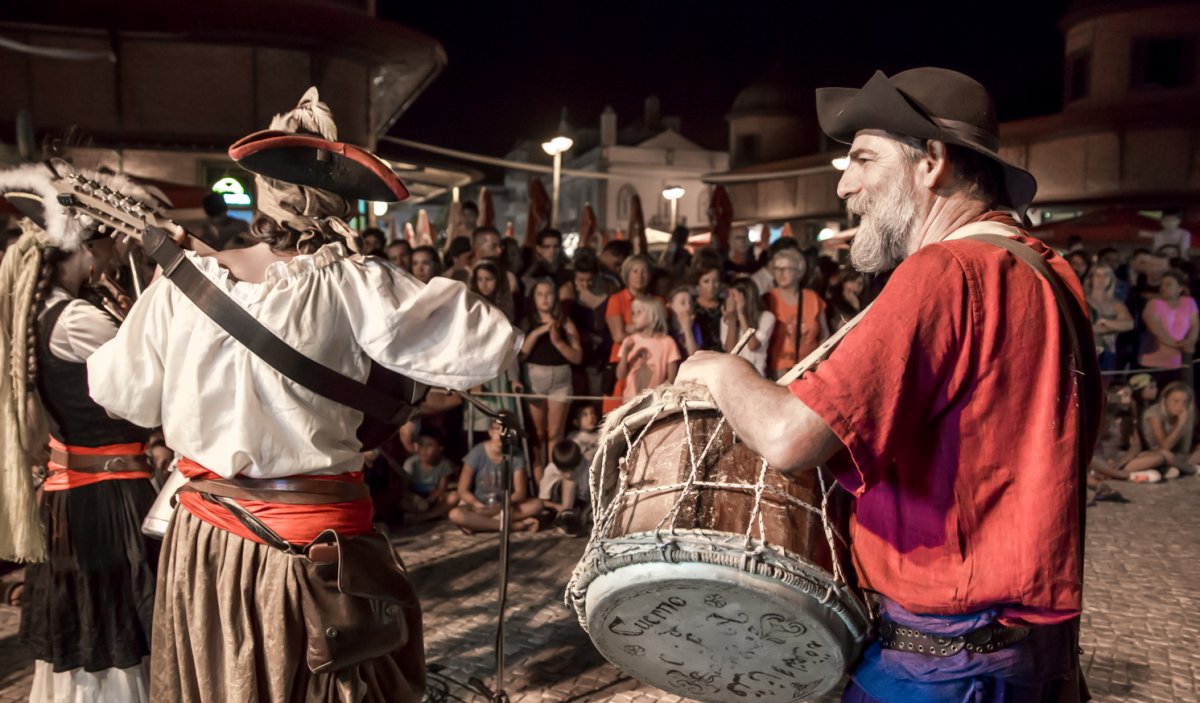 Pirate Festival
To promote «moments of animation, historical recreation, performing arts, rables, stories and circus arts» every August Olhao animates with Pirate Festival.
Visitors can count on typical characters of the time, "such as dairy farmers, fishmongers, washerwomen, water washers, fishermen, sailors, or bourgeois, who will lead moments of animation, historical recreation, performing arts, rables, stories, circus arts, music and dance ».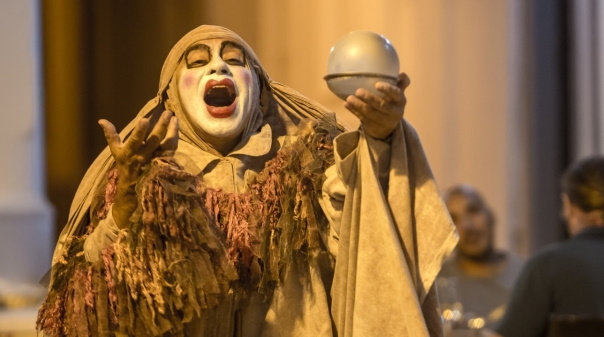 Southeast Nights / Noites de Levante
Every end of August more than two dozen circus-inspired characters take to the streets, in a parade of jugglers, clowns, beasts, tamers and fire-eaters, which ends with a spectacle of interaction with the public.
With the Levante Nights, the Municipality of Olhão intends to stimulate various points of the city and the municipality with activities of a playful nature, without forgetting the cultural aspect.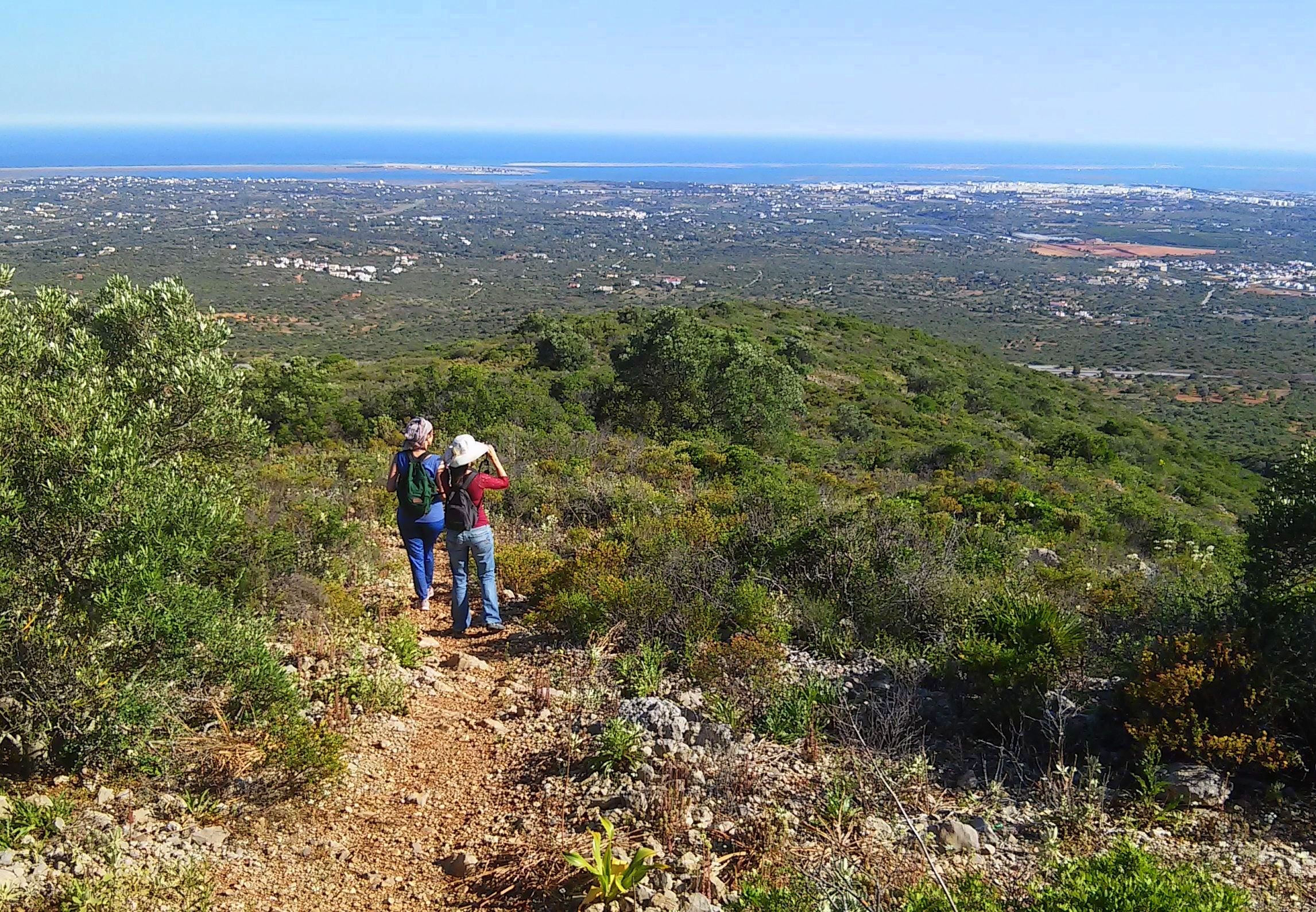 Algarve Nature Fest
Walk in the warm autumn Algarve sun. Get in balance on a stand up paddle board in the Ria Formosa. Try sailing and diving for the first time, to realize the old child's dream of maneuvering boats and of putting on suits and fins to explore the depths of the seas. Look at the sky in the direction of the birds.
Algarve Nature Fest – a nature tourism event in September with free outdoor activities.
FARO AIRPORT TO OLHAO
Faro Airport to Olhao
The airport is about 15KM from Olhão and it's a 15 minutes ride. There is a bus available to take you to Faro and afterwards you can pick the BUS or Train to Olhão.
Car / Transfer / Taxi / Uber
The fastest and easier way is to use a Transfer or Taxi directly to Olhão.
Duration: 15/20 Minutes
Price: 15€-25€
Bus + Train
MORE PLACES TO VISIT
Hill Sao Miguel (Cerro de S. Miguel)
In Portuguese, there is a term "Cerro", and its meaning is more than just a hill. From Sao Miguel locates behind Olhao and Fuseta, near village Moncarapacho. From the top, you can see Olhao, Faro and Fuseta, as well as ocean and islands.
There is a car road all way up, in some places curvy and by the cliff. It's also possible to go there by foot, you can have a nice walk from Moncarapacho to the top, will take around 1-1,5 hour one way.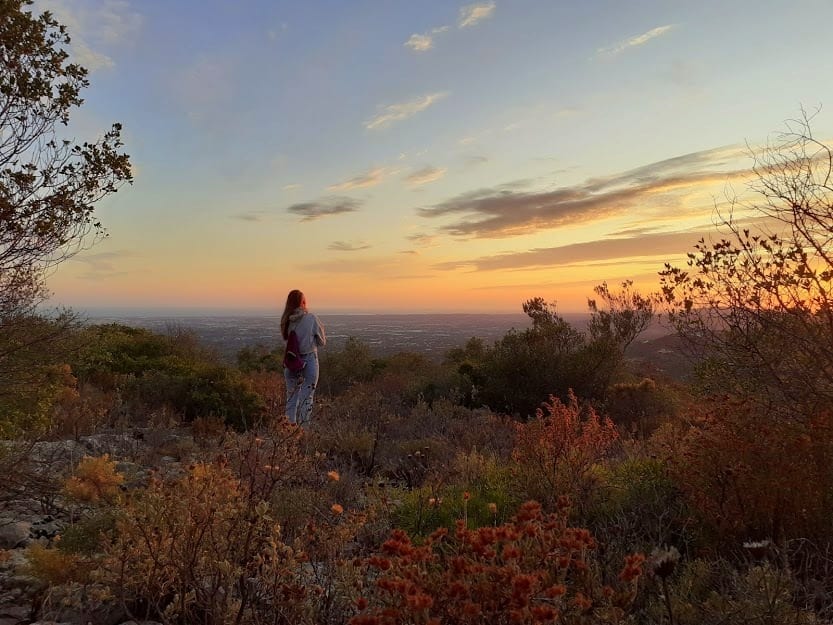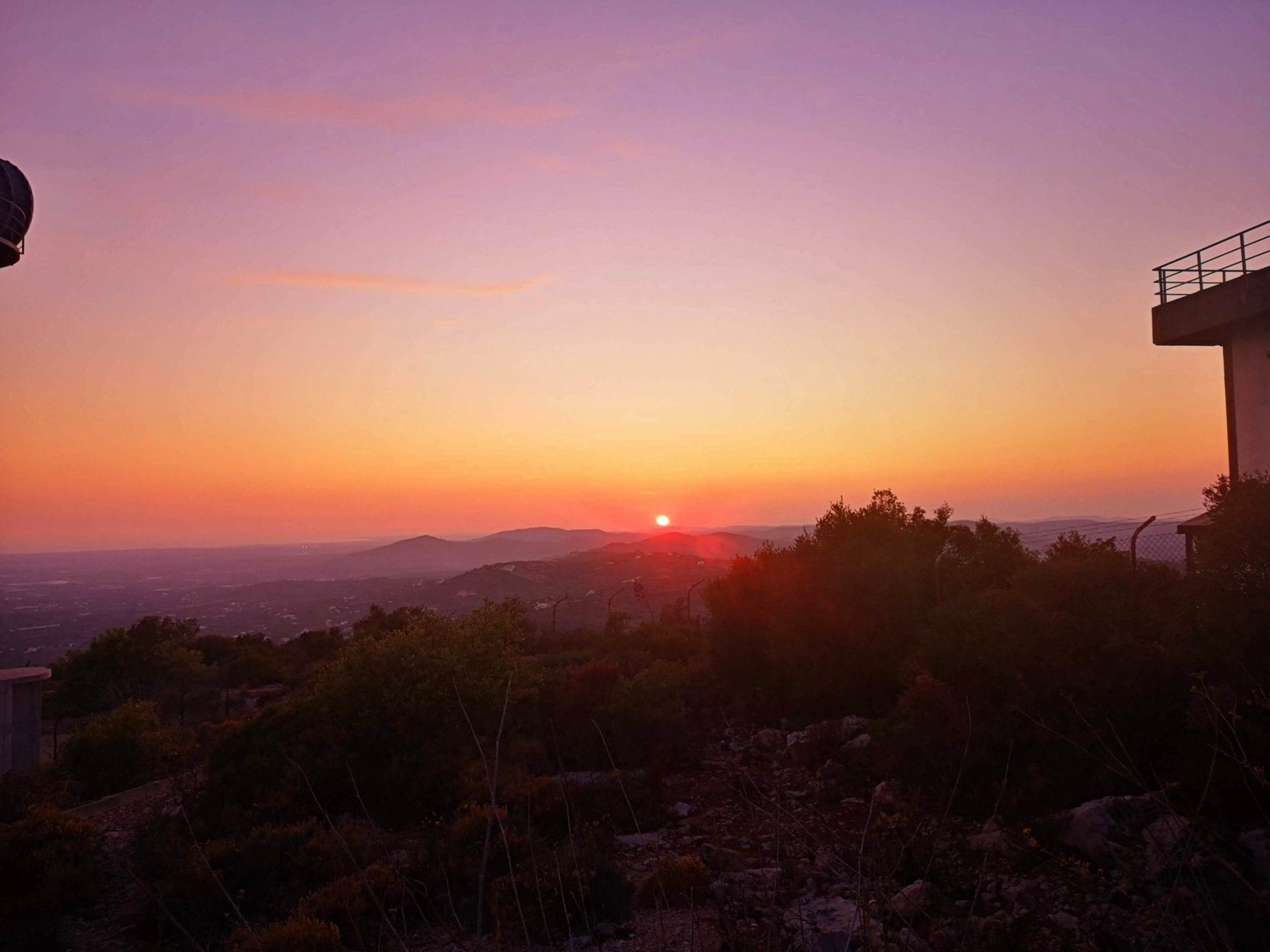 Hill "Cerro de Cabeça"
To the east of the previous hill, behind Fuseta, stays Cerro de Cabeca, which is a little bit lower and don't have car road to get to the top. It has nice, a little bit forgotten trail to the top which starts here. The top is surrounded by big stones. Because its harder to get there, Cerro de Cabeca gets very fewer visitors, so you'll be there alone almost 100%.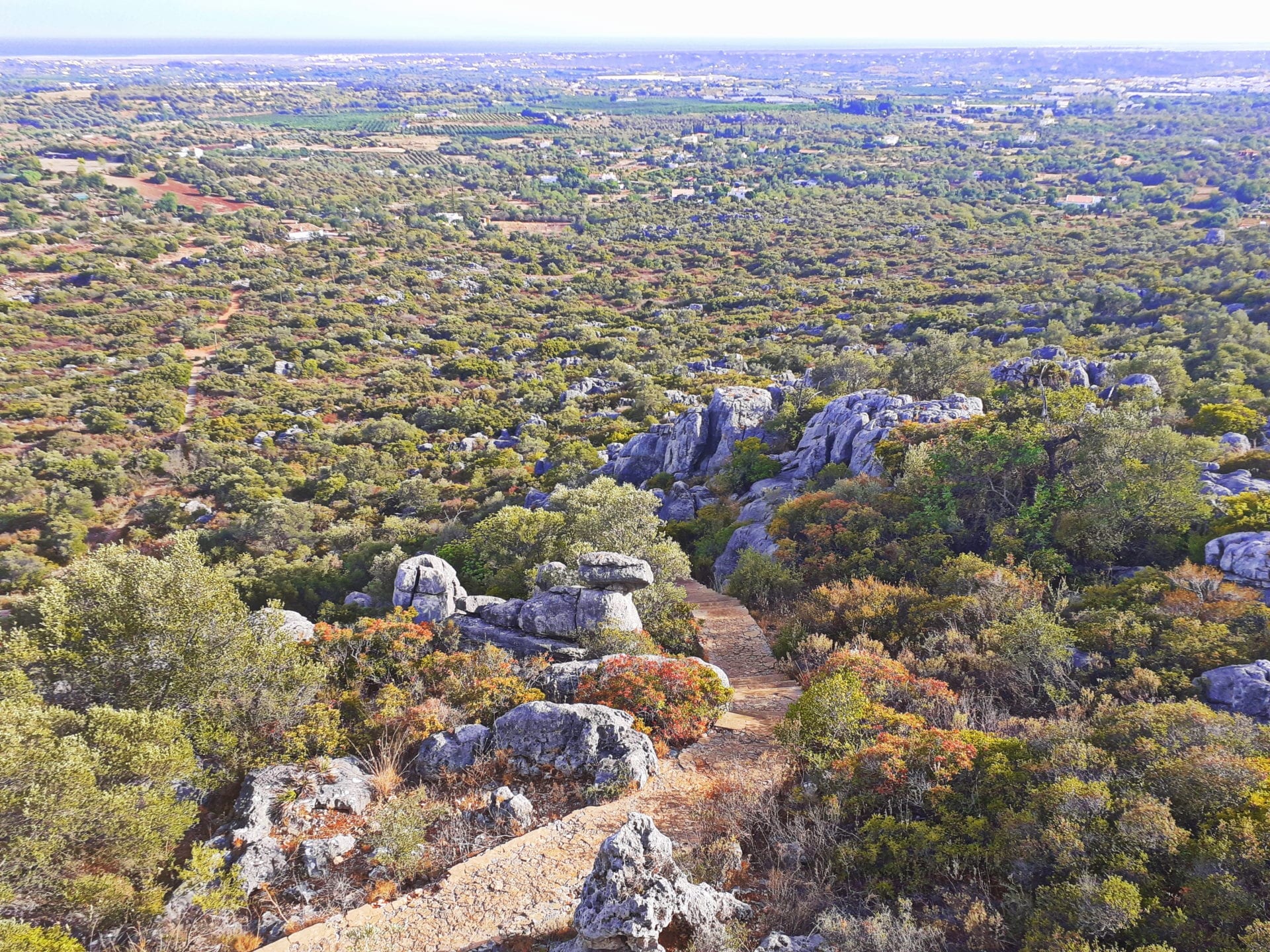 Village Moncarapacho
Moncarapacho looks like typical village of Algarve laying in the gentle hills. In medieval times the region was occupied mainly by nobles who explored agricultural areas.
These families gave population growth and lead to a new urban structure, which the village maintains until today. Moncarapacho buildings retain 16th-century elements and represent the bourgeois architecture of the 19th century. Walk the streets and enjoy the atmosphere.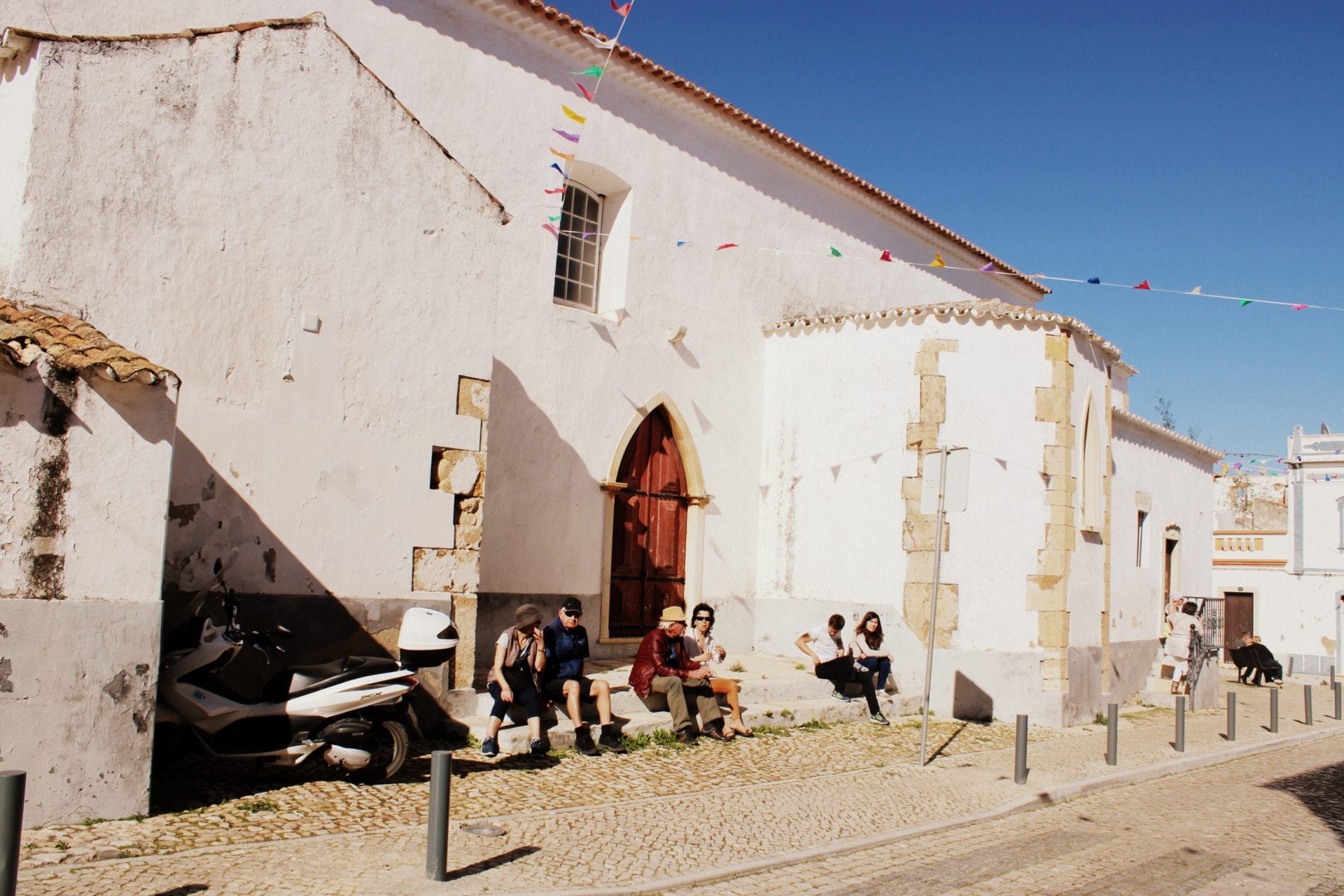 There 2 beautiful churches and museum (Museu Paroquial), with part of exposition outside, which one can see from the street.
Museu surprises by the set of interesting pieces of archaeology (prehistory, classical period and Arab occupation), highlighting the milestone of the time of César Augusto, pieces of ethnography, a valuable collection of religious imagery from XVI to XVIII centuries.
Dr. José Fernandes Mascarenhas House-Museum is one more place to visit, honouring the owner, who published many historical and archaeological studies in the Algarve and particularly in Moncarapacho. It is located at R. 5 de Outubro, nº 47. Open to the public on Tuesdays, Thursdays and 1st Saturday of each month from 10am to 1pm.
Big annual event, Carnival, gathers people from surrounding villages. Read about it here.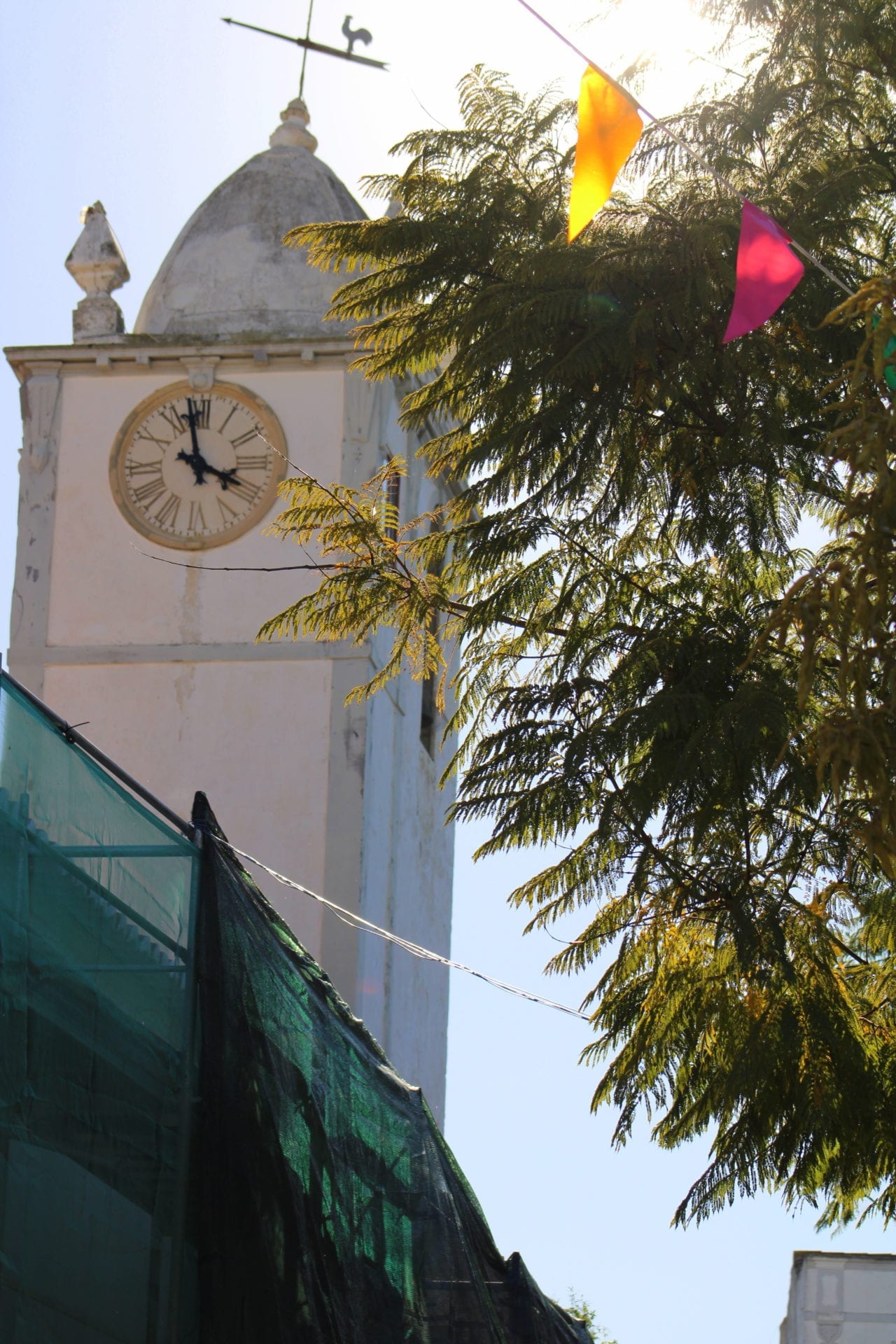 DAY TRIPS FROM OLHAO

Its easy to go on the train or bus. Train schedule is here.
Fuseta. (10 min on the train) Authentic village with easy access to the islands. A little cubic white village Fuseta, located between Olhao and Tavira. Going down to the sea by traditional and new houses. It's easy to relax and be caught in a calm atmosphere.
Fuseta situated on the bank of Ria Formosa, as nearby town Olhao, but here things are different. Right in the town, there is a beach with sand and blue still water. Fuseta is something special in terms of waterfront.
Usually, Ria Formosa meets us with wild waters, which are not good for swimming. But here the coast is excellent to have classic beach time and to do water sports. Fuseta have 2 train stations: Fuseta and Fuseta-A. Both are very near the village center.
Faro (10 min by train)- the capital of Algarve. Around 30 min on the train away.In day time except visiting the old town and castle, it's also nice to walk on the front of the Ria Formosa, which isn't always very organised, but beautiful.
One can enter marina at the train or bus station, after in the very new center where locates Faro port with yachts and near old castle walls.In port or in the same castle walls its nice to catch a ferry or boat tour to nearby islands or just to see Ria Formosa, its nature, and maybe even go to the ocean.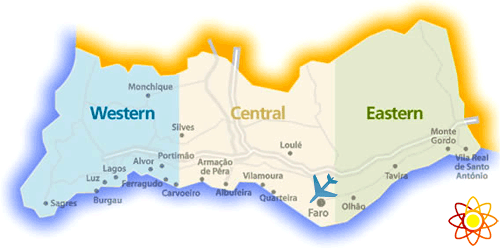 Vila Real de Santo Antonio (around 55 min by train)- Town on the border with Spain, where you can take the ferry through the river and be in Spain in 15 minutes. Has a nice beach and pleasant nature reserve near it. Vila Real is the most southwestern town of Portugal. From one side of it is the ocean, from another is a wide river, which makes a natural border with Spain.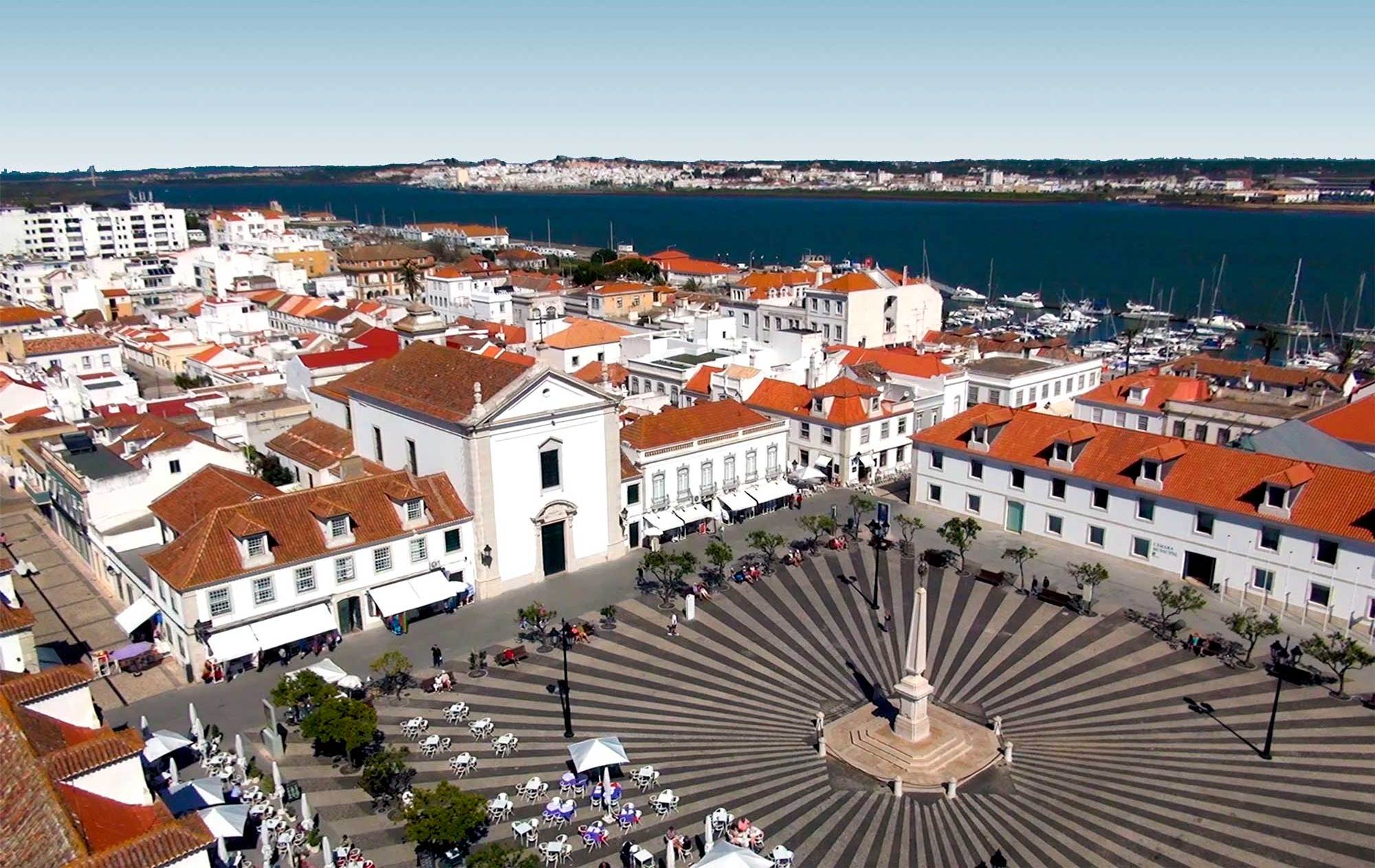 Tavira (around 20 min by train). Charming eastern Algarve pearl.
Ancient moorish old town, one of the biggest in Algarve, you can walk a long time by its old streets. Old town is divided by river in its middle, few bridges connect two parts of the town.