In this article: islands Faro, Deserta, Farol, Culatra and Armona
Check the next article to explore other islands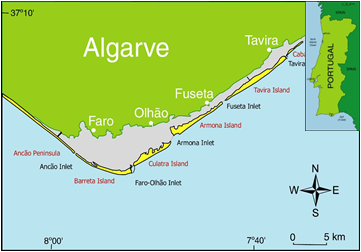 Please click on the blue text to know more.
Location
The most southern region of Portugal, Algarve, on its east has a lagoon named Ria Formosa, which also is a national park. Line of barrier islands creates a safe zone from waves and strong ocean winds, home for a lot of animals and good conditions for fishermen.
Ria Formosa lagoon stretches for 60 km from western outskirts of Faro to Cacela Velha, a village after town Tavira. The most western island is Faro island and last is peninsula Cacela, which becomes a very small island in high tide.
Word "Island" translates to Portuguese as "Ilha" and to Spanish as "Isla".
In this article, we will talk about the biggest and most known islands, which are easier to visit. Though some of them are often deserted and you can be still alone on the beach when you visit.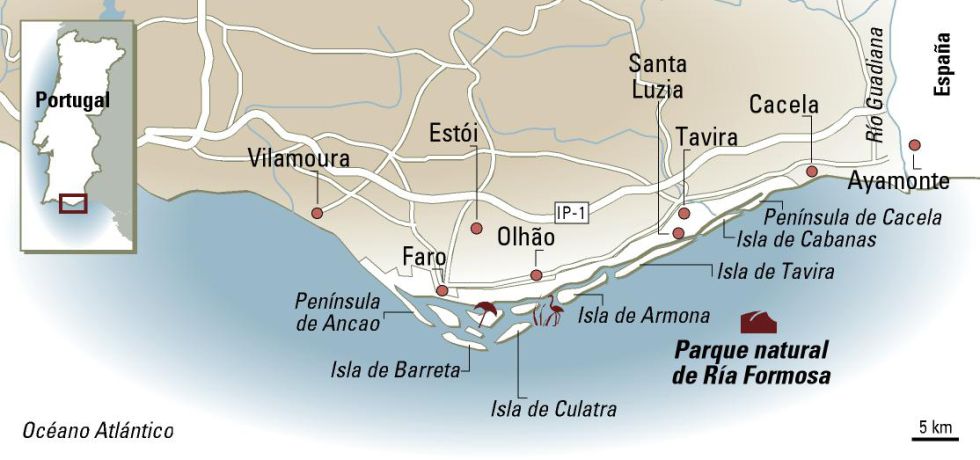 Please click on the blue text to know more.
How to get to the islands
Depending on the various factors there are different ways to get to islands. Some have bridges, others – cheap ferry boats, others can be reached only by aqua taxi or with boat tours. The most expensive way is usually by aqua taxi, but can variate as depends on the distance to island, location and competition. Down we will describe the ways to get to every island.
Eastern Algarve still isn't so popular and crowded by tourists as western part. Prices are also lower. Read more about eastern Algarve here.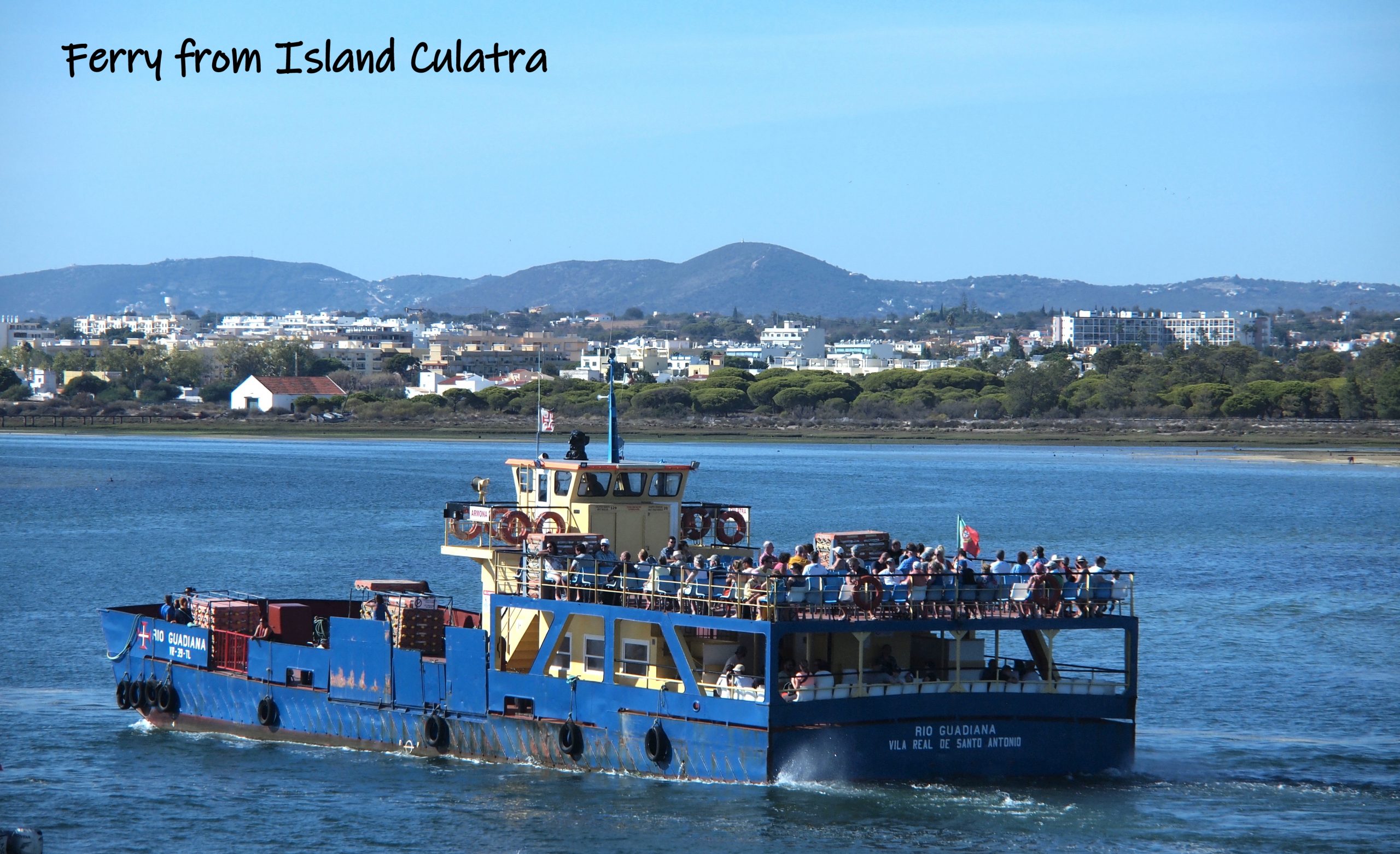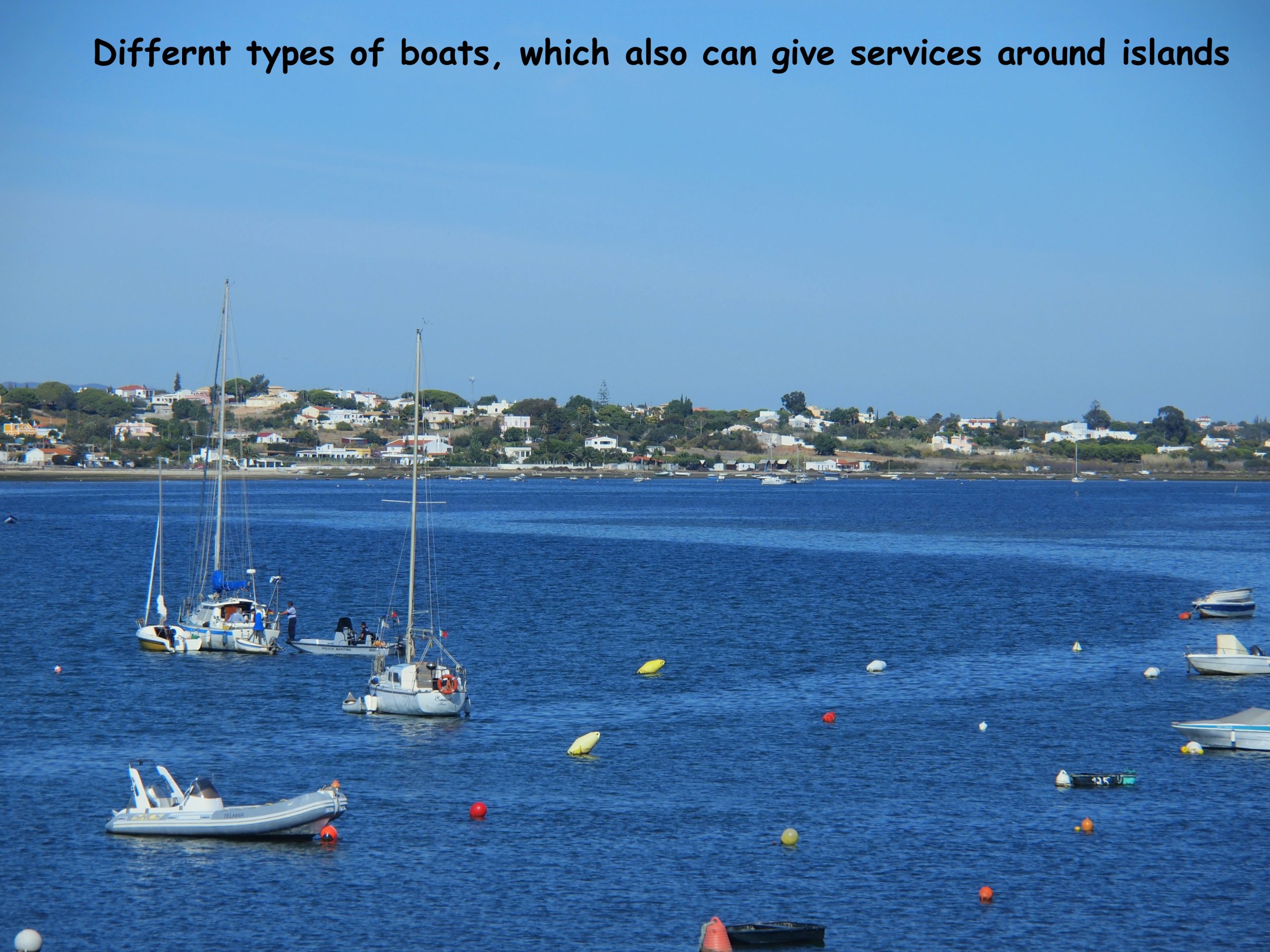 Please click on the blue text to know more.
Faro island
Faro island is the most western island, probably the easiest to reach and most visited. It locates near Faro airport, and the same bus takes you to Faro airport and then goes to Faro beach. Of course, the closest town is Faro and there are view ways to go to the island from the town.
Don't confuse city of Faro, Farol island and Faro island. Its different sites.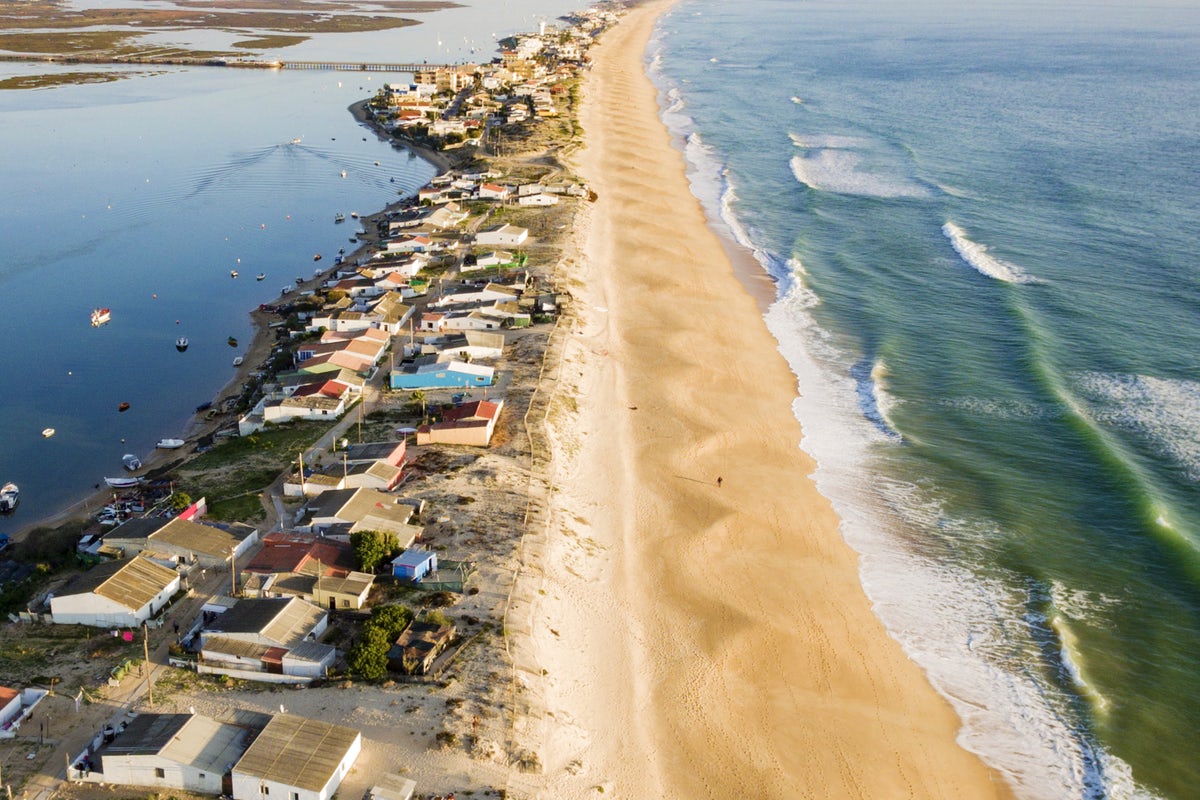 How to get: bus/ferry/car/boat
⇔Bus. As there is a bridge to Faro island, one take a bus, which comes around every 20 minutes from the main bus station in town center (has name "Terminal Rodovario). It's the same bus, which goes to the airport, and you can pick it up near the shopping mall "Forum Algarve" bus stop ("Figuras") as well. The ticket is bought in bus and cost around 2,30 eur. Take bus line 14 or 16, check the timetable here. It's very usual to witness a situation when people in suits and flip flops sit together in the same bus.
⇔Ferry. Ferry boat is a little bit cheaper than a bus (2,10 eur) and it takes around the same time to get to the island, though Ferry goes less often than bus. It goes from Faro port in the old town and there near the port itself you can find the schedule (ferries go around every 2 hours). Schedule is here.
⇔Car. In summer often its hard to find parking on the island, so the tip us to park the car on the big parking behind the last roundabout (here) and walk nice wooden trail to the island, which will take around 5-8 minutes. From the trail you can check Ria Formosa views.
⇔Aqua taxi, private boat or tour. Can cost from 15 to 90 euro, even more, if you want a big boat only for yourself
. There are various propositions, an aqua taxi can take you very fast to the island in any time of the day. Tour will show you around and it will cost around 20-30 eur.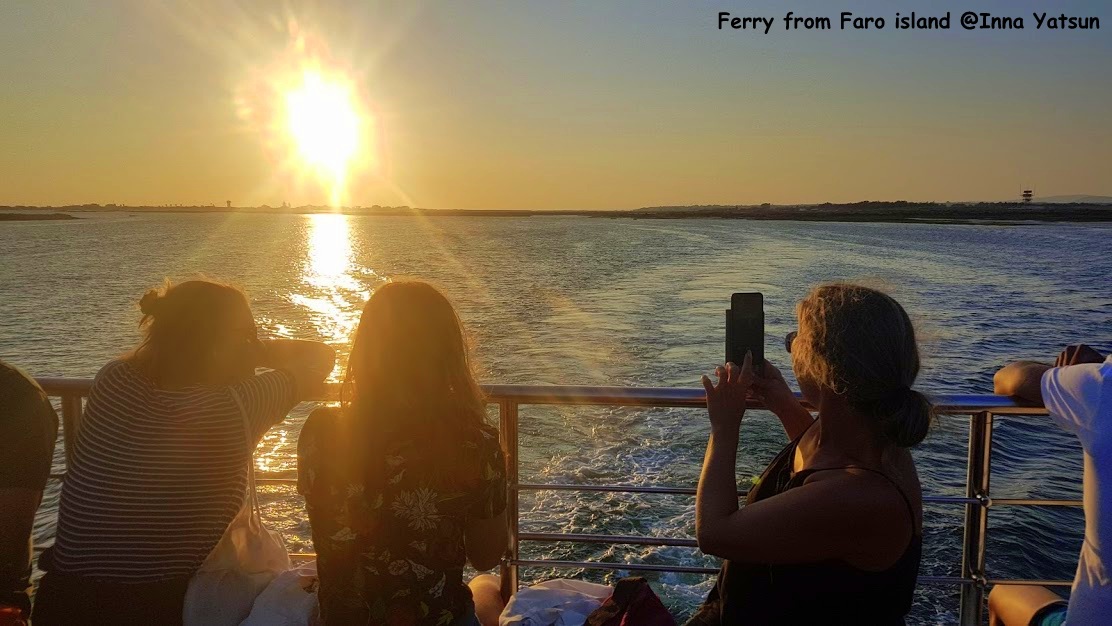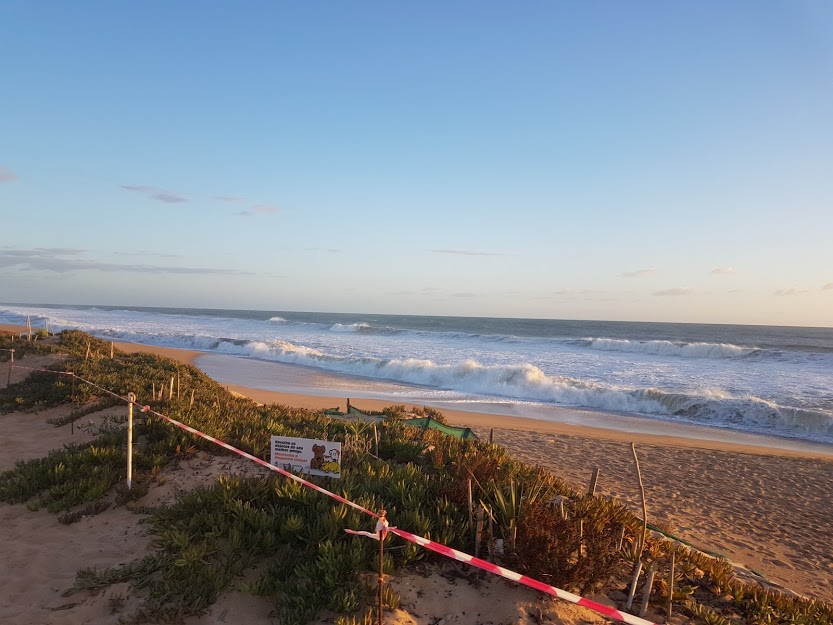 Facilities on faro island
Faro island destination often called "Praia de Faro"(Faro beach). Remember this, when you'll check for schedules and other information.
Island has most facilities compared to others in Algarve. There are a lot of houses, where people live or rent to tourists, hotels and hostels. Main street, which is in fact only one here, goes long through the island, by walking it you can find numerous cafe, restaurants and small shops. There is also a camping and various bases of water sports companies. There is a new library as well. Note, a lot of places are closed in winter.
A bridge connecting the island locates in its middle, and that's the most packed place by cafes and people. Ferry boat port locates a little bit further, probably 5 min walking from the bridge.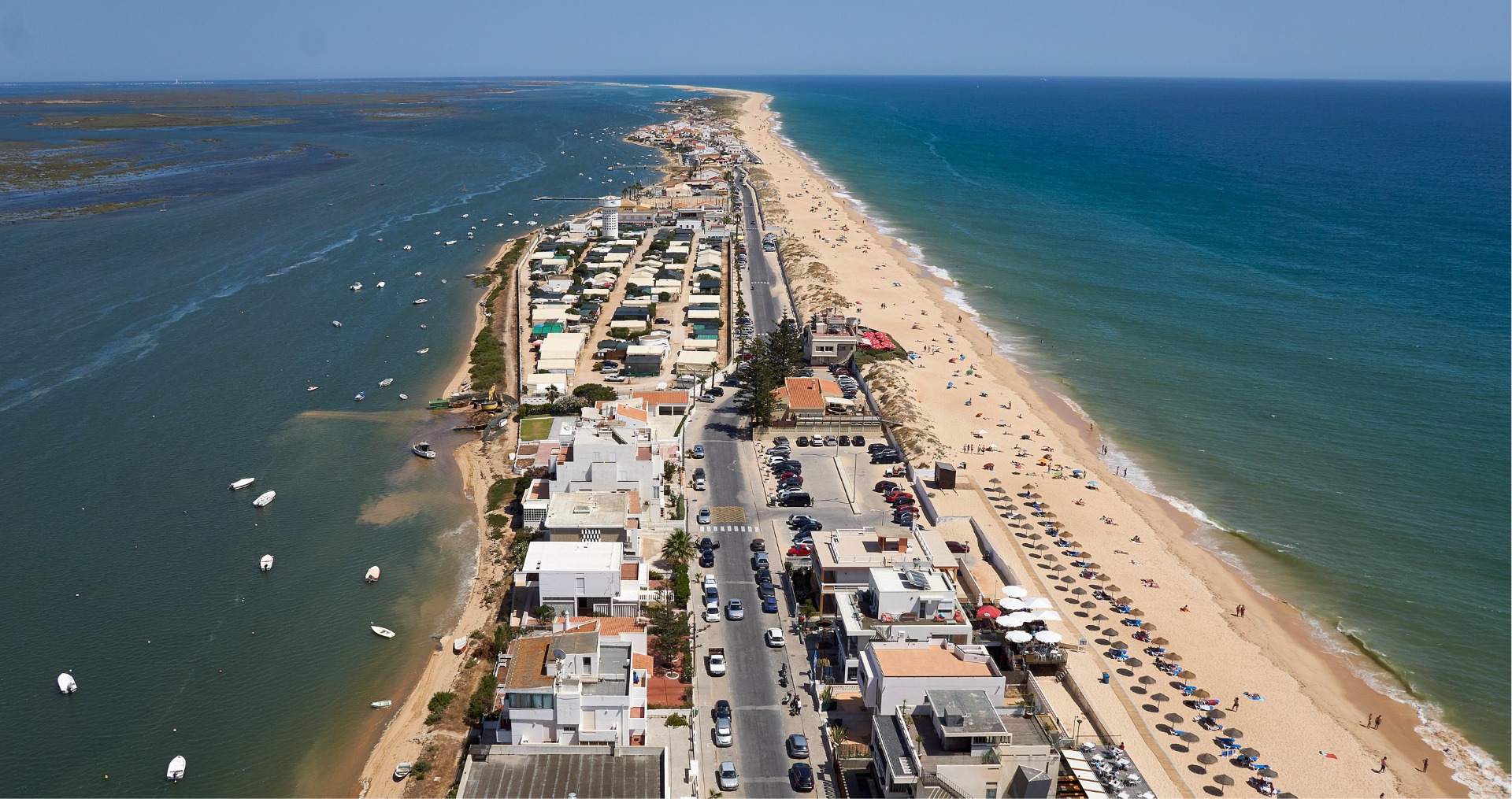 Beach on the island
Oceanside of the island has long never-ending beach, which you can walk for a few hours. It's wide and even in peak season, there are a lot of space for everyone, of course, if you aren't too lazy to walk a little bit further.
Because of the way beach lays it often have high waves, so swimming is more dangerous than on the other islands.
Lagoon side of the island always has calm waters. It used for boats, watersports like stand-up paddle, annoying, etc. People don't swim on this side that much, as ocean side waters are much cleaner.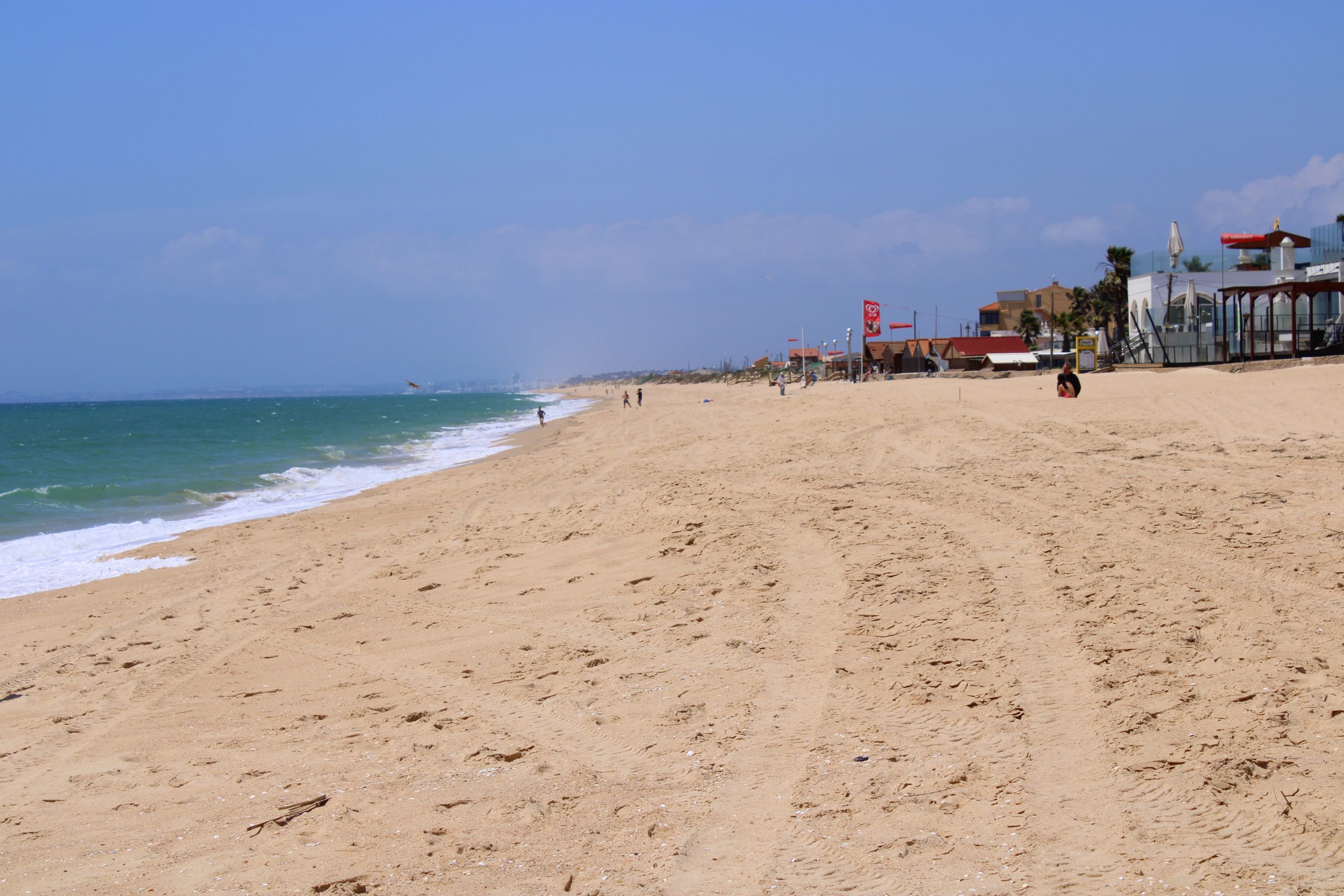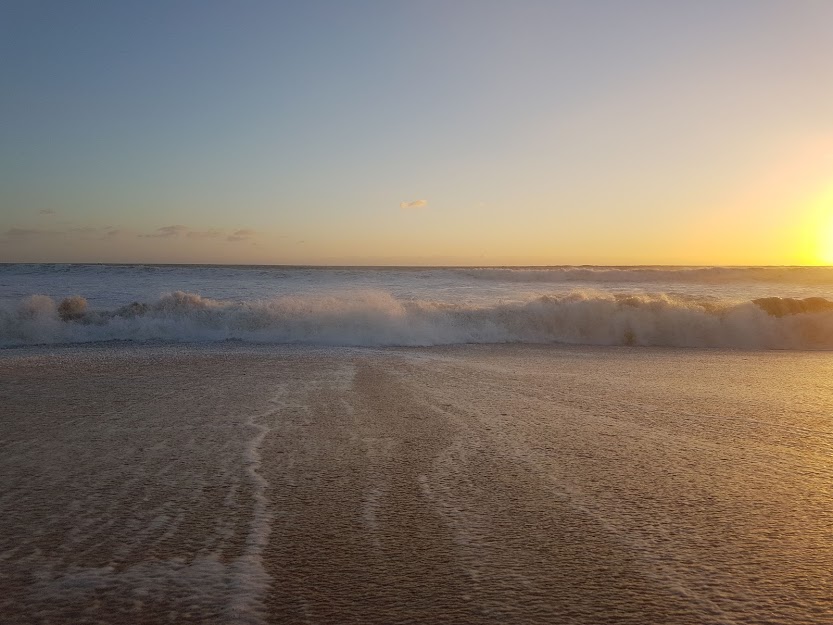 Deserta island
From its name probably you understand, that this island is deserted, there are no houses no other permanent life. Only one restaurant and a wooden boardwalk.
It's possible to get here from Faro on the ferry, shuttle or special "Deserta tour" and from Olhao (only with a tour). Of course, almost to any island, you can come with the aqua taxi, and Deserta isn't an exception, though it locates further than others, so it's more expensive.
This island is visited by not many people and usually is quite empty. One can enjoy peace and calmness.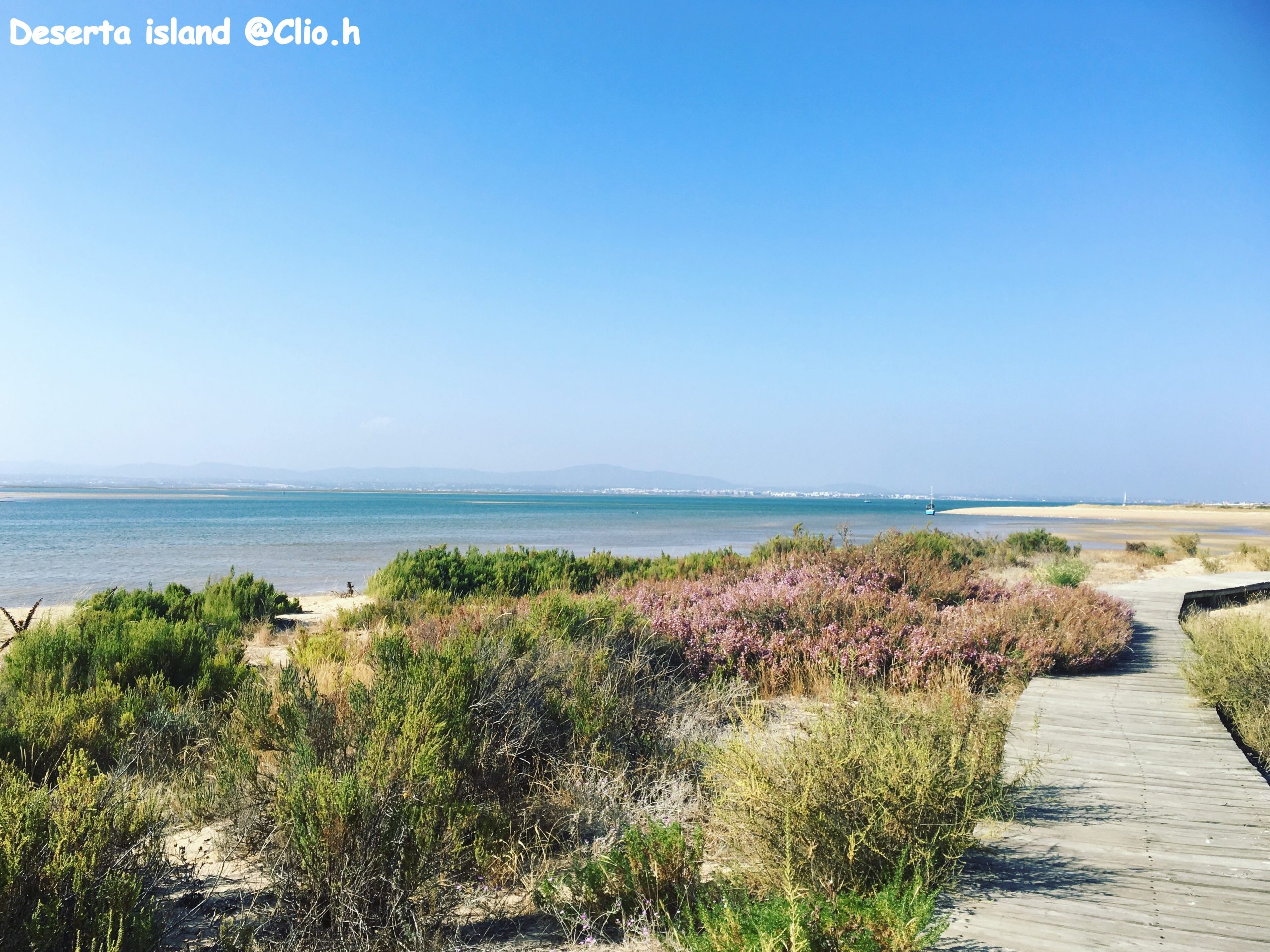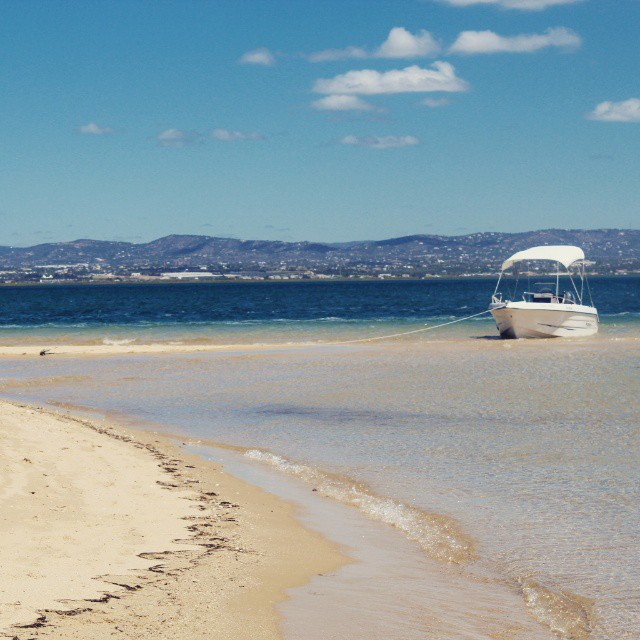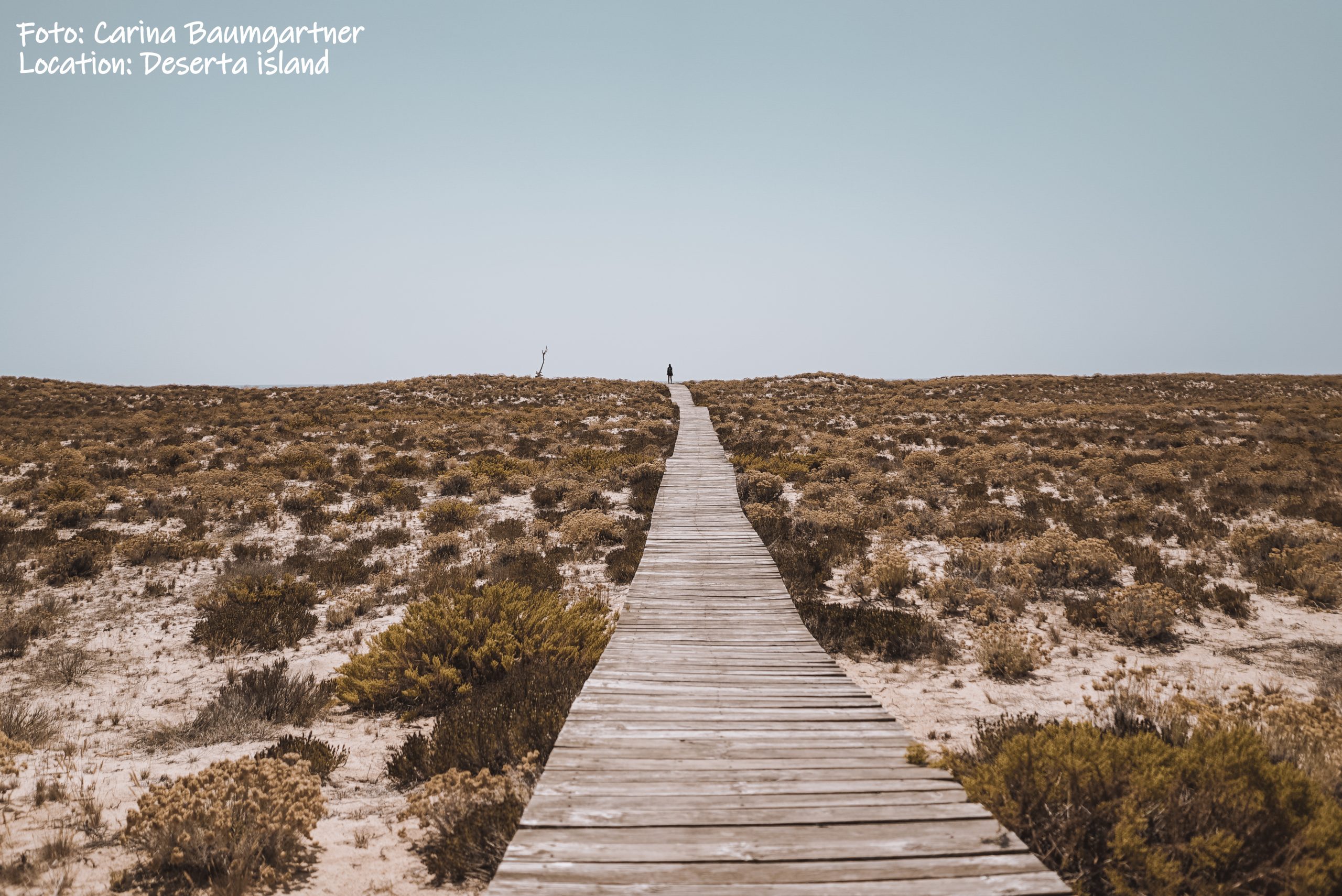 Farol island
Farol in Portuguese means lighthouse. So yes, this island has a high lighthouse, which is open on Wednesdays afternoons for visitors to enjoy an amazing view from the top.
Farol island actually is the same island as Culatra, but is a different settlement. Farol village is cute, with nice small white houses and small streets, which is only for walking. Other than Faro island, others don't have car access, so it's free from noise and pollution. Only locals and travellers.
Farol on its western edge has a long zippy jetty into the ocean and is parallel to Deserta island. Farol also has the most southern point of Portugal, known as Santa Maria Cape.
Farol has some cafes and small shops, but its not exactly a consumers heaven, so prepare yourself. There are as well some beach bars with nice views on the ocean.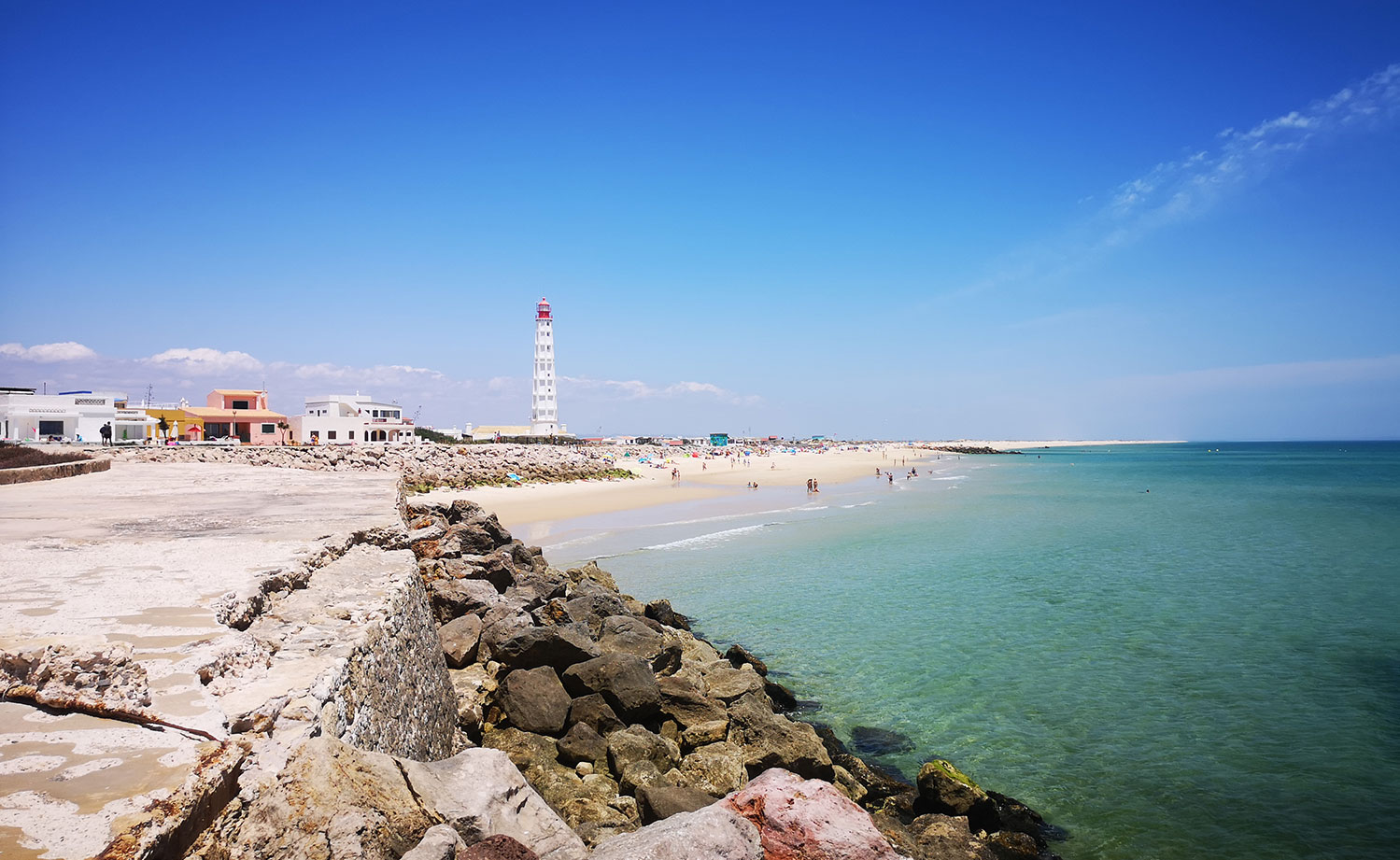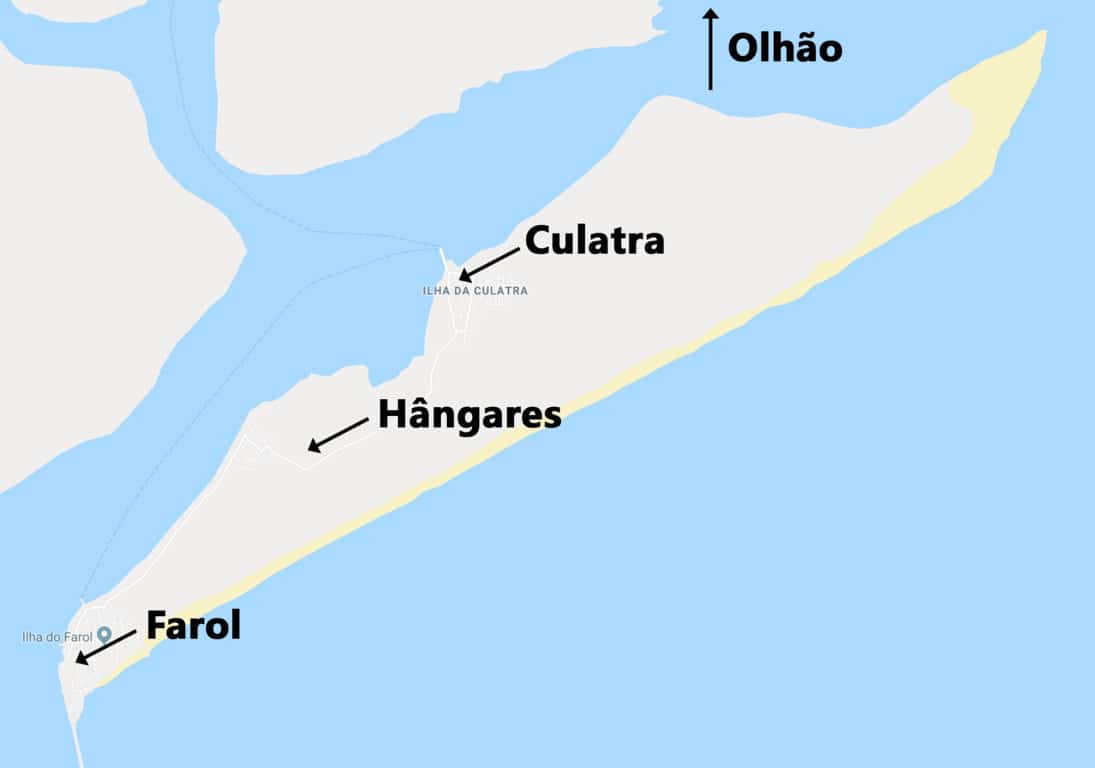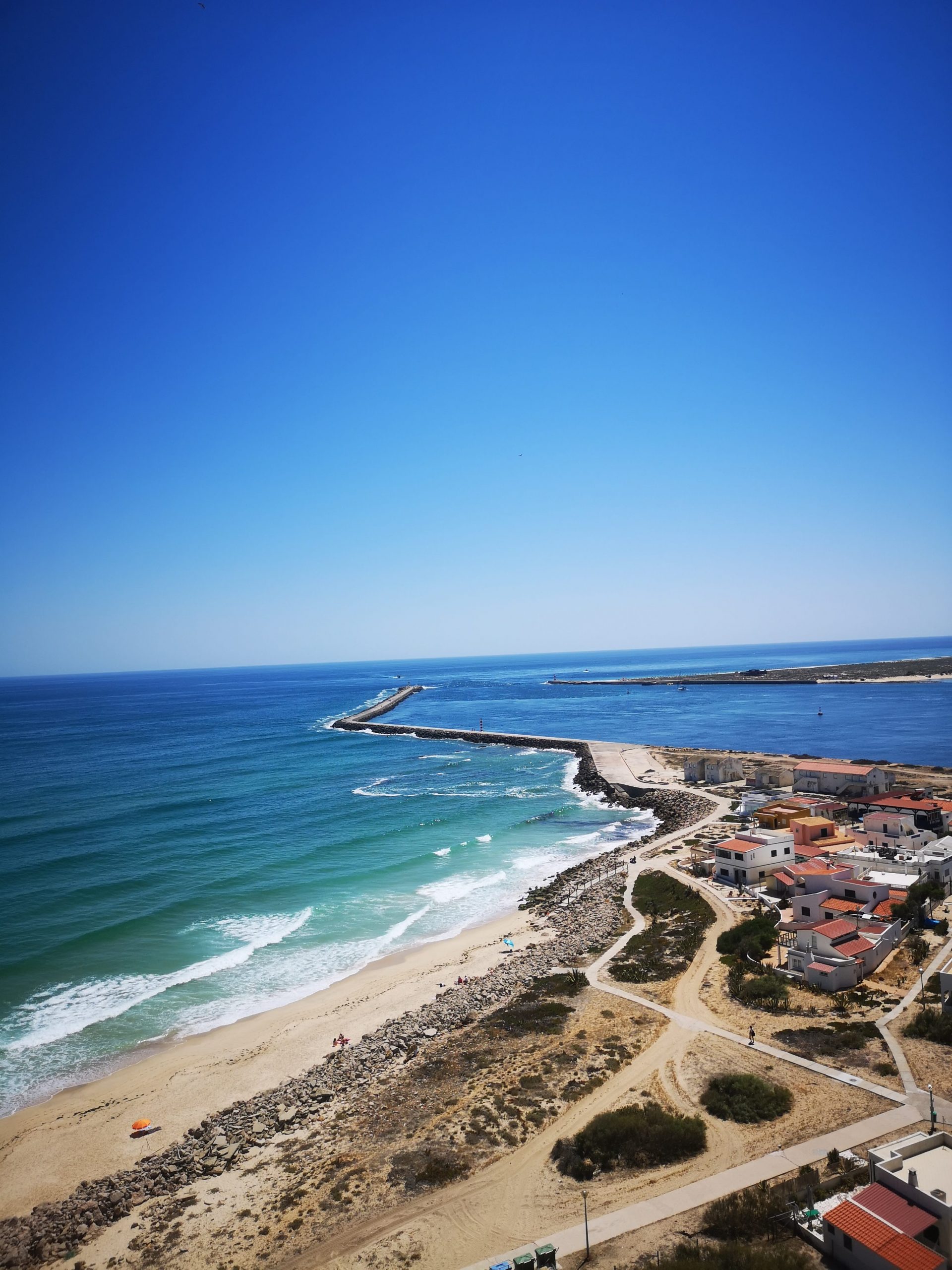 How to get to Farol island
This island in fact is a part of Faro, but it's cheaper to come here from Olhao. Ferry roundtrip will cost 4 euro. The ferry stops first in Culatra village, and then goes to Farol, after going back to Olhao. The ride can take 40 min or even 1 hour and depends on tides. Check schedules here.
Round way trip on the Ferry from Faro cost one euro more. There are also less trips per days. Check the schedule here.
There are also tours from Olhao, where you stop on Farol island and after on Culatra and boat will wait you while you go to the beach or for lunch in the local cafe. There are also tours, where on the way you can check wildlife like flamingos.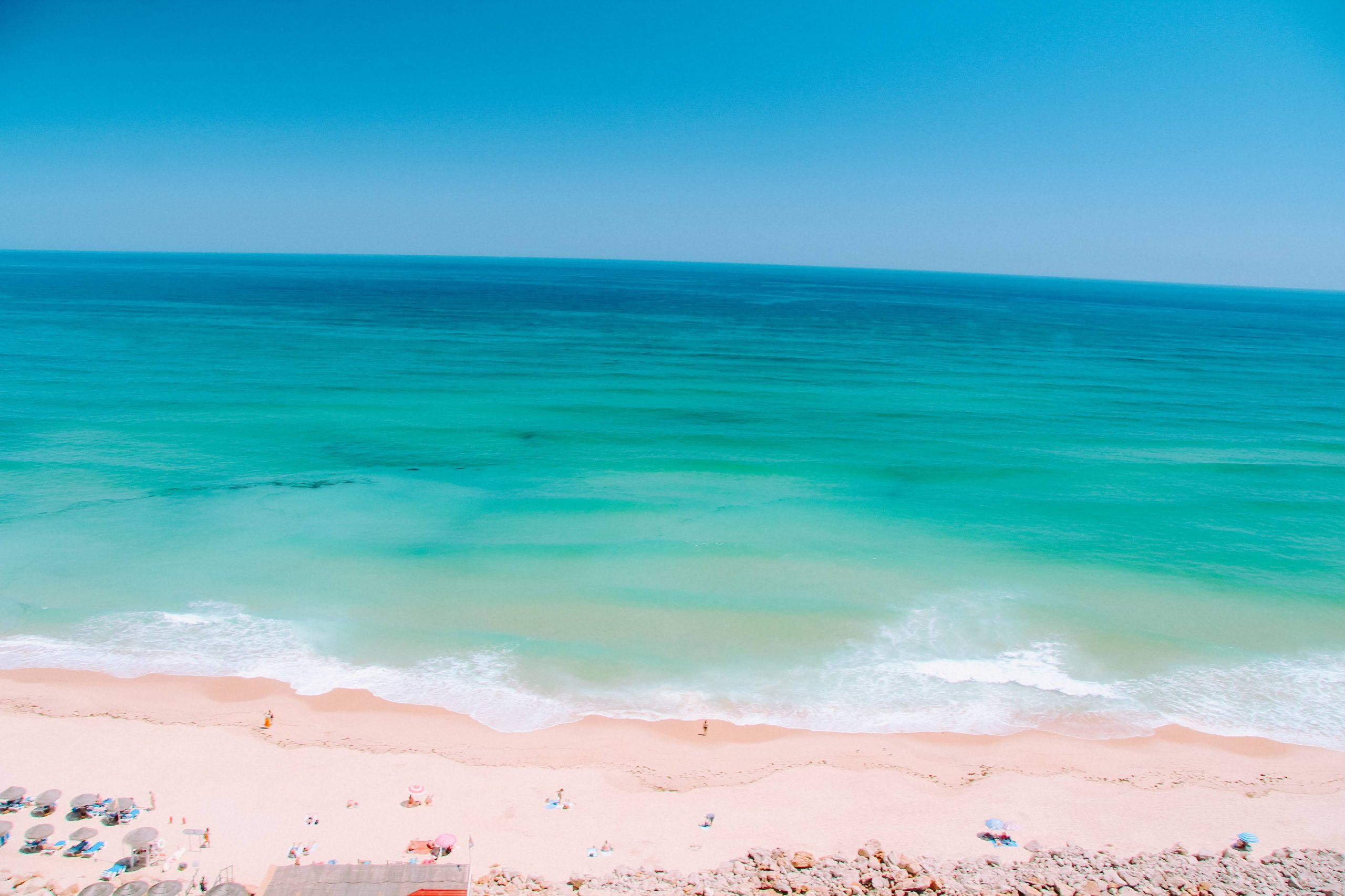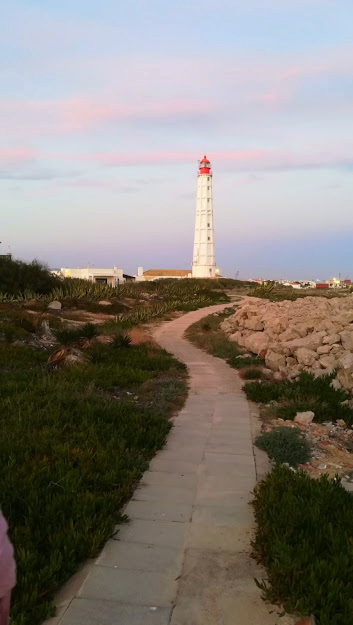 Culatra island
A fisherman village in the middle of Ria Formosa with amazing sandbanks and restaurants which provide the best fresh fish. Culatra lays on the same island as Farol. The beach is less busy than most of the beaches on the mainland. Check our small video here.
The village still leaves its life having primary school and library. Go into the depth of Village and find a square with benches with tables in the shade and wooden boat as a playground for children. Nearby you also find a lagoon(36.992783, -7.837671), where Ria Formosa waters go inside the island, especially amazing in the high tide. A safe spot when waves are big and you cant swim in the ocean.
Walk from ferry stop in Ria Formosa side to the ocean side takes you through the small part of the village and then by the wooden trail through deserted sand dunes, which in the high tide partly becomes covered by water. Amazing views.
One can get to Culatra from Olhao on the same ferry as Farol. When you'll go back to Olhao, the ferry will make a quick stop in Farol. Roundway trip costs 3,80 euro.
Ferry from Faro costs 6 euro (roundtrip) and goes only 2 times a day. The schedule is here.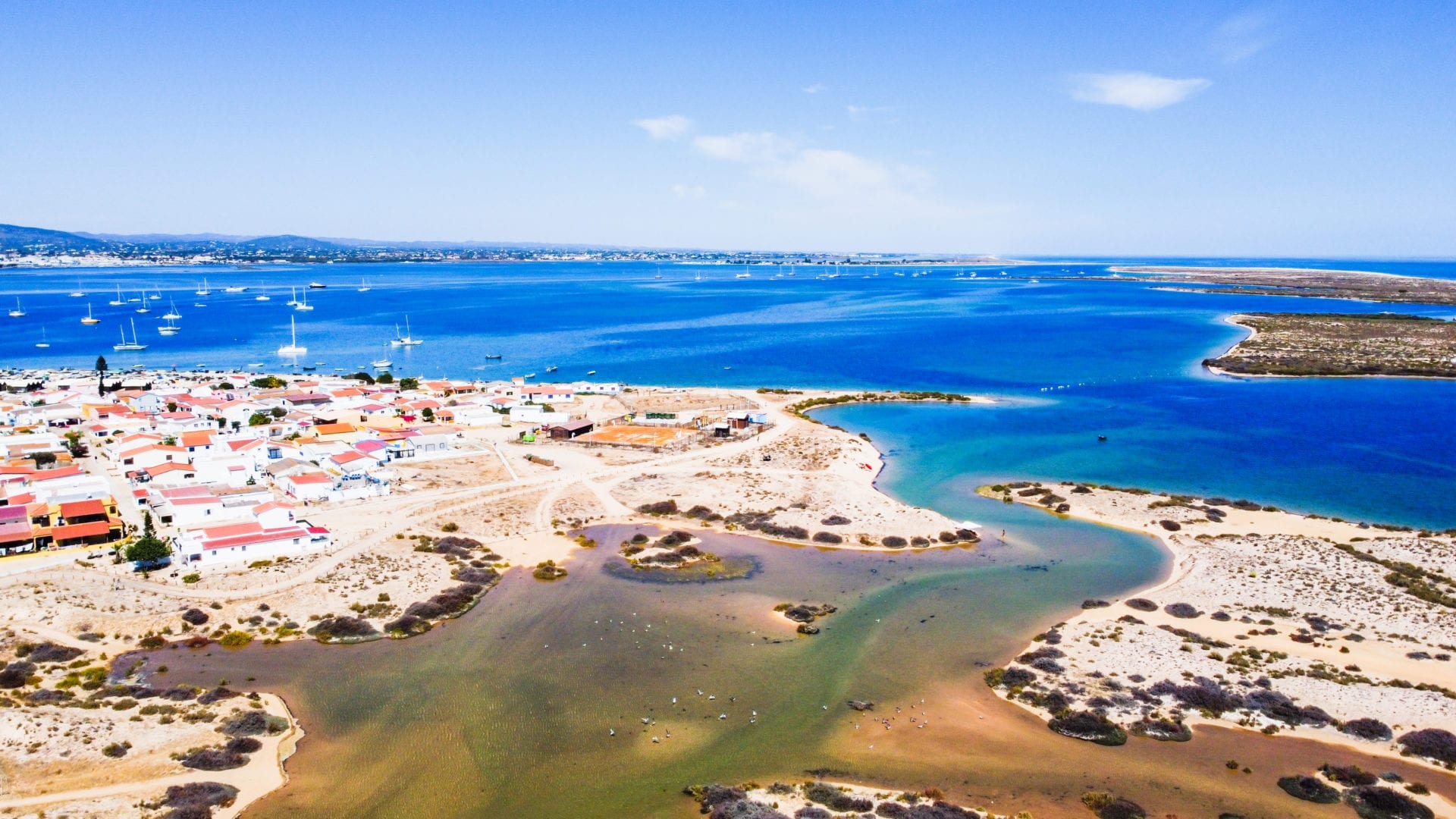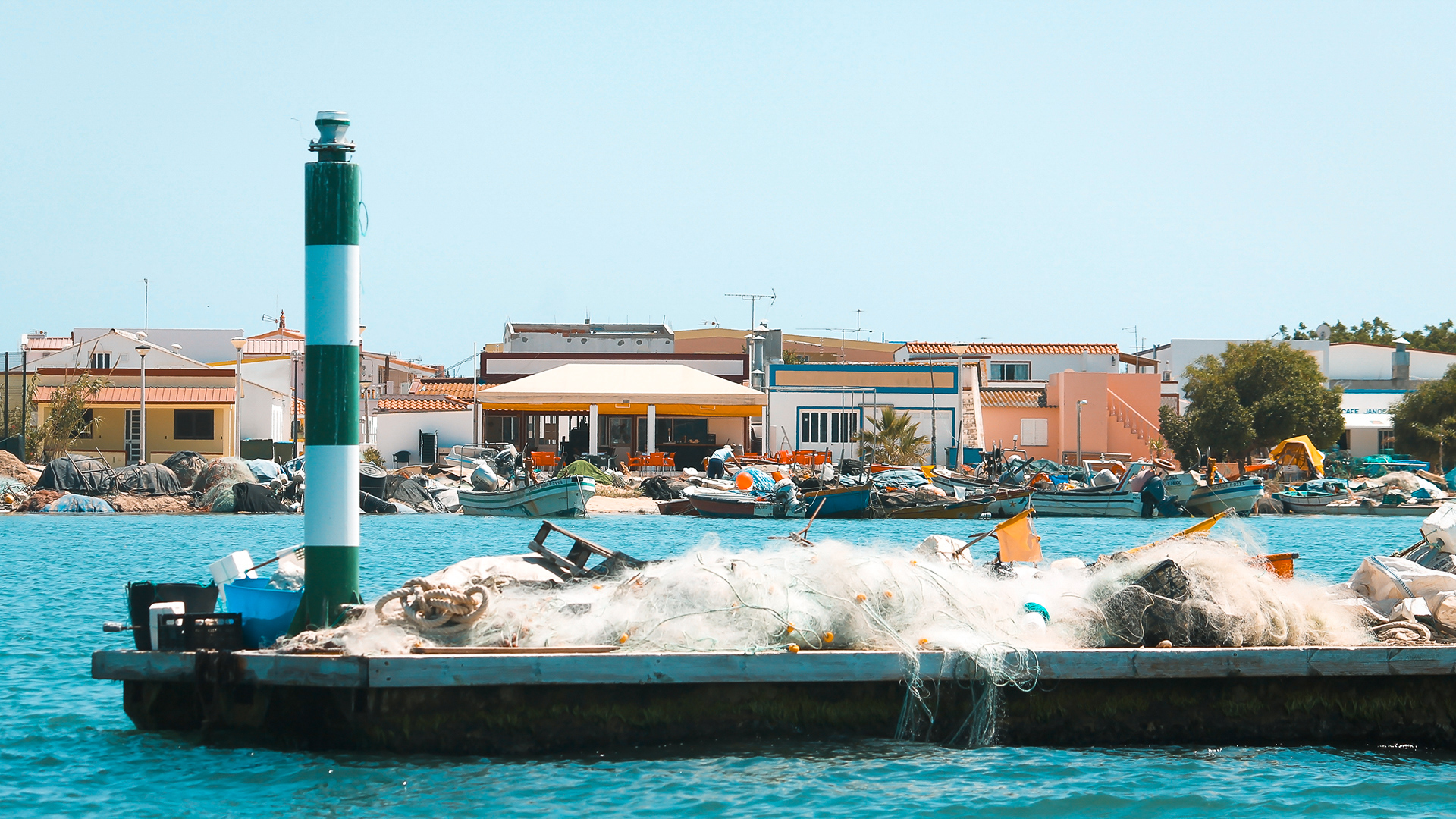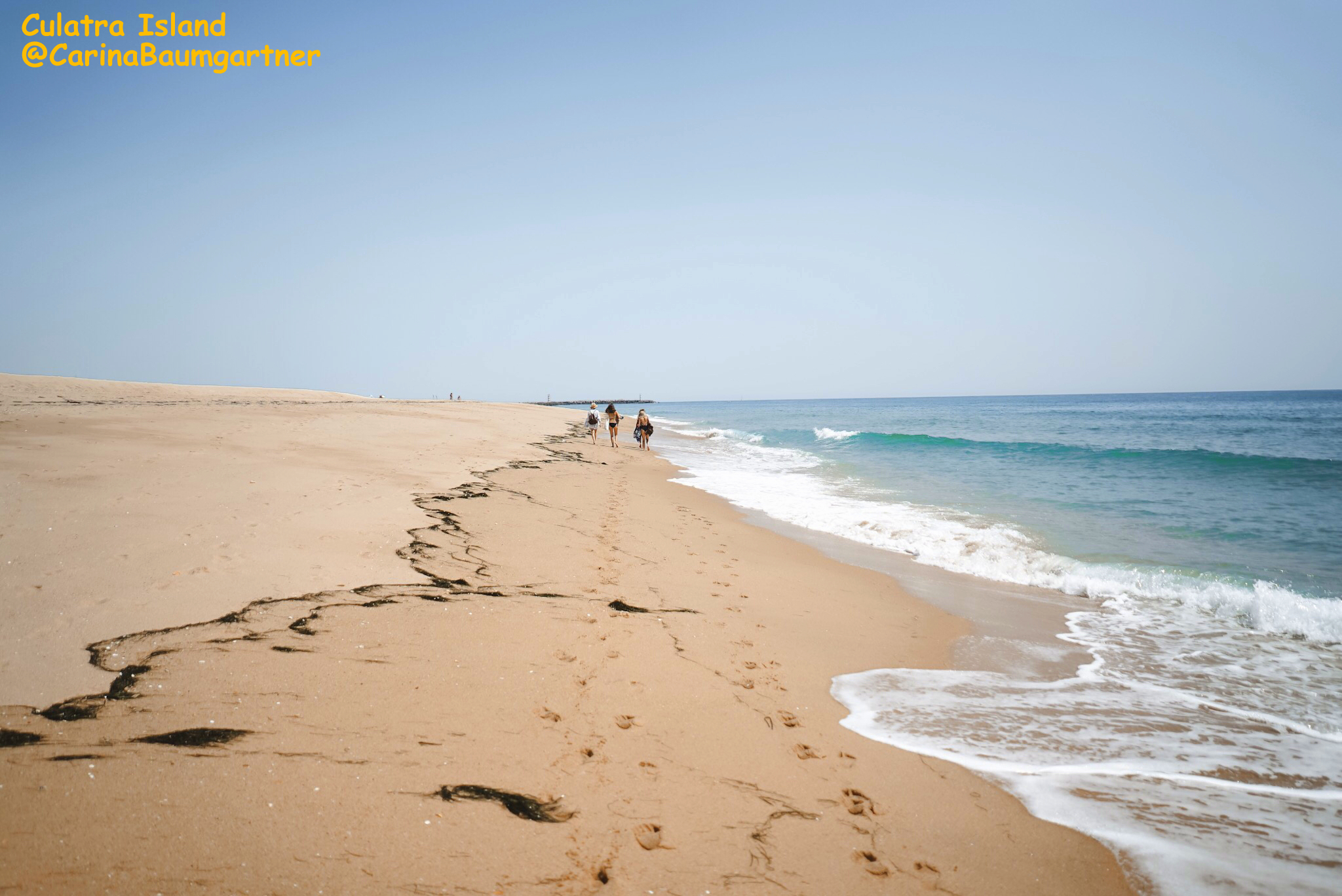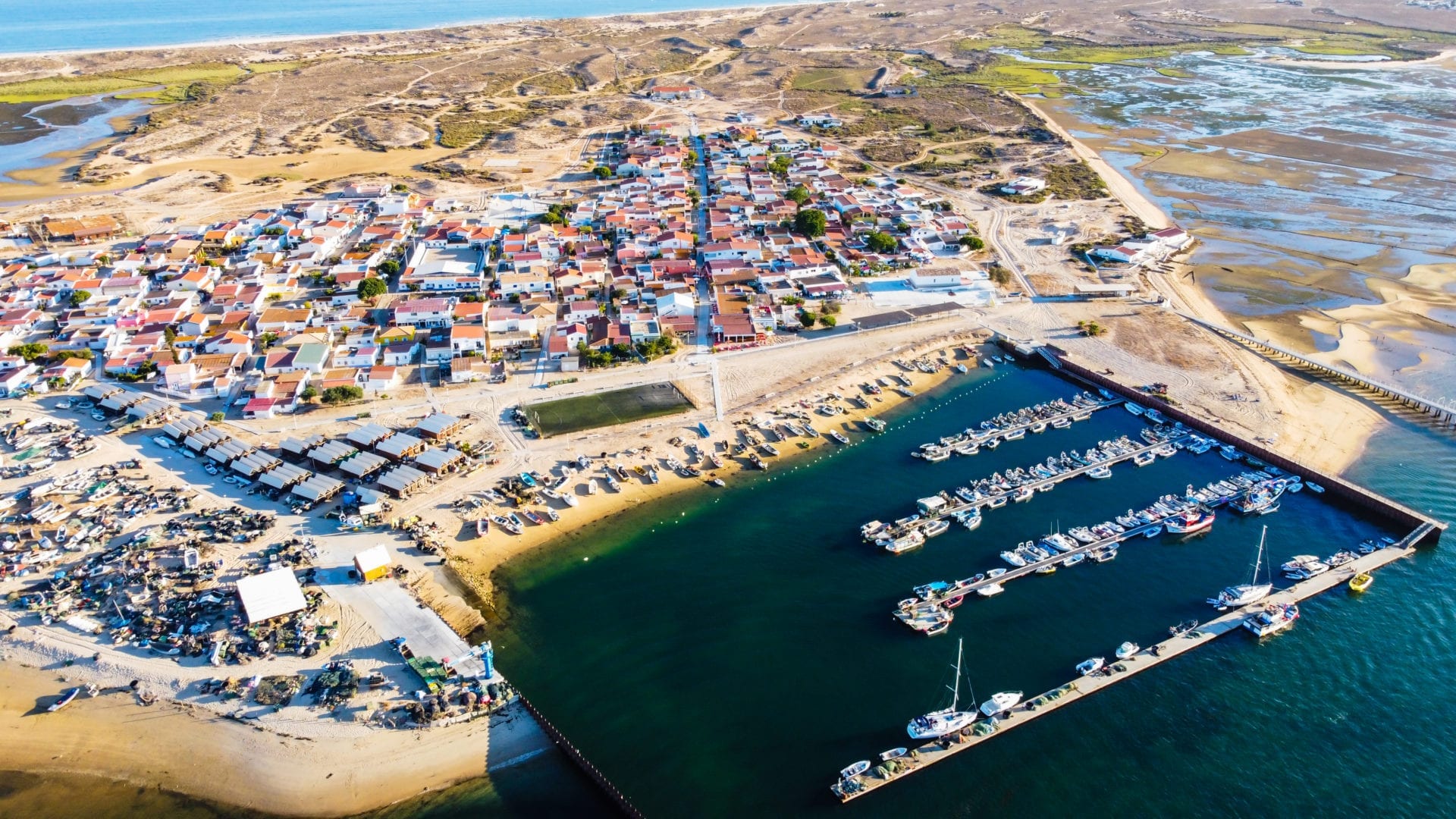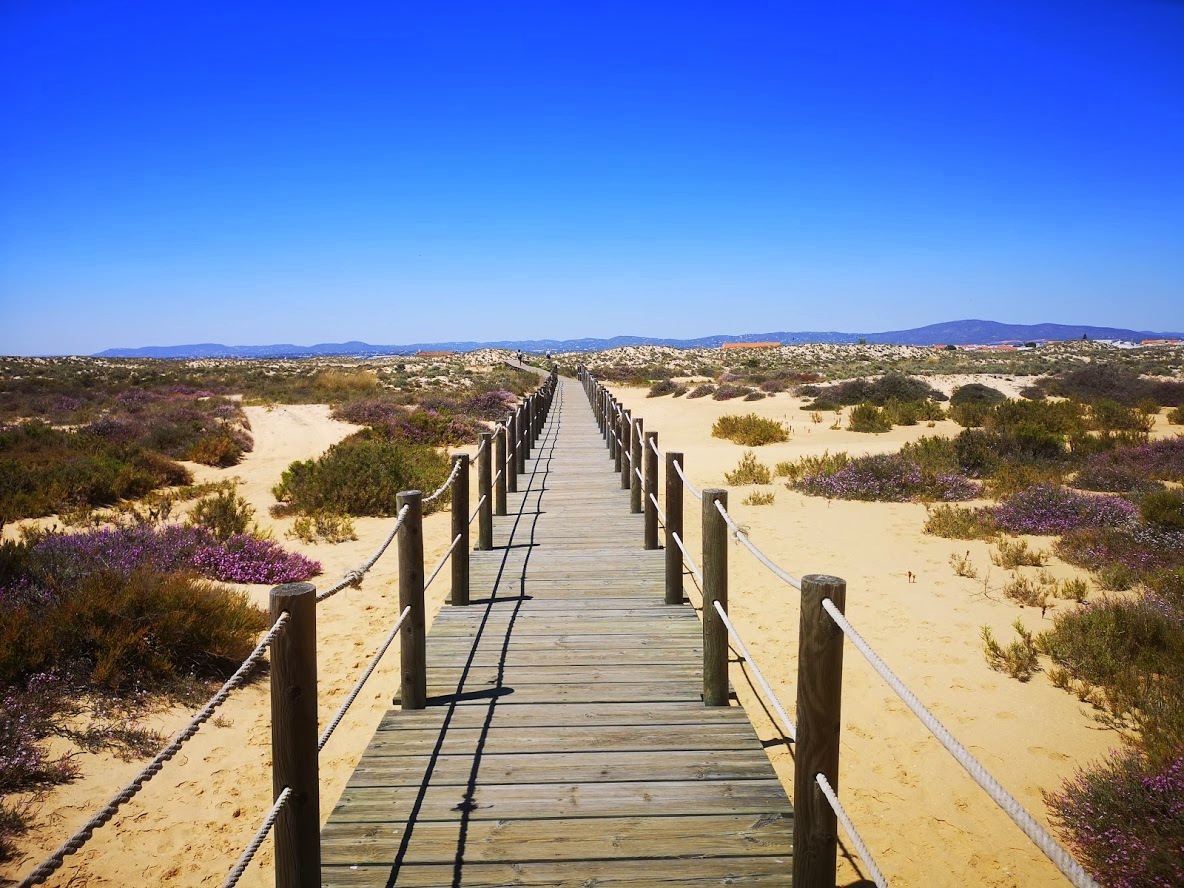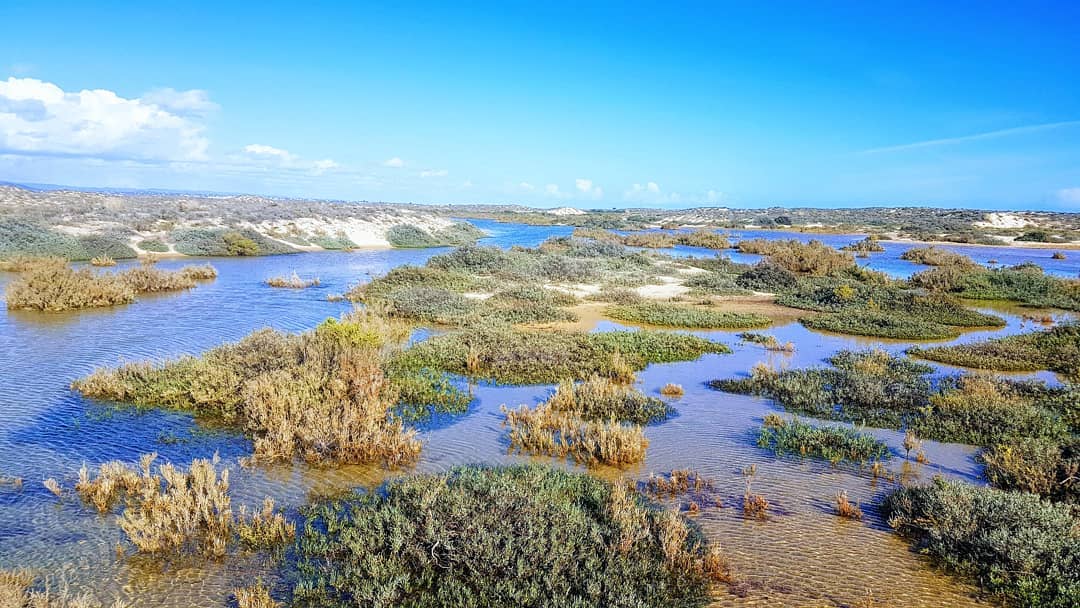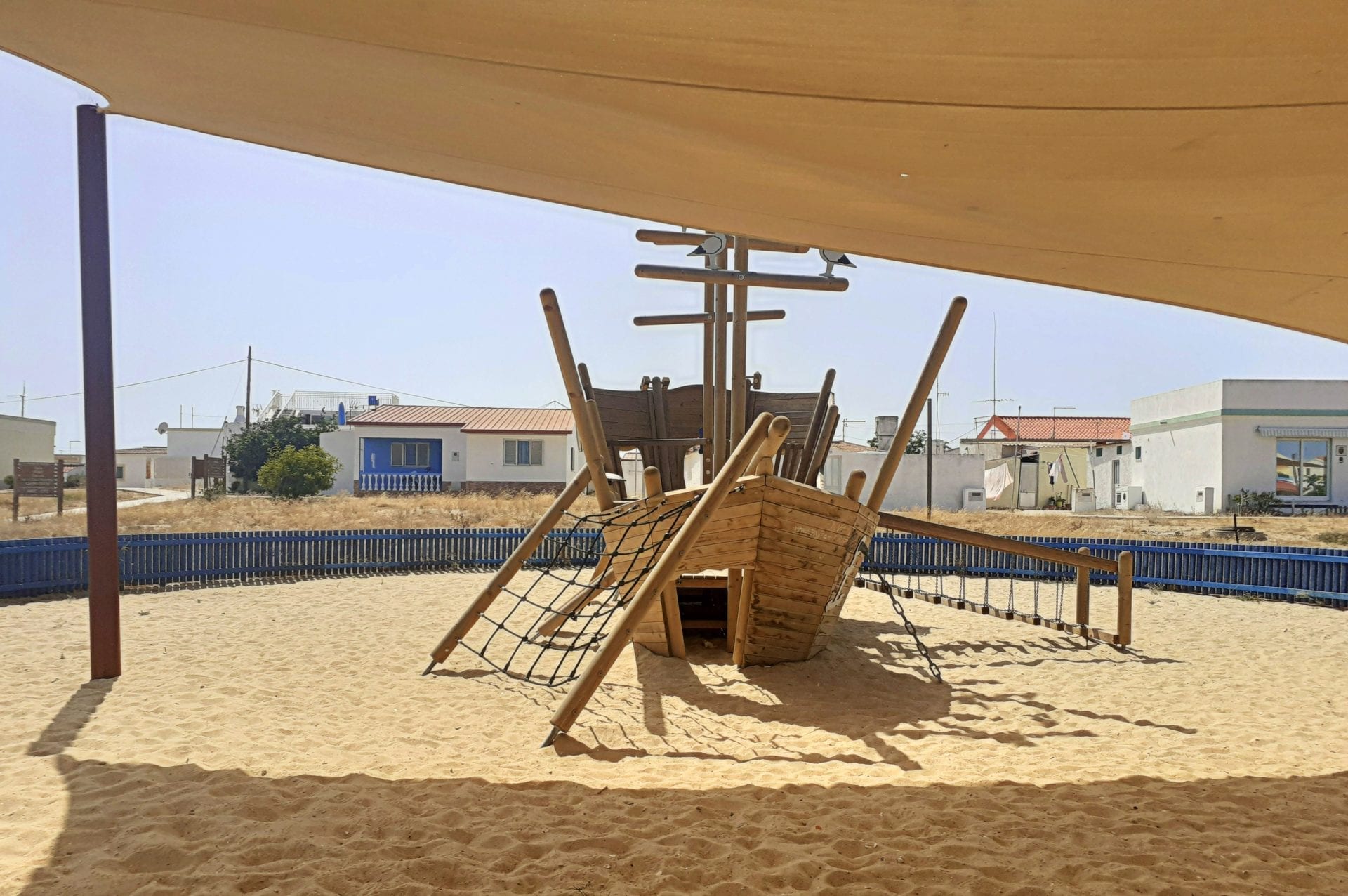 Armona island
Armona is 15-20 minutes ferry boat ride away from Olhao and belongs to the town. Ferry timetable is more comfortable, there are more boats in a day than to other islands. Roundtrip costs 3,85 euro. Ferry boat goes from the same port as the ferry to Culatra and Farol islands.
Armona island has an amazing long clean beach on the ocean side and a small beach on the Ria Formosa side as well. With hundreds of nice small houses, it's a touristically oriented island where a lot of people from Olhão have houses to spend the weekend. Island is the cleanest one and you will probably feel yourself like in paradise disconnected from the town life and its noises.
Walk from the boat stop on the side of Ria Formosa to the ocean side goes through nice atmospheric village street with fisherman (in past) white houses and takes around 15 minutes. Island has cafes and small shops.
During the low tide on the ocean side, you can check nice small sand islands and low water mini lagoons, which transparent waters look just amazing. Tides are highest and lowest in the full moon.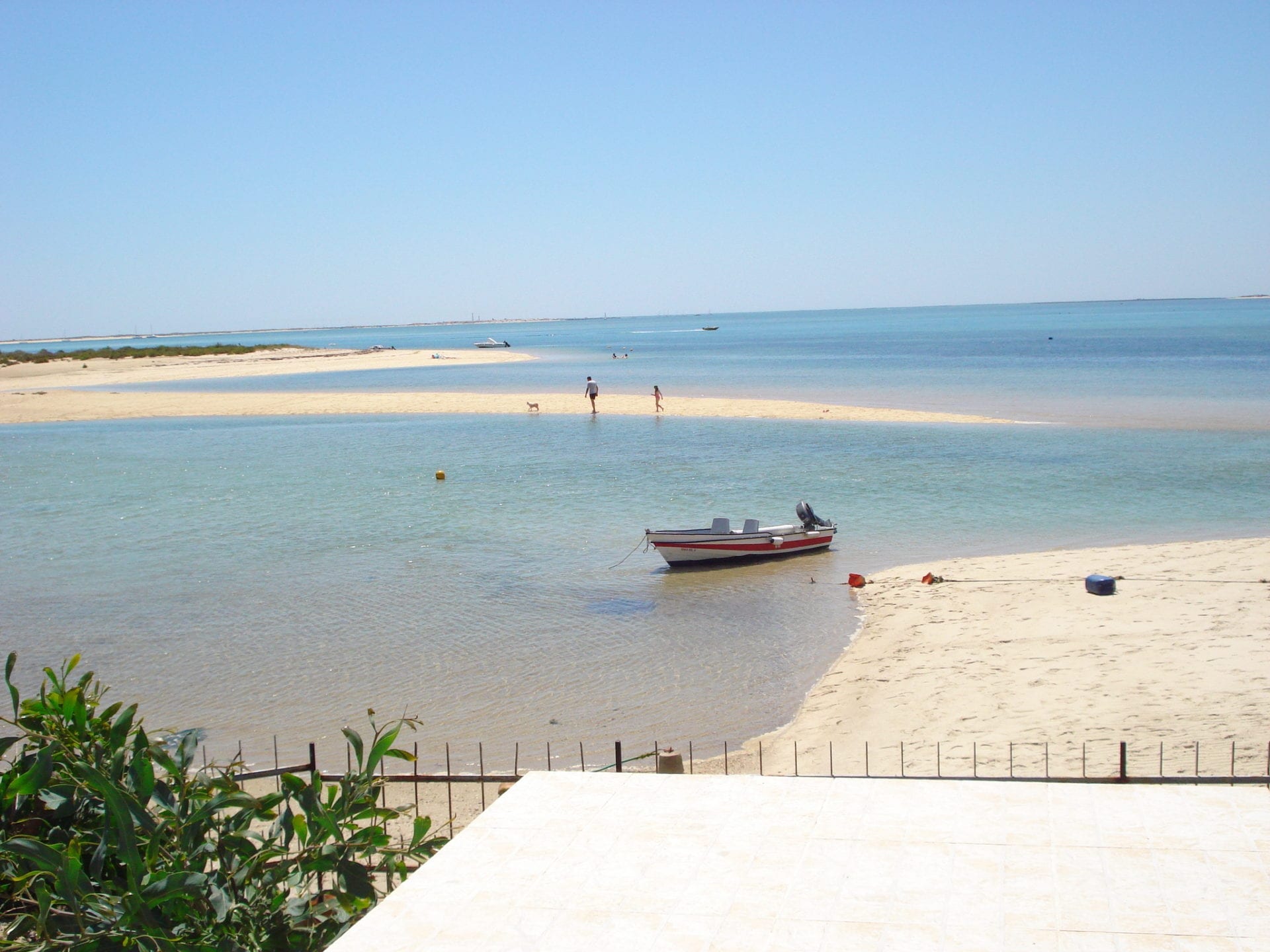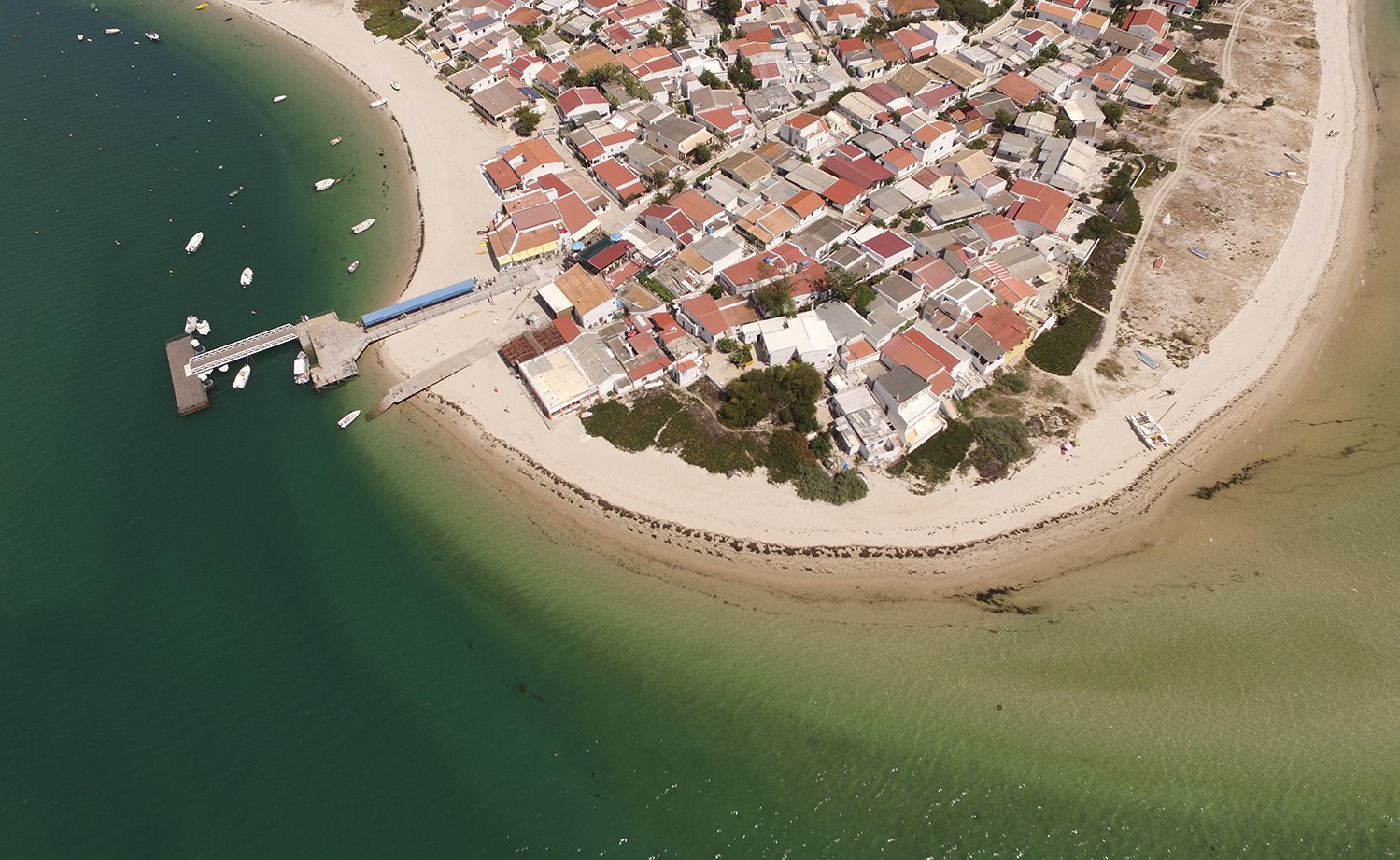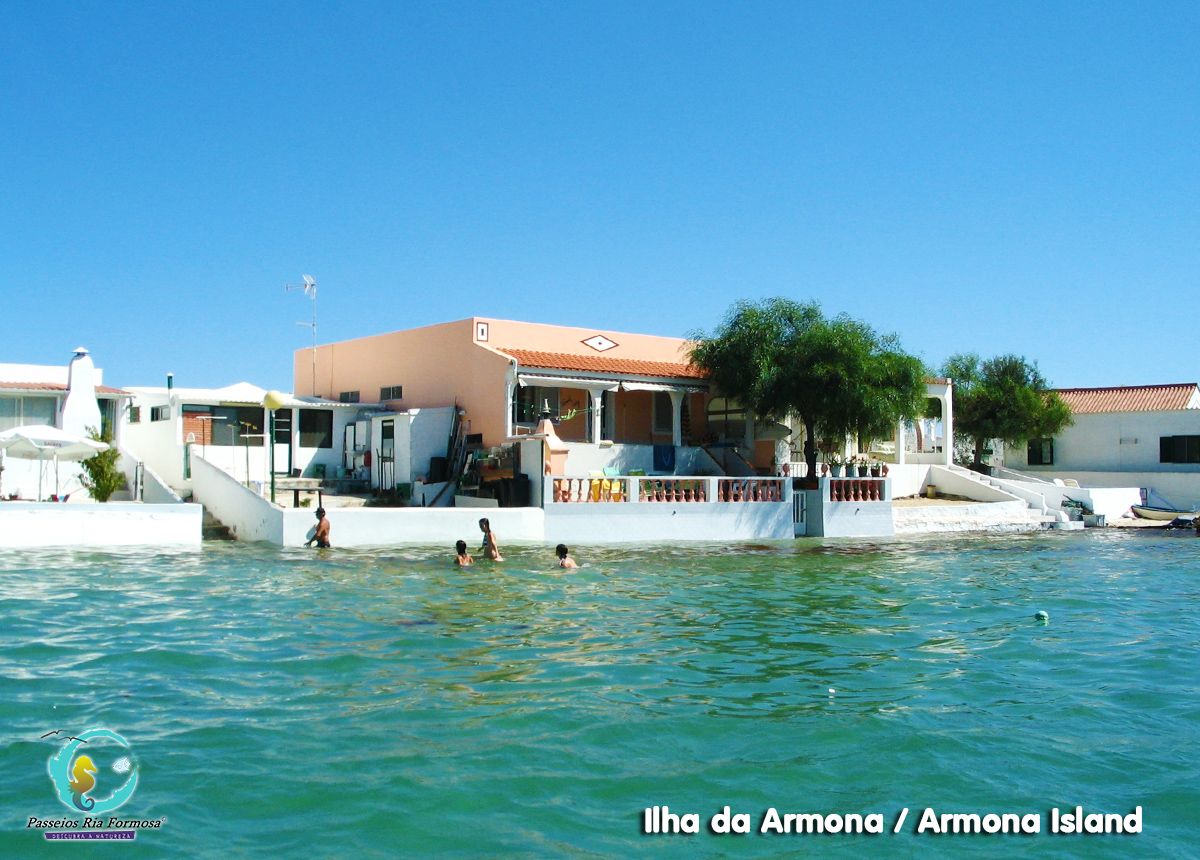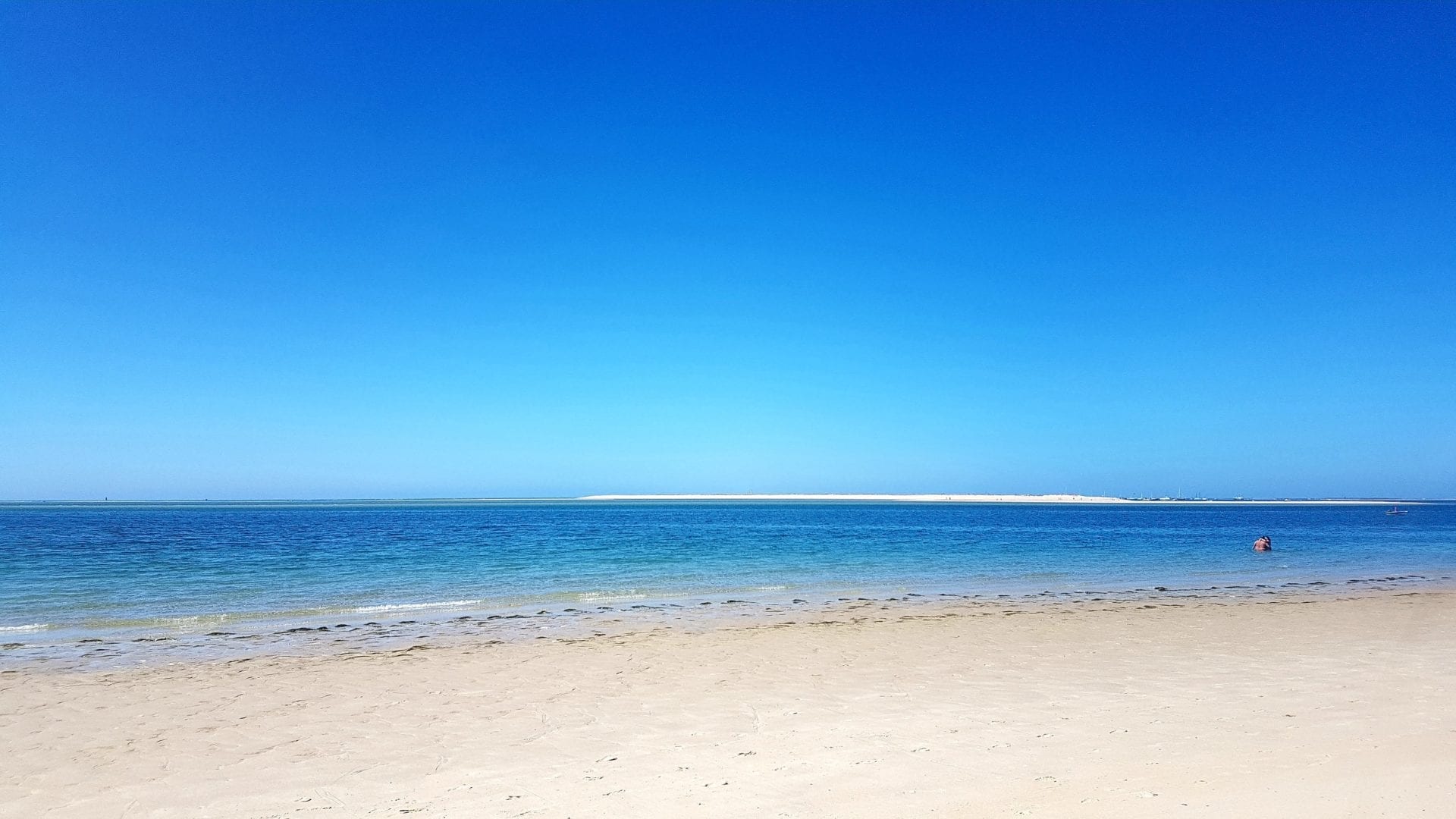 Check other islands in the next article
There are more amazing islands in the eastern Algarve. In the next article we will talk about the islands which you can reach from Fuseta, Tavira, Santa Lucia and Cabanas de Tavira.
Click here to know more.
On our website you can find every kind of tour in every Algarve town. We don't charge you extra for the booking, but we get a commission like any other seller in any other selling point online or in the town. Money that we are getting from sales help us to discover Algarve more and write about it.