Back to nature
As extortionate practices like dolphins in pools are going to the past there are a lot of tours in the Algarve showing dolphins in the sea. Almost every town and big village have one more companies, which regularly provides the services.
On our website, you can find dolphin watching tours in different locations as we have a lot of partners. You can book it without overpays.
Species of dolphins in Algarve and other facts
Dolphins kinds, which are met in Western Algarve: common dolphin, bottlenose dolphin, Risso's dolphin, harbour porpoise and minke whale. In the eastern Algarve people mostly meet 3 first of them. Common and bottlenose dolphins are locals in Algarve and met most often. You can be considered lucky if you meet a killer whale, turtles or some kinds of sharks. Thresher shark, which can be met there is harmless.
While there are more dolphins in the western Algarve, waves are always smaller in the eastern, which makes it hard to choose where to make better dolphin watching.
Summer is a time for reproduction. Common dolphins come from the north Atlantic to reproduce and mix with resident common dolphins. Warm summer water and good weather make this place suitable for birth. Newborns need higher temperatures until they fully develop their bodies.
As the number of fish in the ocean declines, so drops the amount of bigger mammals as dolphins. New restrictions regarding fishing appearing trying to deal with the cause.
A lot of sea operators work with marine biologists on board, sometimes they do functions at once: skippers and guides.
P.S. All photos in the article made around Olhao area.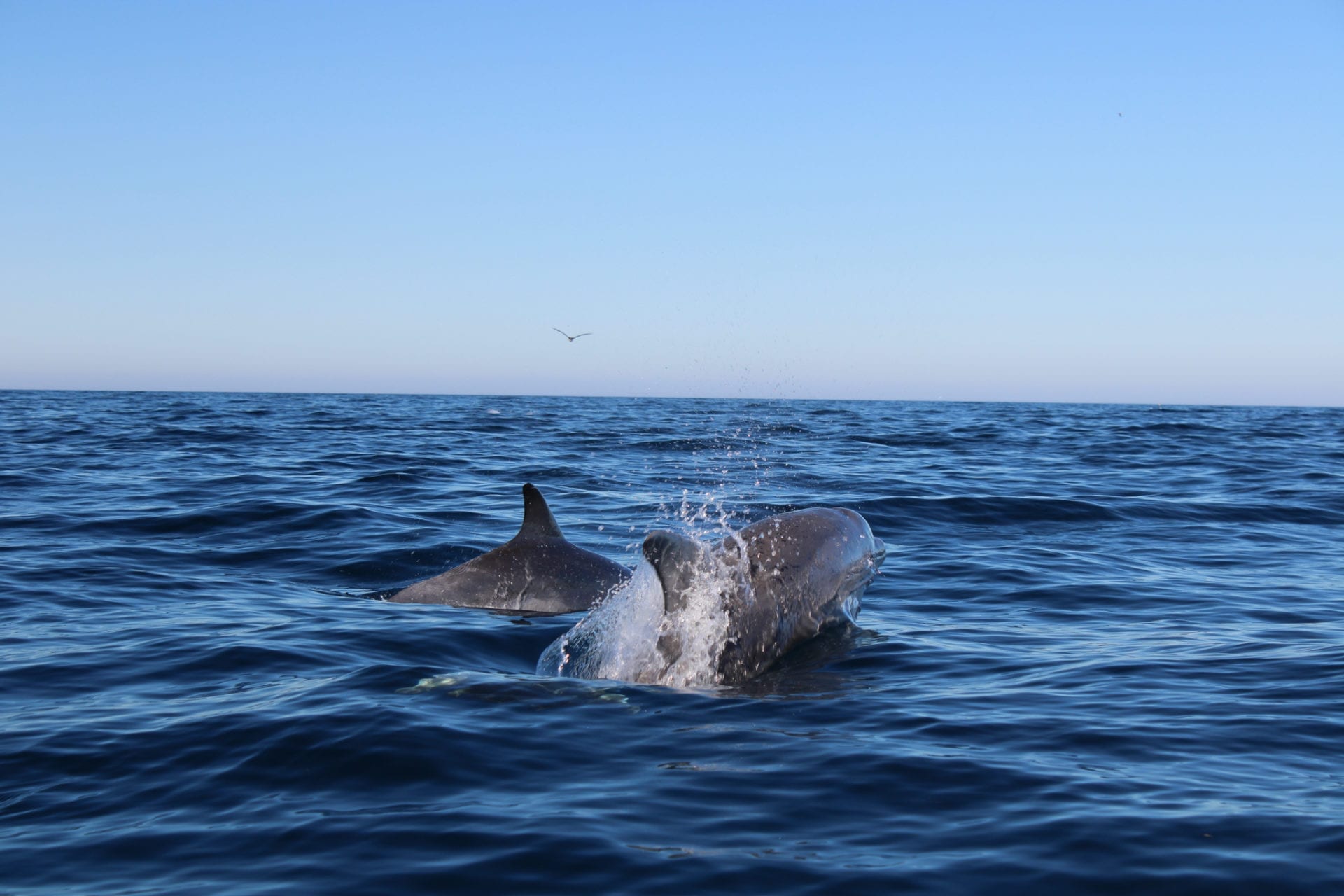 How dolphin watching goes. The way they do it in Algarve.
We will describe a tour in Olhao, which you can book here. Tour starts early in the morning, at 8 am and can continue up to 2,5 hours. Duration depends on how fast you'll meet the dolphins. In Olhao case, as it lays on the bank of Ria Formosa lagoon, first, the boat will go out to the open ocean. Passing Ria Formosa waters will take some time, maybe 10 minutes. But it is also beneficial for you, as you can see islands Farol and Deserta on the way.
There are different rules, which boat companies should follow, like it is forbidden to feed dolphins and people cant stay with them for longer than 30 minutes. In peak season, it's possible that 3 boats will go together, as there are a lot of people. The bigger number of boats also means that they are covering a larger area, so the probability in finding dolphins is higher, as the same company boats communicate with each other. So, in the end, August and July are months when the chances to see dolphins are much higher because of the number of boats and weather conditions. Though migratory seasons also influence tour success rate.
The tour can be canceled because of high waves. The guides searching for dolphins look for white foam created by the swimming of dolphins, which almost impossible to see in high waves. Guides also search for birds, which come to eat the leftovers of the dolphins pray fish as a pointer that they are here.
Small groups of Dolphins are living in the coastal ocean. But if you'll see big groups, probably they are just passing by. From time to time on the tour they see a group of 50 and more dolphins. Not rare to meet 2 kinds of dolphins.
After finding the dolphins, skippers going closer and dolphins by themselves surround the boat and go near it for some time. And then, after 30 minutes skippers should turn back and not bother animals more.
Last note. It's possible that you'll not see dolphins, in winter the possibility of catching their sight can be even 50%. In any case, you'll receive a nice boat ride. And, the price of the tour in Olhao is quite cheap, around 30 euros. In Fuseta they do identical tours, but there its much faster to go to the open ocean out of Ria Formosa.