Ria Formosa islands of eastern Algarve
The most southern region of Portugal, Algarve, on its eastern part has a lagoon named Ria Formosa, which also is a national park. Line of barrier islands creates a safe area from waves and strong ocean winds, home for a lot of animals and good conditions for fishermen and boat trips.
Ria Formosa lagoon stretches for 60 km from the western outskirts of Faro to Cacela Velha, a small village after Tavira.
We wrote about islands around Faro and Olhao here and around Fuseta here. Please, notice, that links are in text with blue colours.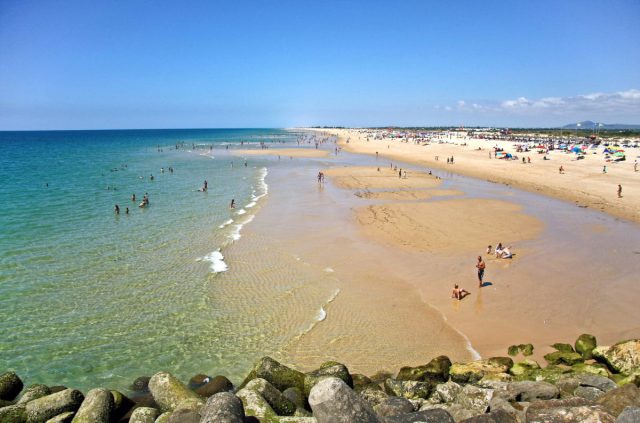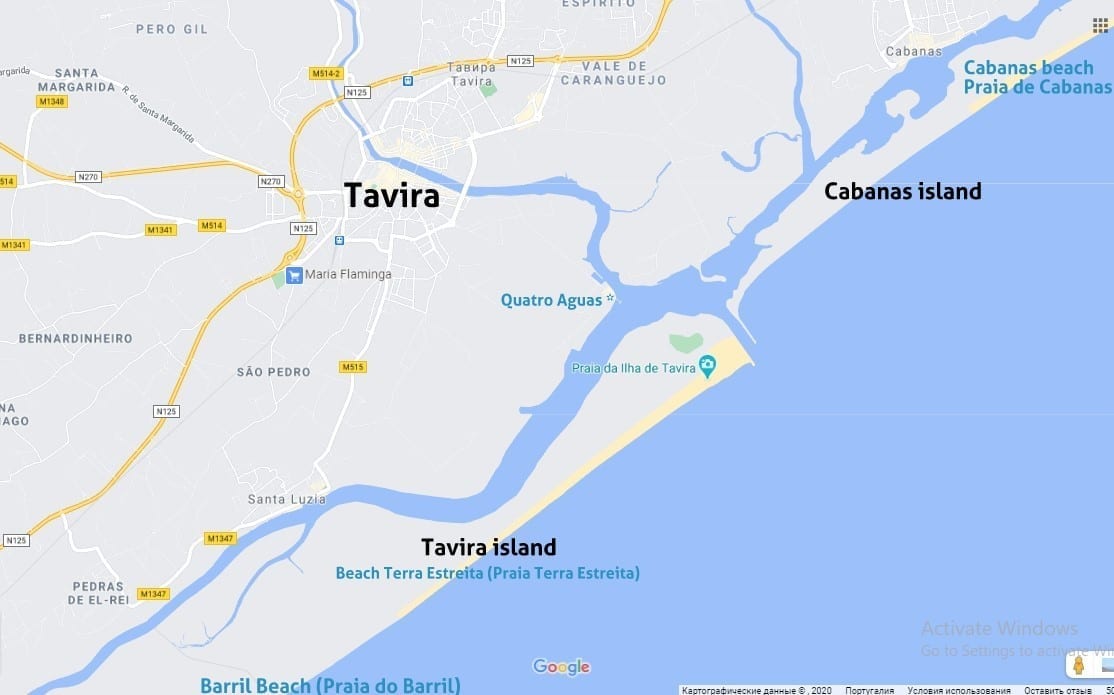 Islands easily reached from Tavira
In front of Tavira located 2 big islands – Tavira an Cabanas. Both of them have some amazing beaches, but no villages.
Tavira island lays to the all the way to nearby Fuseta Island. Main beaches of the island located near Tavira are Tavira Island Beach, Terra Estreita Beach and Barril Beach. To the first two you can go only by water. But Barril beach you can reach by walk or small train.
Cabanas Island is less long, around 6 km, clean, with beautiful blue water and a lot of space. There is Cabanas beach in front of Cabanas village. Note, that you can go with a private boat to other points of the island with no people.
Tavira island beach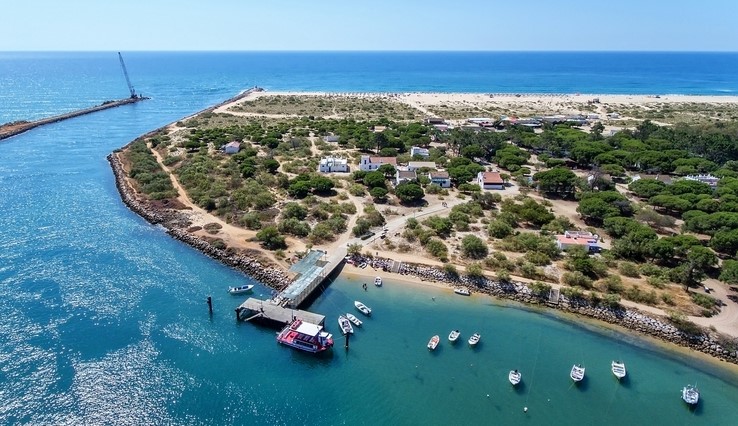 Tavira island beach has all basic support facilities, like restaurants and toilets. There are trees, which is rare for the islands of the Ria Formosa. Near ferry stop there is a camping. Tavira Island Beach is definitely different from others, there are lots of cafes, but no villages like on the islands near Olhao.
Most of the ferries and boats come to the northeast island part. Ferry operates only in waters of Ria Formosa lagoon, where are no waves or deep waters. There are lots of birds and animals, rare plants. You can see Flamingos from Ferry on your way from the Tavira center. Ria Formosa now has a status of Natural Park and is under government defence. Water deepness varies dependently on tides, the view changes from the sea in high tide to dozens of small islands in low tide.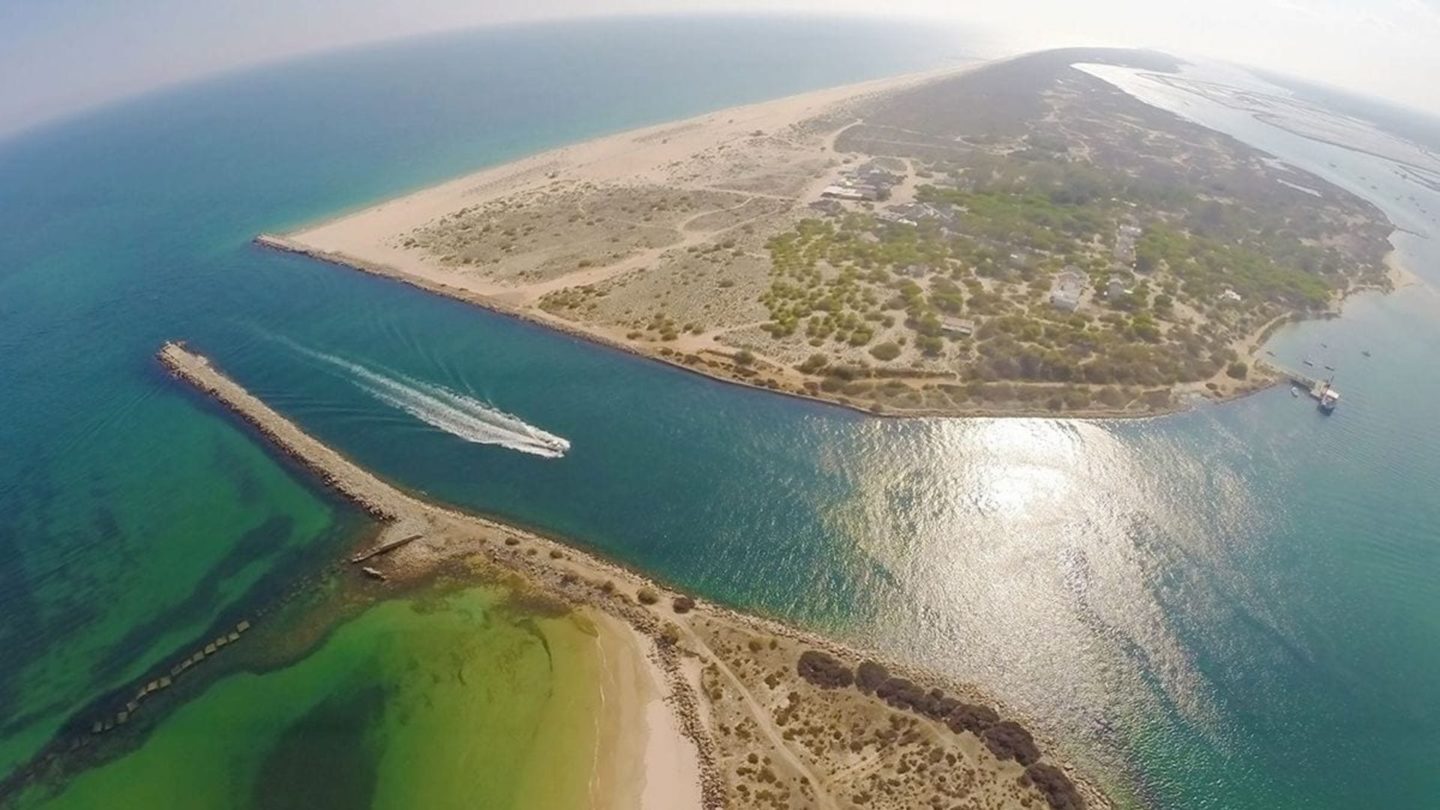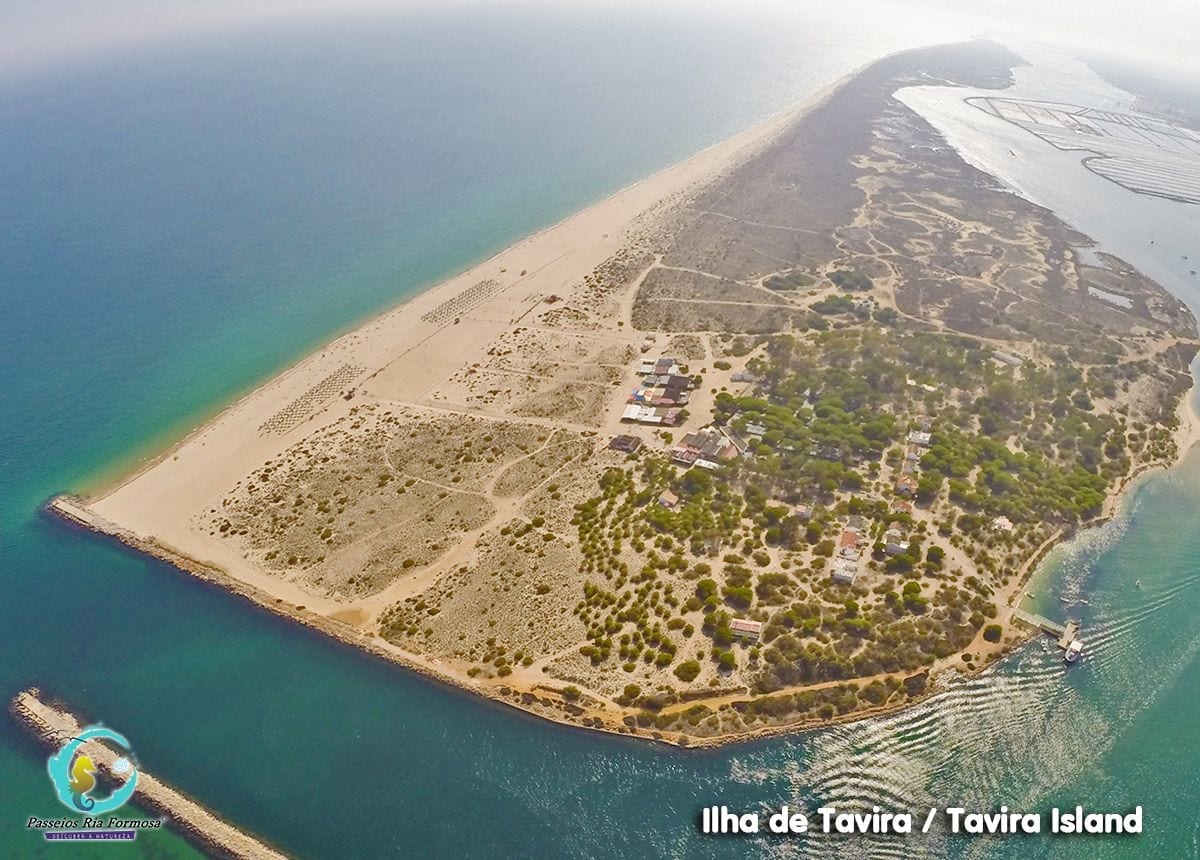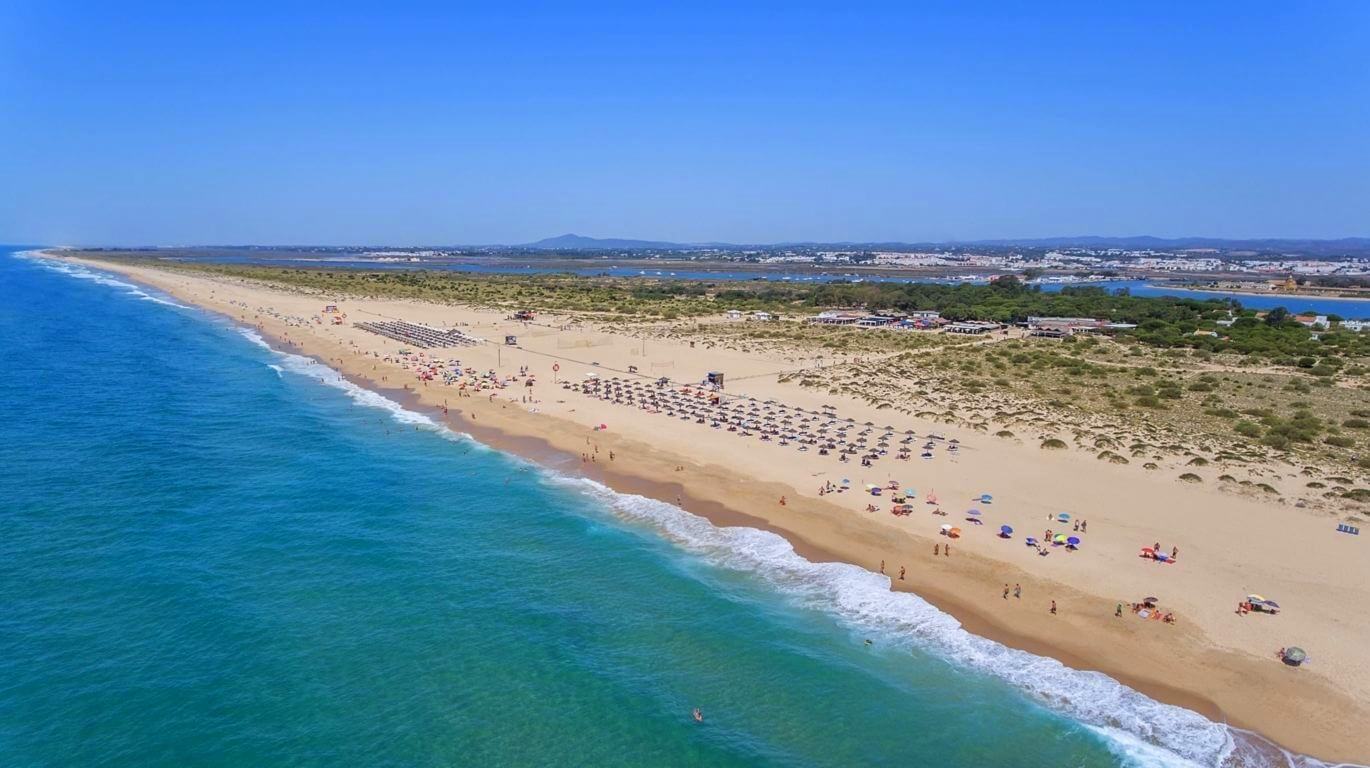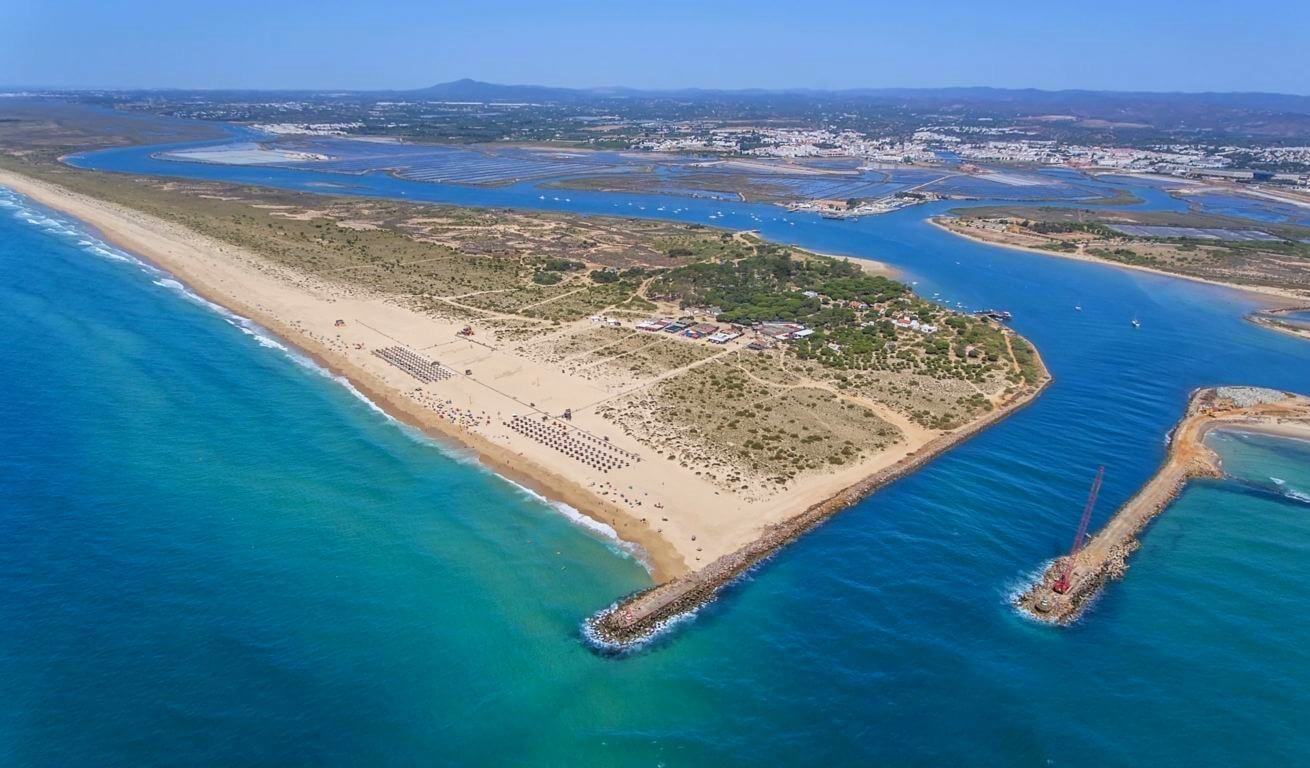 How to get to the island / ferry
Its easy t take a boat or ferry to Tavira Island (Tavira beach) from Center of the town or from "Quatro Aguas" place (has big parking). There are Ferry and other cheap boats, which you can easily find in the center of Tavira near old market on the bank of the river.
Quatro Aguas – another Ferry port, a little far from the center – 25 minutes walk, but worth it. Location of the port itself is very nice and calls Quatro Aguas (translates as "four waters"). Its surrounded by water channels and Ria Formosa lagoon. This port is better for people with cars (parking is free), as in the center of Tavira it's hard to find a parking place.
Ferry goes quite often, usually every half an hour, but depends on the season. Here is schedule and prices for the ferry from Tavira center in October 2020. Check new schedules of the ferry on the Facebook page. Round trip ticket costs 2,20 euro for adult and 1 euro for a child. The trip with this ferry will take around 15 minutes.
There are ferry boats, which go first from the center and after through Quatro Aguas to the Tavira island beach.
There are also private boats, tours, taxis all around Tavira. The Level of the comfort of those companies is higher, but also the prices are more expensive. Usually, prices are low, it is a very competitive market and Portuguese salaries are comparatively small.